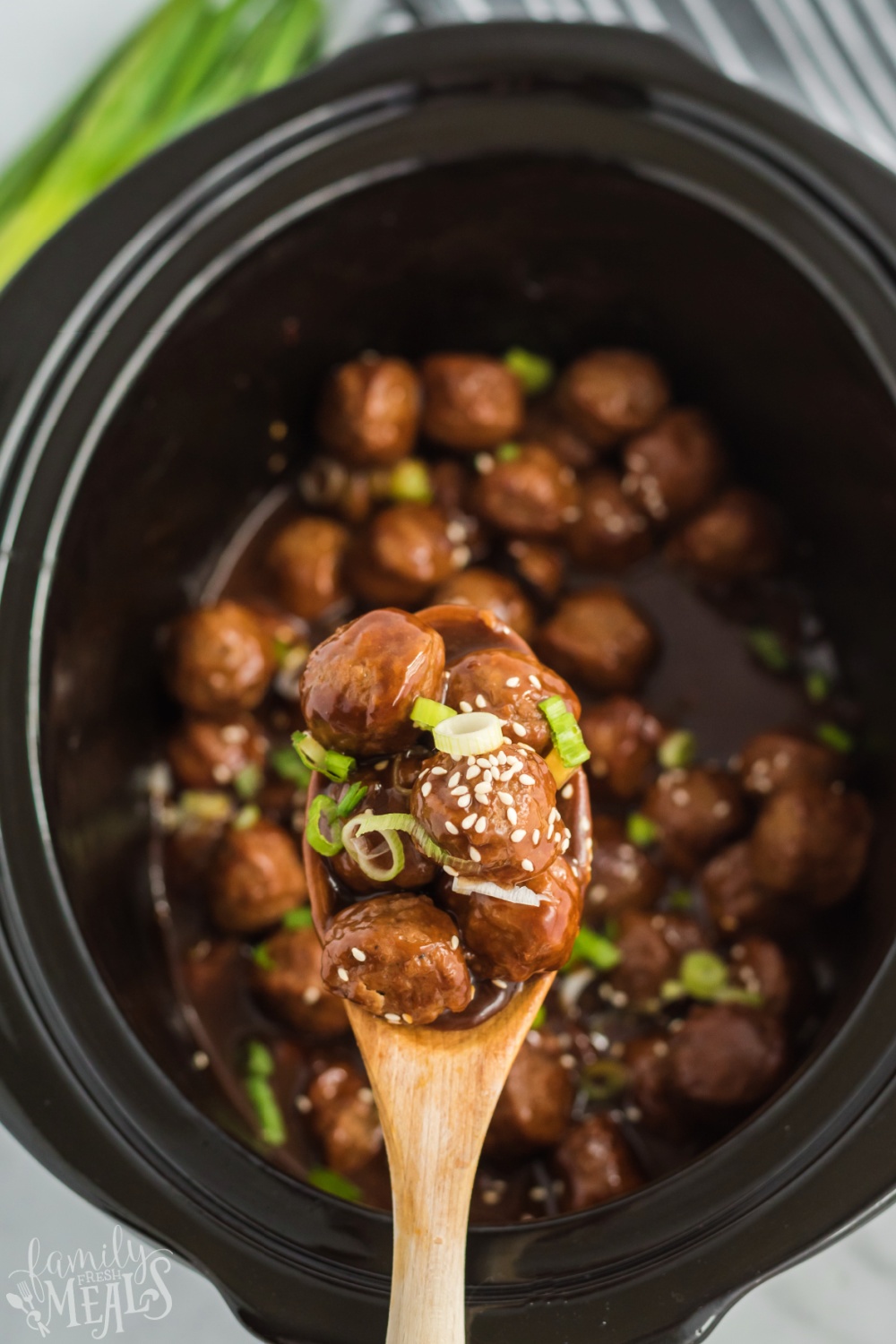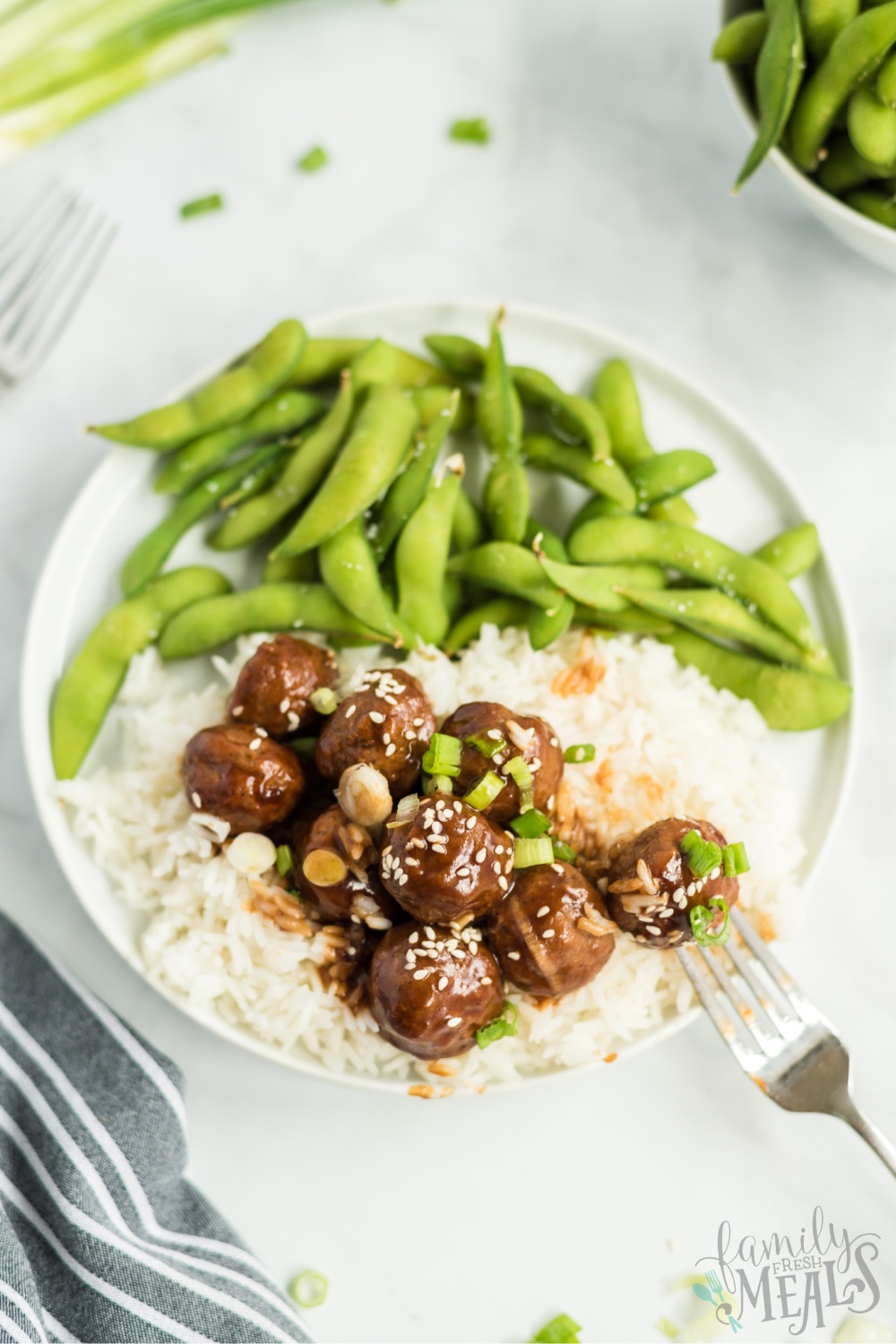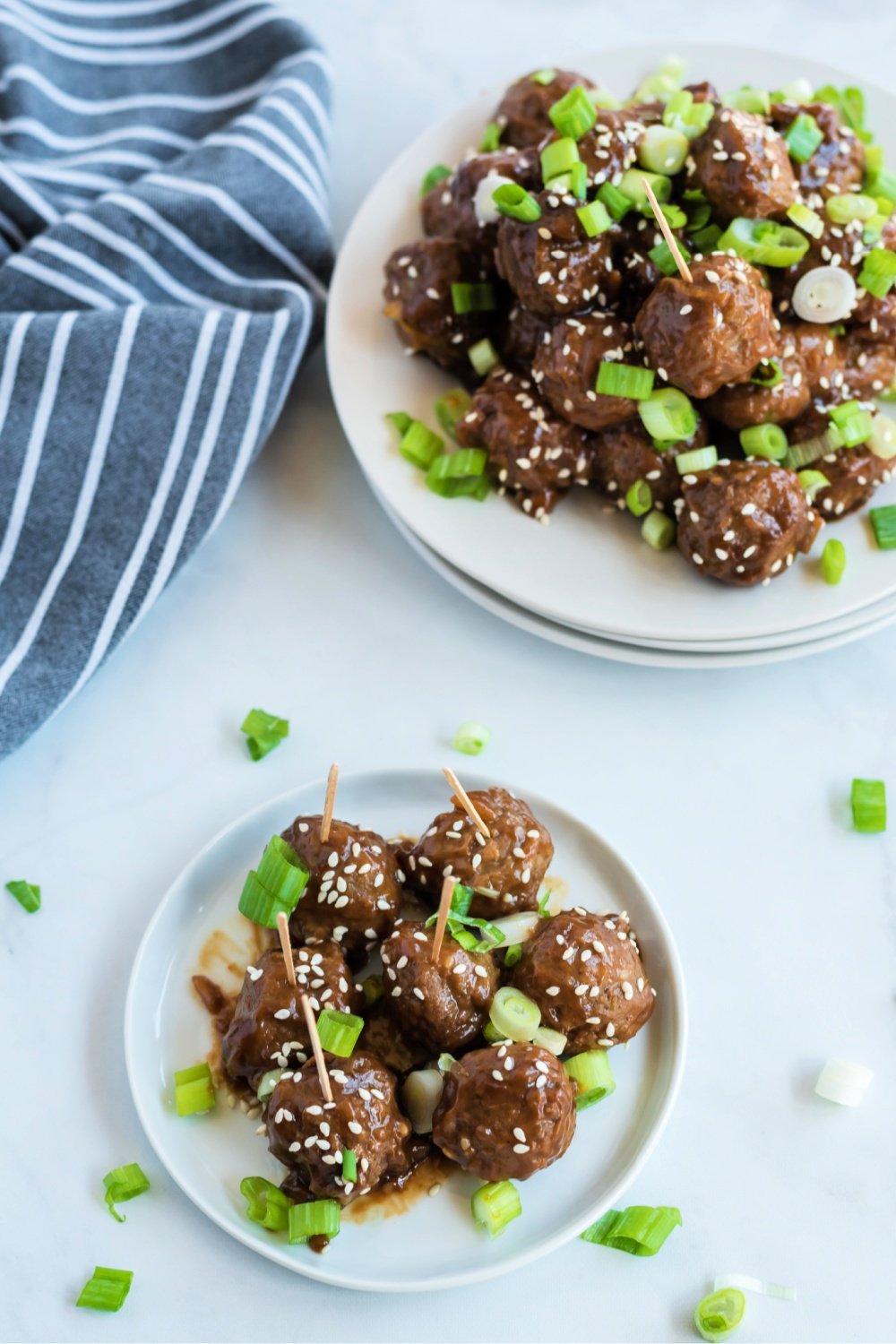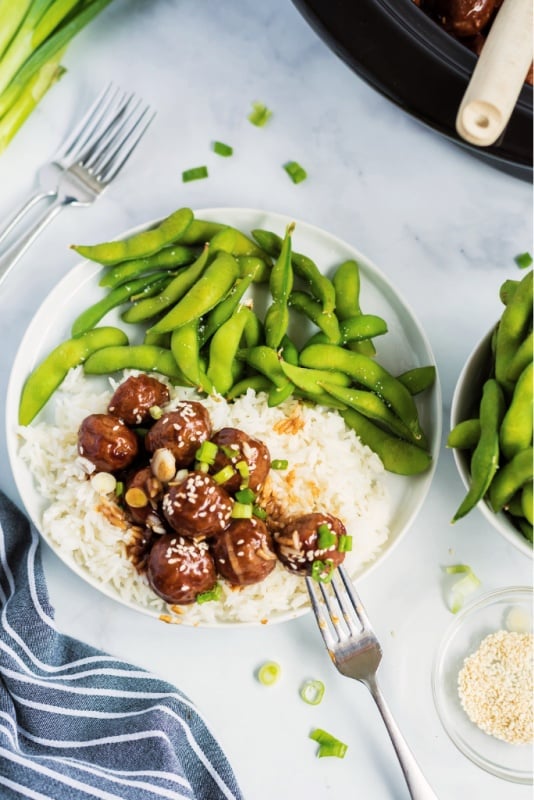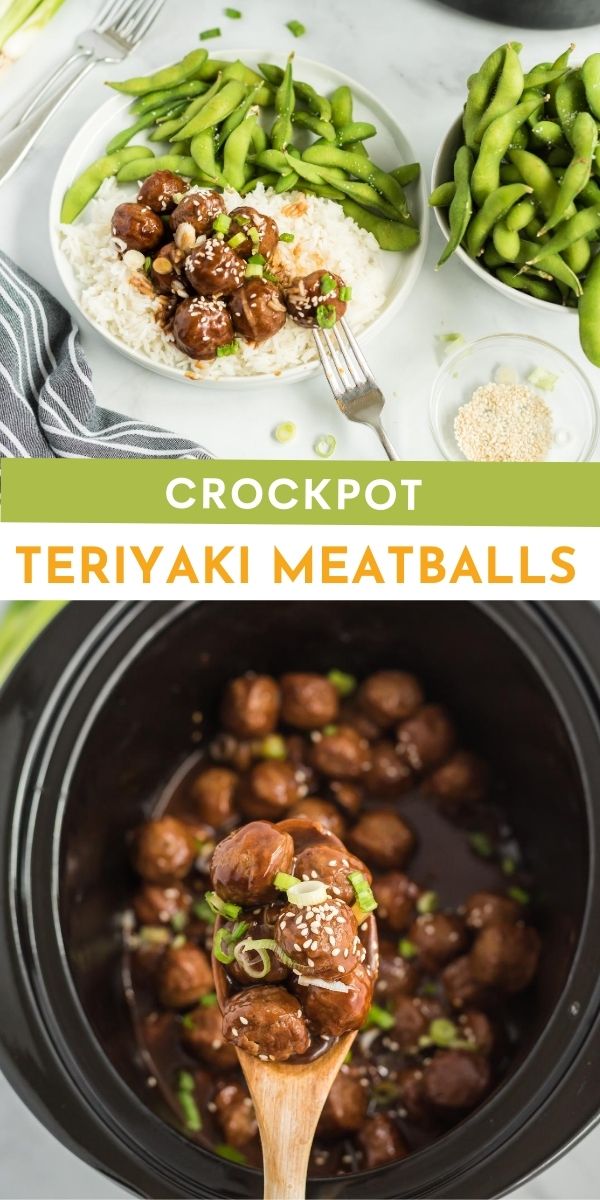 Take your meatballs to a whole new continent.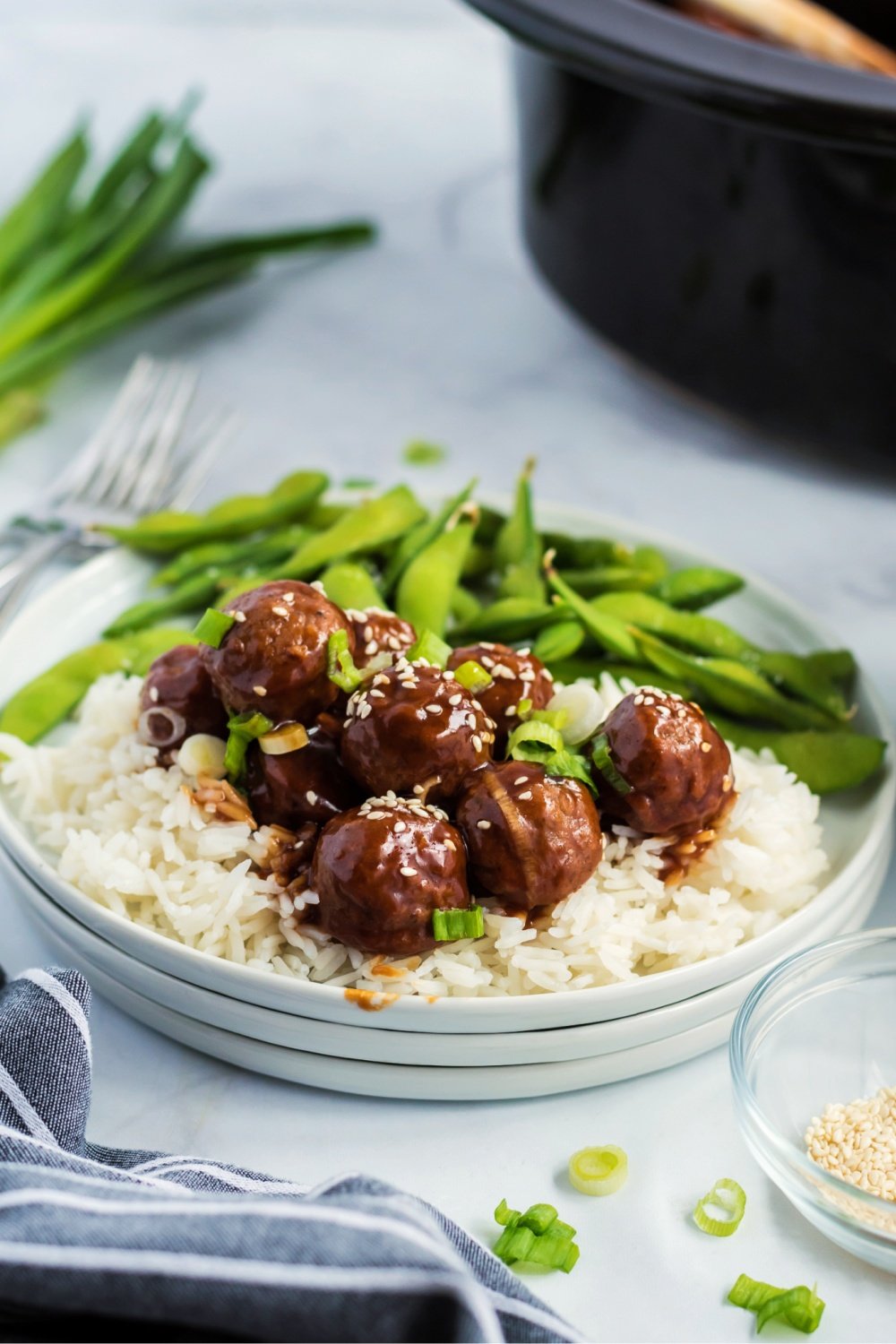 When you think "meatballs," you probably think "Italian." And there's nothing wrong with that! Good old spaghetti and meatballs is an absolute classic, and it's easy to lighten up by switching out the ground beef for turkey to make birdballs.
But there's more to meatballs than just this staple Italian meal. You can dress them up with all kinds of different sauces, from orange to cranberry to Honey Buffalo. You can even give them an Asian spin with Sweet and Sour Crockpot Meatballs.
So, if you can do Chinese meatballs, why not Japanese ones?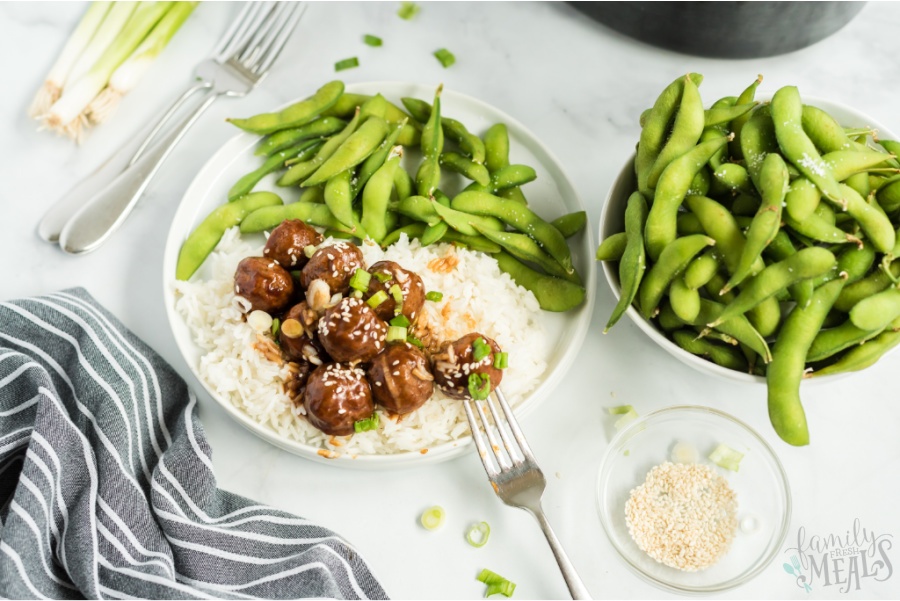 These Crockpot Teriyaki Meatballs take plain old precooked, frozen meatballs and turn them into a Japanese-style delicacy. They're cooked in a simple teriyaki sauce you whip up yourself from soy sauce, pineapple juice, beef stock, brown sugar, and cornstarch (with a little red pepper added if you like things spicy). Four to six hours of soaking in this mixture infuses them through and through with Japanese flavor.
To complete the Japanese theme, serve these teriyaki meatballs over rice, not pasta, with a sprinkle of sesame seeds and green onion and a side of edamame. You can even eat them with chopsticks!
---
Is there a way to add more veggies to this dish?
If the edamame on the side isn't enough for you, you can toss some veggies into the Crockpot with the meatballs. Mushrooms, sliced bell peppers, snow peas, and broccoli all combine well with the teriyaki sauce. To make sure they don't get overcooked, add them to the crock just an hour or so before you want to serve the meal.
The recipe calls for a side of edamame, but I've never made it before. How do you cook this stuff?
Very simple. Start with about a pound of edamame, either fresh or frozen, still in the pods. Cook them in boiling salted water for three to five minutes, until they're bright green, then drain. Or, simpler yet, microwave them in a dish with just a quarter-cup of water and a pinch of salt, giving them one minute at a time, until they're bright green. Add salt and pepper and serve them in the shells. To eat them, scrape out one bean from the pod at a time with your teeth.
Can you serve these Crockpot Teriyaki Meatballs as a party appetizer?
You can serve any meatballs as a party appetizer. Just set out the whole crock on the table, and provide toothpicks for your guests to spear the meatballs with.
---
Crockpot Teriyaki Meatballs
To make teriyaki sauce: in a medium bowl, whisk together remaining ingredients until smooth.
Add meatballs in a lightly greased slow cooker.
Pour sauce over meatballs.
Cover and cook on low for 4-6 hours, or until sauce bubbles and thickens.
Serve over hot cooked rice. Our favorite side for these meatballs is edamame. Garnish with sliced green onions and sesame seeds.
HERE ARE SOME SOME MORE SLOW COOKER CASSEROLES WE LOVE!
Looking for more free recipes? Subscribe to my newsletter and follow along on Facebook, Twitter, Pinterest and Instagram for all of the latest updates.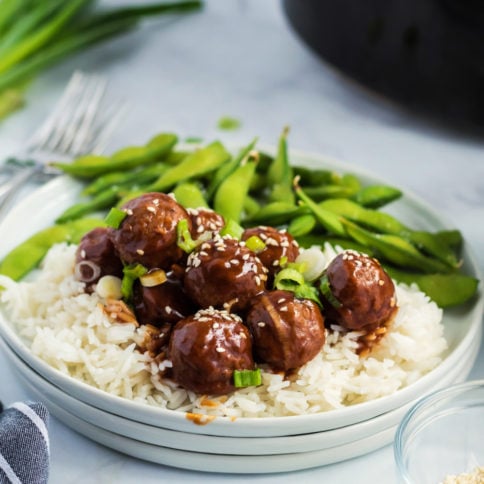 Crockpot Teriyaki Meatballs
These Crockpot Teriyaki Meatballs take plain old precooked, frozen meatballs and turn them into a Japanese-style delicacy.
Prep Time: 5 minutes
Cook Time: 4 hours
Serves:4
Hover over "serves" value to reveal recipe scaler
Ingredients
28 ounces precooked frozen meatballs
1/2 cup soy sauce
1/2 cup pineapple juice from canned crushed pineapple include some of the small pineapple chunks
1 cup beef broth
2/3 cup brown sugar
1 tablespoon cornstarch
Instructions
To make teriyaki sauce: in a medium bowl, whisk together remaining ingredients until smooth.

Add meatballs in a lightly greased slow cooker.

Pour sauce over meatballs.

Cover and cook on low for 4-6 hours, or until sauce bubbles and thickens.

Serve over hot cooked rice. Our favorite side for these meatballs is edamame. Garnish with sliced green onions and sesame seeds
Recipe Notes:
Optional :
1/4 teaspoon red pepper flakes 2 cup of rice Garnish Green onions Sesame seeds
Nutrition Information:
Calories: 410kcal (21%)Carbohydrates: 30g (10%)Protein: 42g (84%)Fat: 17g (26%)Saturated Fat: 10g (50%)Cholesterol: 189mg (63%)Sodium: 2799mg (117%)Potassium: 171mg (5%)Fiber: 1g (4%)Sugar: 42g (47%)Vitamin C: 2mg (2%)Calcium: 185mg (19%)Iron: 5mg (28%)