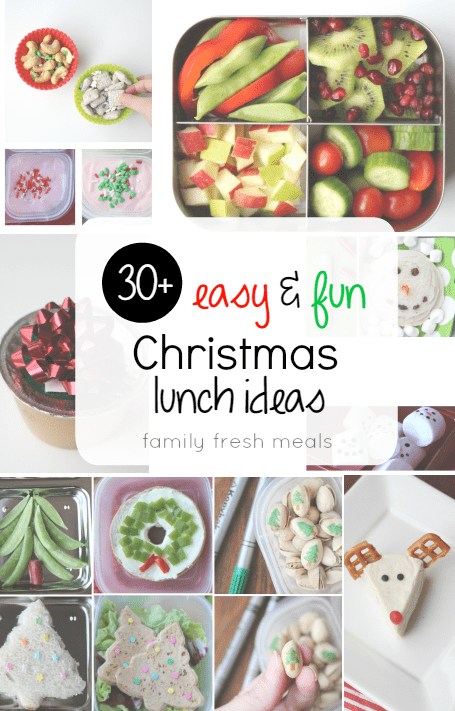 30+ ways to make them smile!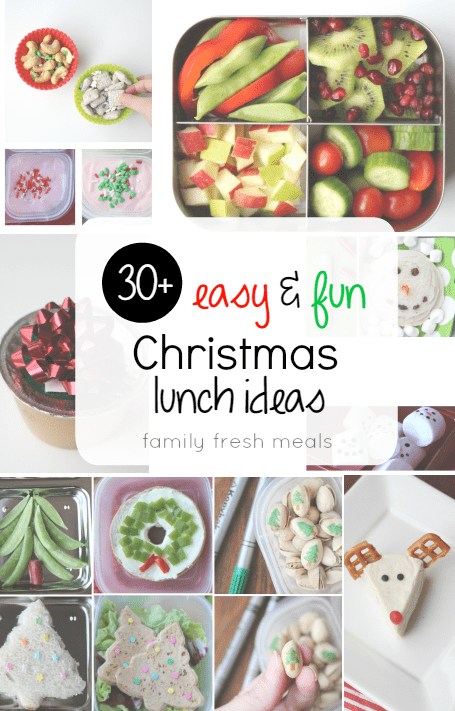 Happy holidays everyone! I know that this time of year is CRAAAAZY for most of us, and making fun lunches for your kiddos is probably #582 on your priority list. Soooooo, for my lunchbox post this week, I thought it would be helpful to show you some quick, easy and SUPER fun Christmas food ideas to pack or plate for lunch.
Most of these ideas are perfect for either the lunchbox, or just on a plate at home over the weekend. Either way, the smile that results from any of these ideas will make it worth your while…. trust me 🙂 (Post contains affiliate links. As an Amazon Associate I earn from qualifying purchases.)
Let's start with food sprinkles.
You can find holiday food sprinkles at just about any grocery store. What I like to do is stock-up at the end of the season when they go on super sale.
The shelf-life on these bad boys are pretty long so grab a bunch! Last time I checked, I also found a bunch at our local Dollar Store… so check that out by you as well.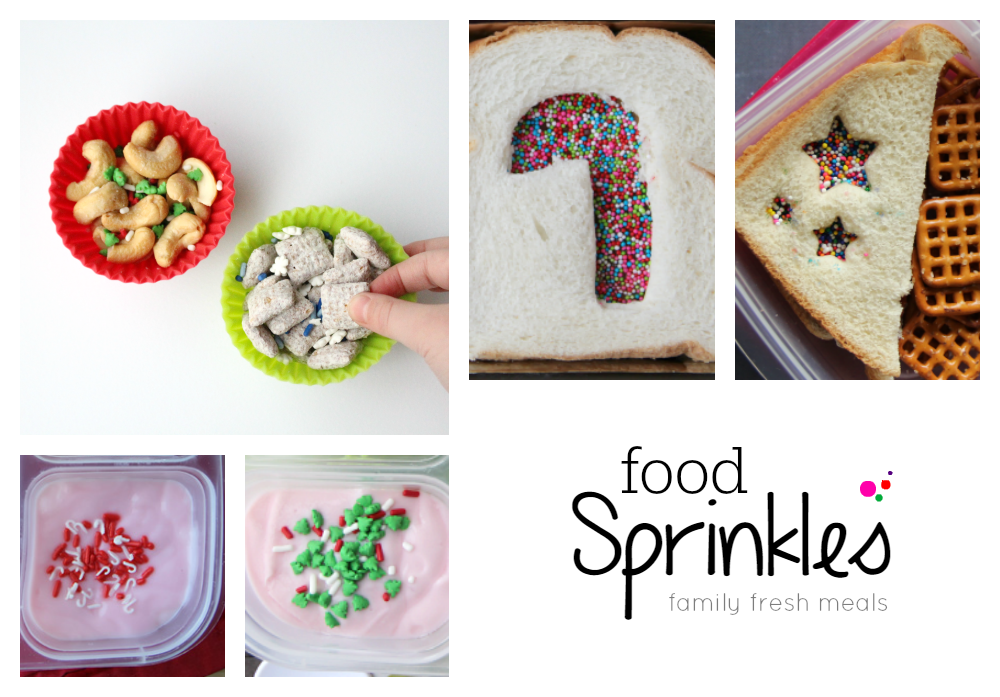 Ok Corey, now what do we do with all these colorful food sprinkles?
Here are some of my favorite ways to use food sprinkles to brighten up any lunch!
Yogurt toppers (also great with pudding and apple sauce!)
Mixed in with nuts or basically ANY snack mix. Just a sprinkle SCREAMS happy holidays!
Holiday fairy bread! Using a small cookie cutter, remove a section of your top piece of bread and fill that space in with sprinkles. This works best on sweet sandwiches. Think PB & J, PB & honey or cream cheese and jelly.

Green and Red Food Combos!
By simply placing some green and red food together, you have some instant holiday fun! Here are some yummy combos we love! Did I miss any?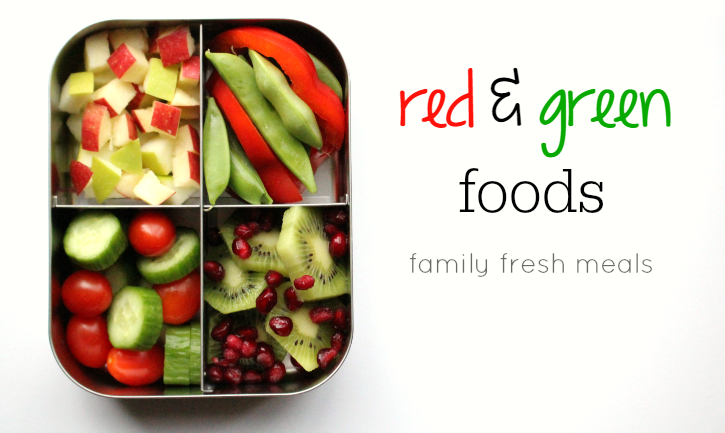 red and green apples slices
cucumbers and tomatoes
cucumbers and red bell peppers
green olives and tomatoes
red and green tortilla chips
tomatoes and celery
raspberries and grapes
raspberries and kiwi
kiwi and pomegranate
tomatoes and mozzarella balls
strawberries and kiwi
strawberries and grapes

Another great way to instantly create a fun holiday lunch is with cookie cutters!

Cookies cutters can be used on…..
sandwiches
tortillas
pancakes
fruit
cheese
Here are some of my holiday favorites! (click on items for more info)


Do you want to build a snowman for lunch?
Here are a couple of my go-to lunchbox snowmen!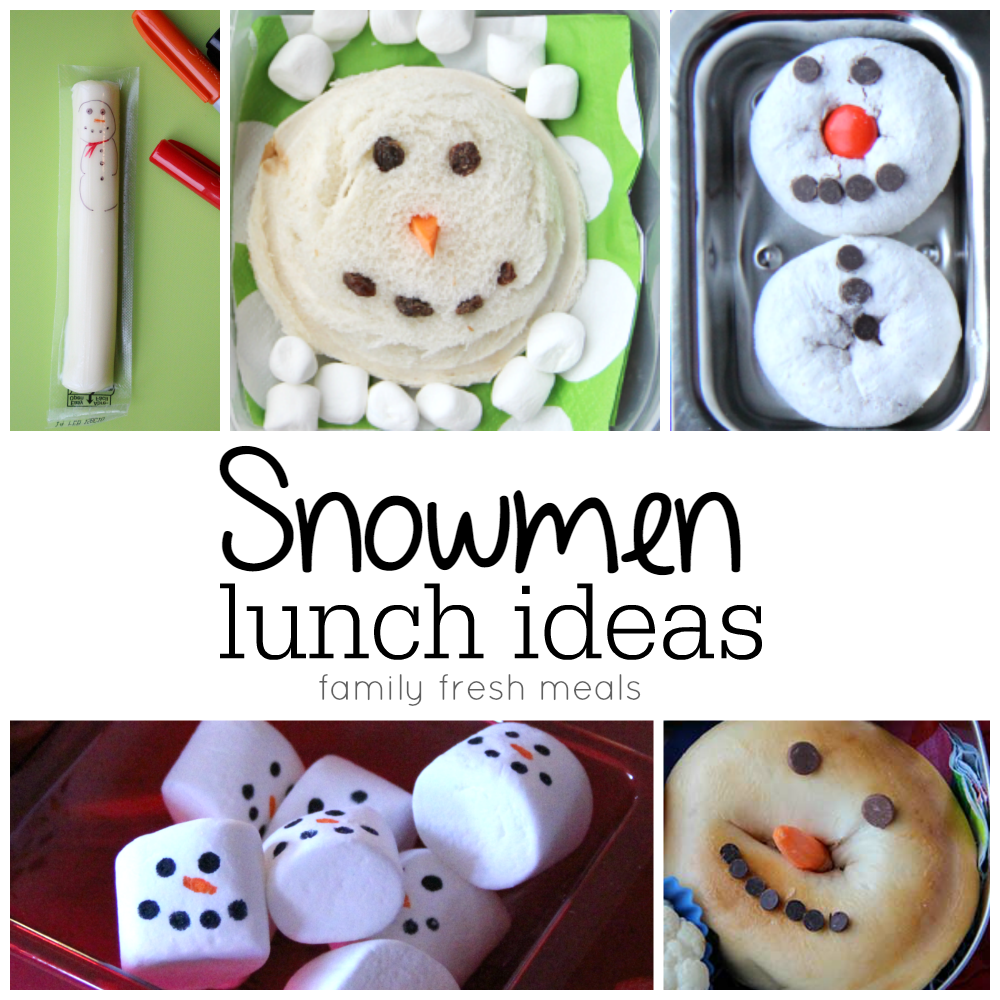 the donut snowman (mini donut, mini chocolate chips and an M&M nose)
marshmallows with food color markers (you can purchase food color markers HERE)
string cheese and markers
snowman uncrustables (uncrustables are a cinch to make! I like to make a big batch & freeze them!)
the bagel snowman

Oh Christmas tree, oh Christmas tree, you make a tasty lunchbox treat!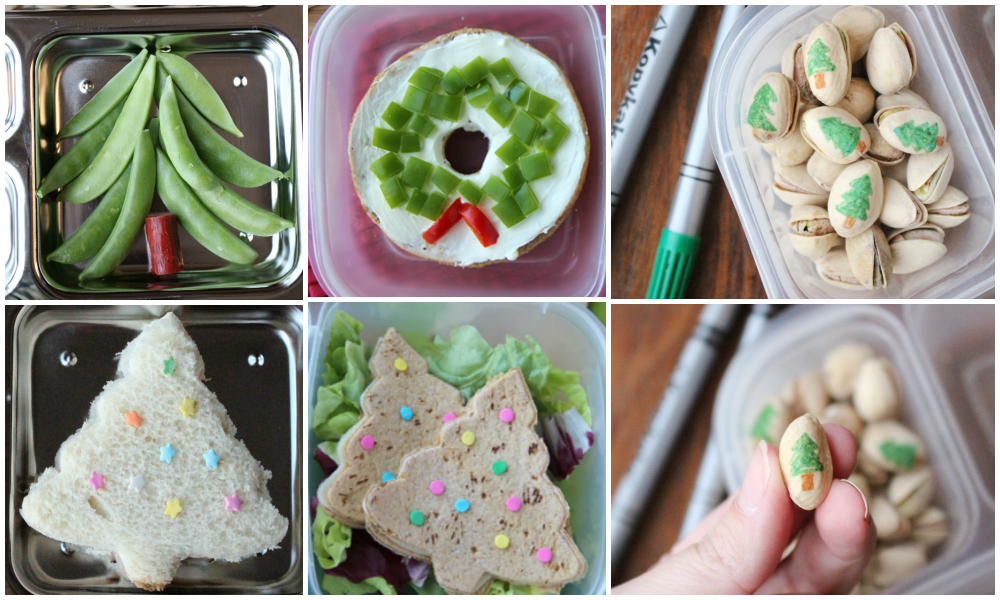 cheese quesadilla, cut with a cookie cutter
sandwich, cut with a cookie cutter
snap peas and sausage trunk
bagel wreath ( topping is cream cheese and bell peppers)
pistachio nuts colored with food markers

Reindeer fun!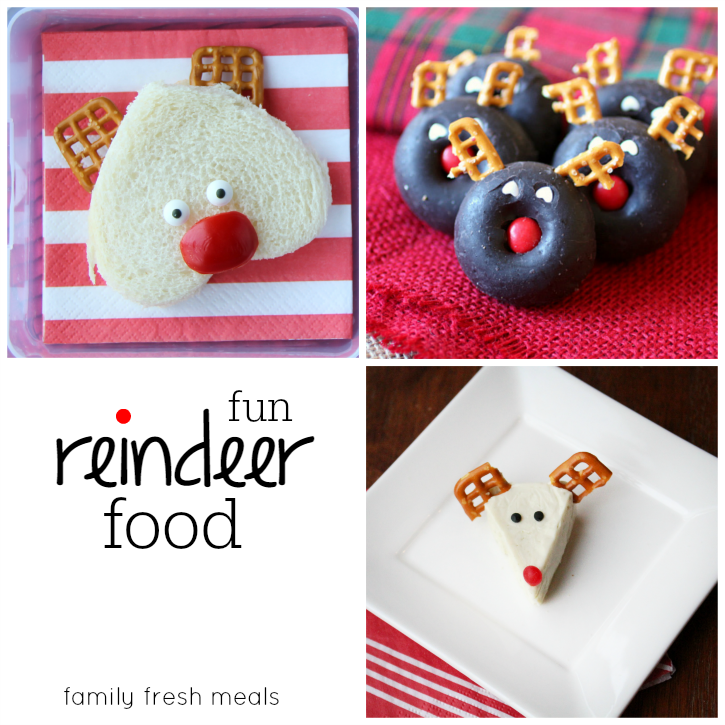 Do you have a heart shaped cookie cutter? Then you can make a reindeer sammie! Just turn that heart upside down, add some pretzel antlers and a bell pepper nose!
Laughing cow cheese wedge with food sprinkle eyes and nose, and pretzel antlers
These sweet reindeer treats from SheKnows are the cutest little donuts ever!

Finally, here are some other ways to add in some festive fun!
Slap a bow on any packaged food for some holiday flare.
Gold fish crackers make some cute green and red crackers this time of year. Throw them in for instant colorful fun!
Lunchbox Love Notes make a Christmas set of love notes to throw in lunchboxes. How cool is that?
Store bought snowflake crackers. EASY!
Use some holiday wrapping paper to turn lunch items into presents! Fun!
Holiday food picks are all over the place during this time of year. You can also make your own with stickers and toothpicks.
I hope you enjoy these Easy & Fun Christmas Food Ideas ! For even MORE fun holiday lunchbox ideas, my friend Wendy of Wendolonia has some more killer ideas HERE!