Put a little love in your lunch!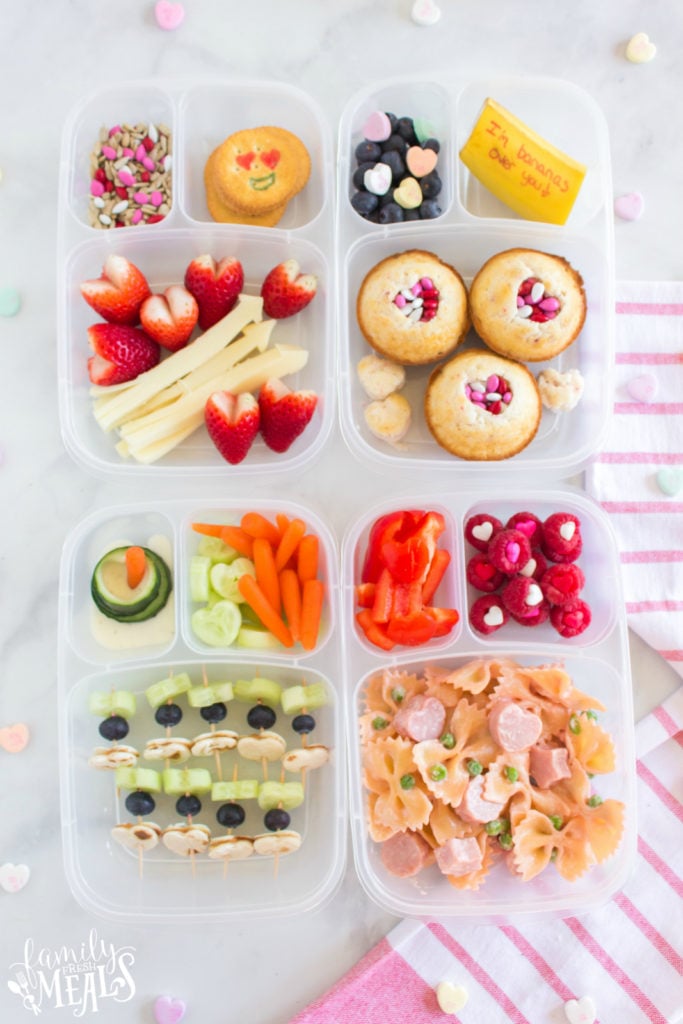 (As an Amazon Associate I earn from qualifying purchases.)
It's time for the sweetest holiday of the year, Valentine's Day! It's a whole day dedicated just to showing all the people we love just how much they mean to us. And my favorite way to do that for my kids is to pack them a special, lovey-dovey lunchbox. I just go crazy adding heart shapes and red and pink colors to every lunch food I can get my hands on.
I like to use this three-section lunch box for my Valentine lunches, because it lets me fit three different Valentine ideas into each lunch. (Like I said, I get a little carried away.) Here you can see four of the lunch combos I came up with this year: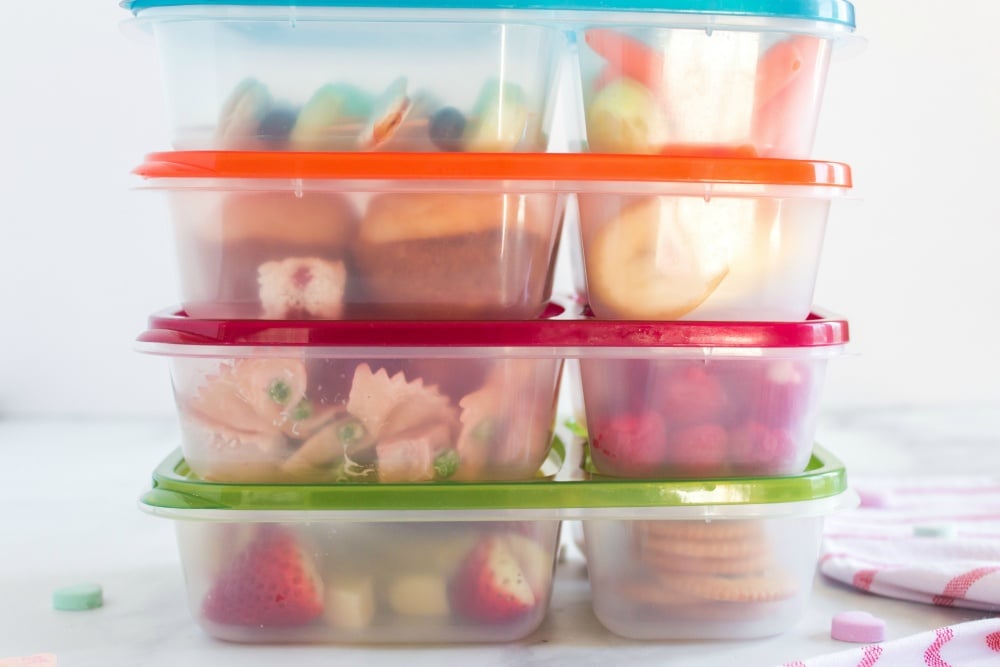 Fun Valentines Day Lunchbox Ideas
1. Bow Tie Pink Pasta. In the top right box, the main dish is frilly bow-tie pasta with peas, pink-tinted Alfredo sauce, and ham cut into heart and star shapes with little cookie cutters. (This is good hot, warm, or cold – perfect for a lunchbox.) There's a side of red bell pepper strips and one of raspberries stuffed with little heart-shaped candies.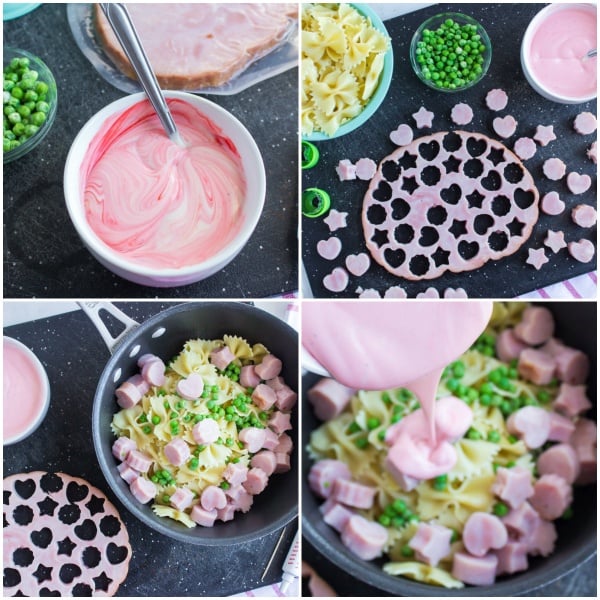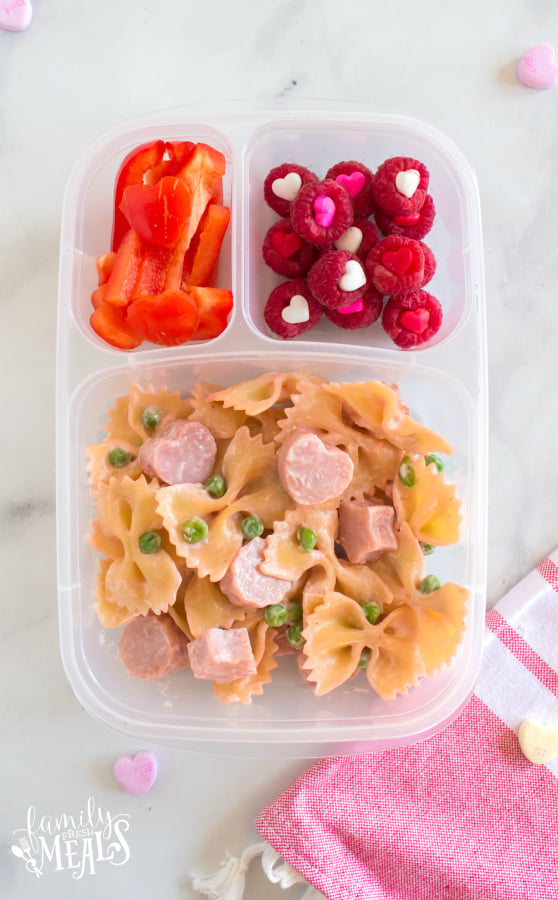 2. PBJ Tortilla Hearts. For the bottom right box, I made a PB&J sandwich on flour tortillas and then used that heart-shaped cookie cutter to cut these into lots of little hearts. I used the same cookie cutter to cut out hearts from cucumber slices and threaded both kinds of hearts together on toothpicks, with blueberries in between. The rest of the cucumber hearts went into a separate section with some baby carrots. I saved the outside part of the cucumber slice, with the heart cut out of it, as a container for some ranch dipping sauce.
3. Hearts and Arrows. In the bottom left box, I filled the large section with strawberry "hearts" and string cheese "arrows" (like Cupid's, get it?). Then I added a side of emoji crackers (faces drawn on with a food-safe marker) and a mix of regular sunflower seeds with pink and red chocolate-covered seeds.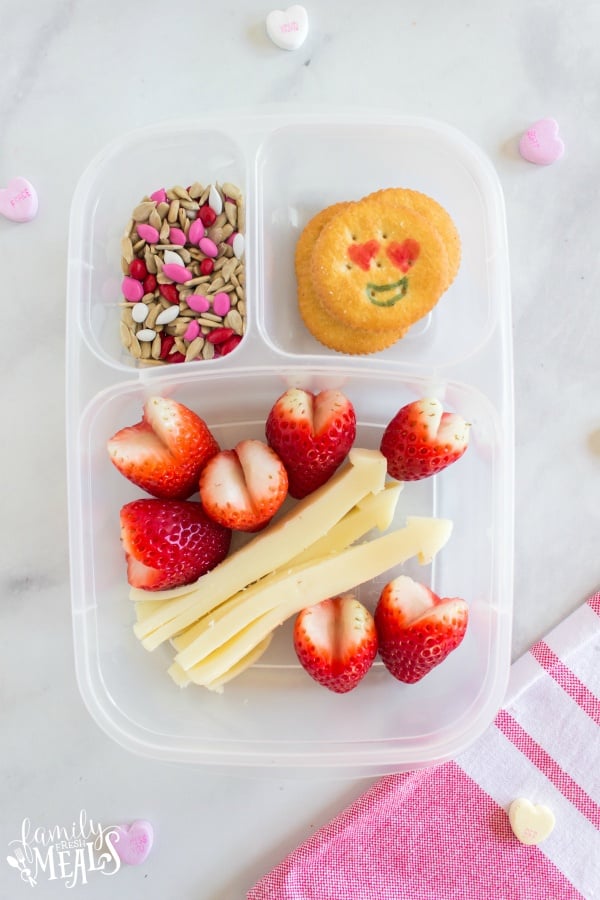 4. Heart Muffins. Finally, the top left box has a main dish of muffins with a heart-shaped section cut out (that little cookie cutter again) and filled with more of those chocolate-covered sunflower seeds. You can use my Pancake Muffins Recipe as well! Since that's pretty sweet, I stuck to fruit for the side dishes: blueberries with conversation hears and a chunk of banana marked "I'm bananas over you!"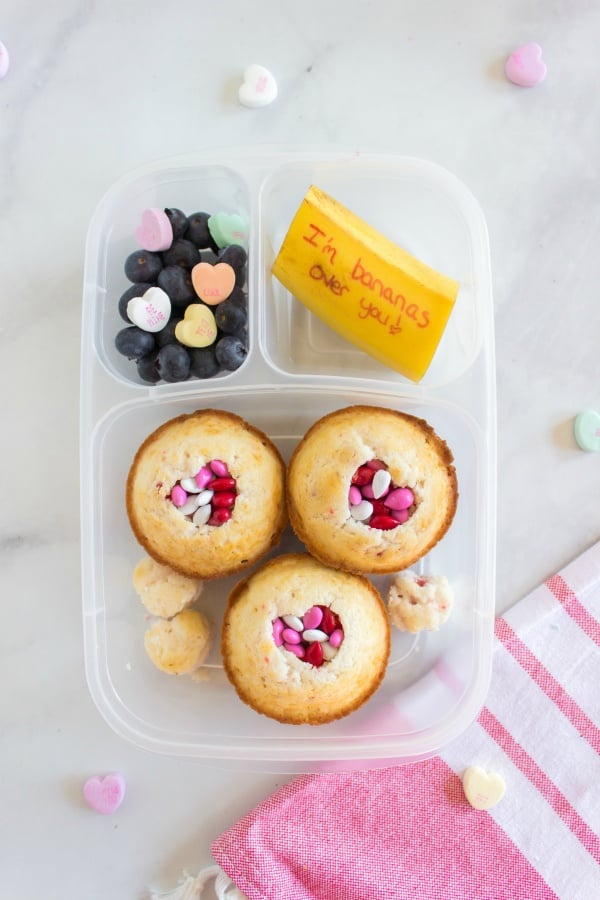 All these are perfectly good, healthy lunch box combos – but with a little creativity (and just a sprinkle of candy), they turn into extra-special V-day treats. The perfect I-love-you lunch for a special day.
(As an Amazon Associate I earn from qualifying purchases.)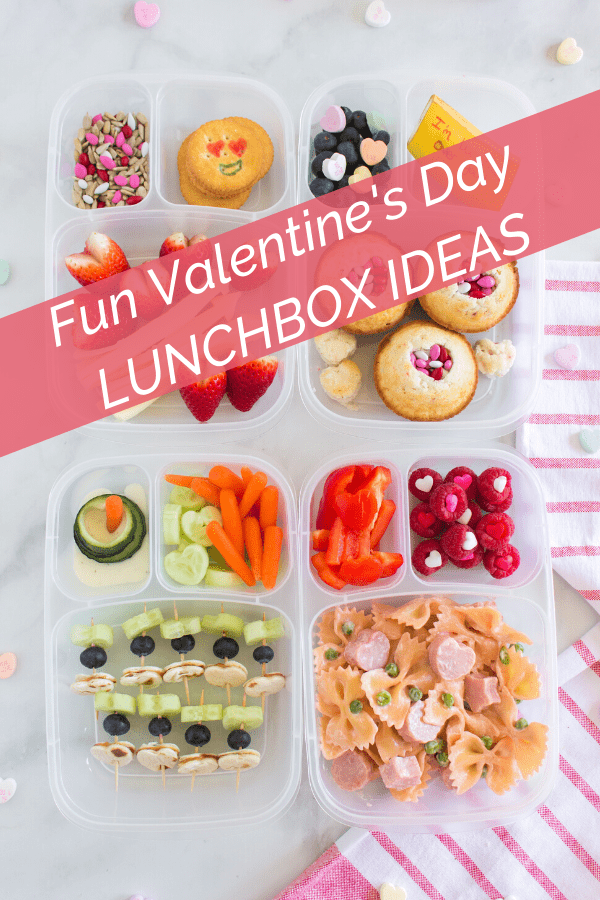 TOOLS USED FOR THESE FUN VALENTINES DAY LUNCHBOX IDEAS
Lunchbox: Here are the lunch boxes I used for this lunch.
Chocolate Covered Sunflower Seeds
Food Markers: These are what I used to draw the faces on our crackers.
Mini Cookie Cutters
Looking for more free recipes? Subscribe to my newsletter and follow along on Facebook, Twitter, Pinterest and Instagram for all of the latest updates.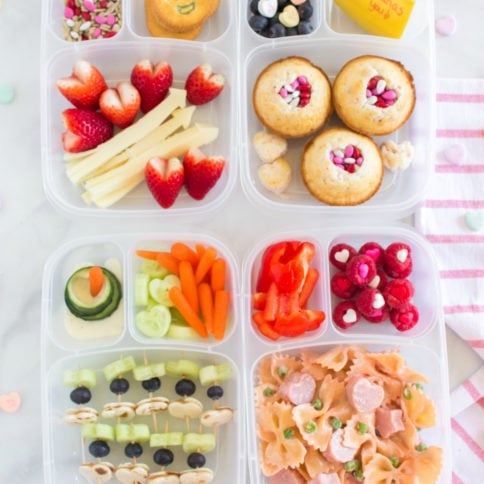 Fun Valentines Day Lunchbox Ideas
t's time for the sweetest holiday of the year, Valentine's Day! Here are some Easy and Fun Valentines Day Lunchbox Ideas for your little ones!
Prep Time: 10 minutes
Cook Time: 10 minutes
Serves:4
Hover over "serves" value to reveal recipe scaler
Ingredients
1 box of bow tie pasta
1 ham steak
1 cup of frozen peas
1 jar of Alfredo cheese sauce
Red food color gel
Raspberries
Heart shaped candies
Bell pepper
Instructions
Cook bow tie pasta according to the box directions

add a few drops of red food coloring gel to the alfredo sauce and stir to make pink

using the shape cutters, cut the ham steak into different shapes

add cooked pasta, peas, ham and alfredo sauce to a pot and heat till ham is cooked through.

This is great served hot, warm, or cold…perfect for a lunchbox.

add a little heart candy into your raspberries

slice your bell pepper and use the heart cutter to add a few hearts to your side
Save this recipe for later! Click the heart in the bottom right corner to save to your recipe box!
Nutrition Disclaimer
Family Fresh Meals is not a dietician or nutritionist, and any nutritional information shared is only an estimate. We recommend running the ingredients through an online nutritional calculator if you need to verify any information.