This GE-Keurig Refrigerator from hhgregg swept us off our feet…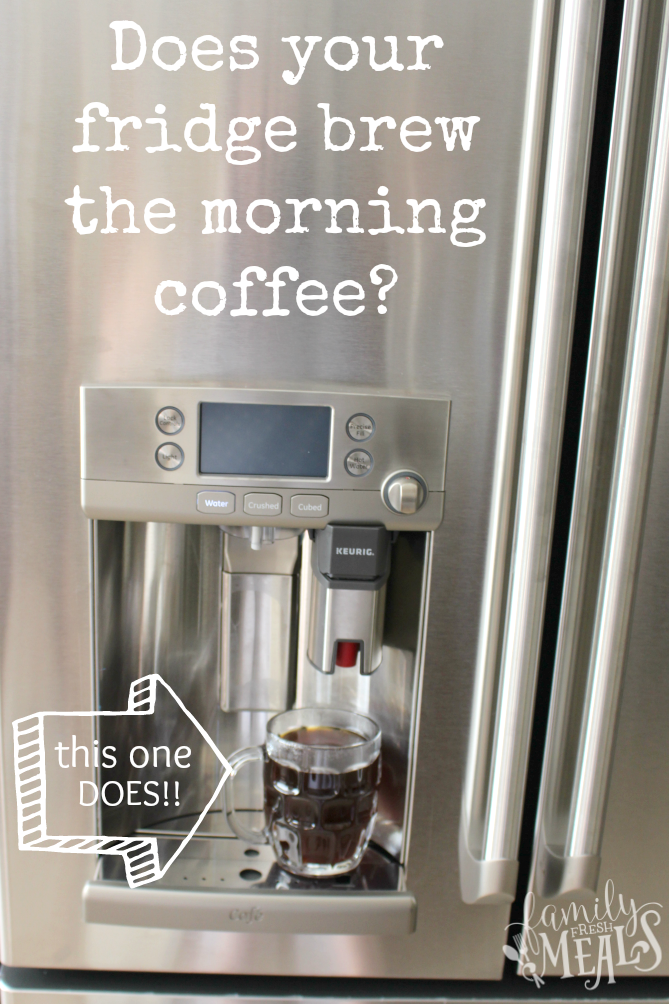 This post is brought to you by hhgregg.
Exciting news, everyone – there has been an addition to our household! No, I don't mean another child…I mean our new GE Café Series refrigerator with Keurig K-Cup Brewing System. But is it wrong to say we love it almost like part of the family?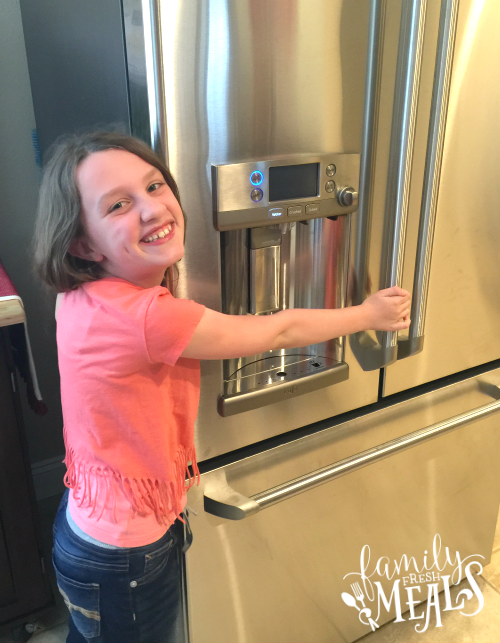 A little background here: our old fridge has been slowly dying for a while now. It still ran, but it was pretty clearly on its last legs. And I was just drooling over the prospect of a new fridge with more features that could make life easier for this busy momma.
And so we went to hhgregg (which, for those of you who don't have them in your area, is a big store with a wide selection of appliances, electronics and furniture) to check out our options. And there was a lot to choose from – top freezer, bottom freezer, side by side – but this new GE Café Series refrigerator with Keurig K-Cup Brewing System just had us at hello.
For starters, it's just gorgeous to look at, with that sleek stainless finish and modern styling. And it's Energy Star certified, which is great for our utility bills.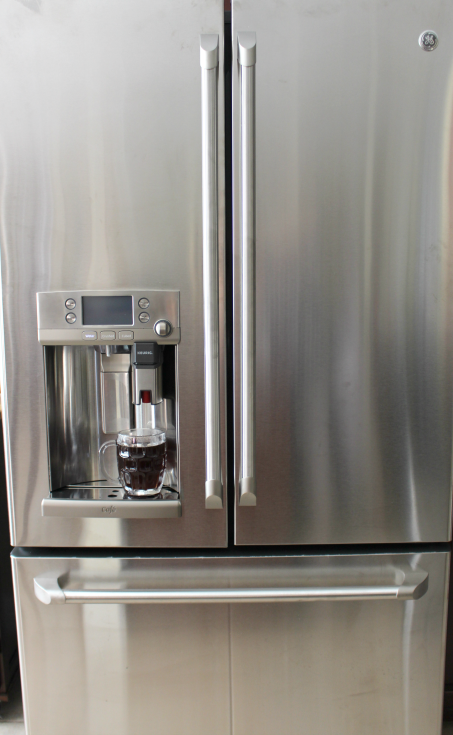 But what really won our hearts was all the features. Sure, ice and water dispensers in the door are pretty common these days…and there are even a few refrigerators that can dispense hot water, too. But this is the only one that can brew Keurig K-Cup pods…right in the door! This makes it even easier to brew up your favorite hot drinks.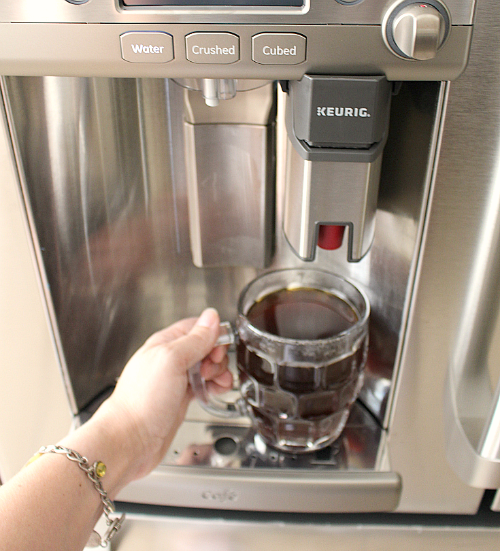 It comes with this little brewer attachment, and you just pop the K-Cup in there, stick it in the door, and push the button. And presto, hot coffee in minutes. No water reservoirs to refill, no bulky machine taking up precious counter space – it's all right there at your fingertips.
I know I just blew your mind…. so let me walk you through brewing a cup. First you slide out your Keurig attachment.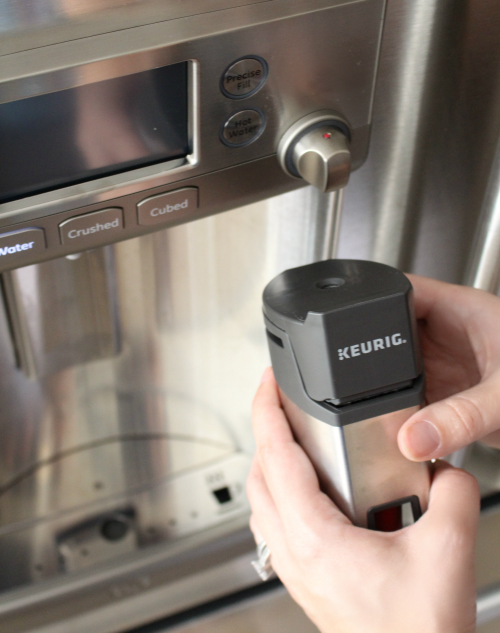 Next, pop in one of your favorite K-Cups, and close the lid.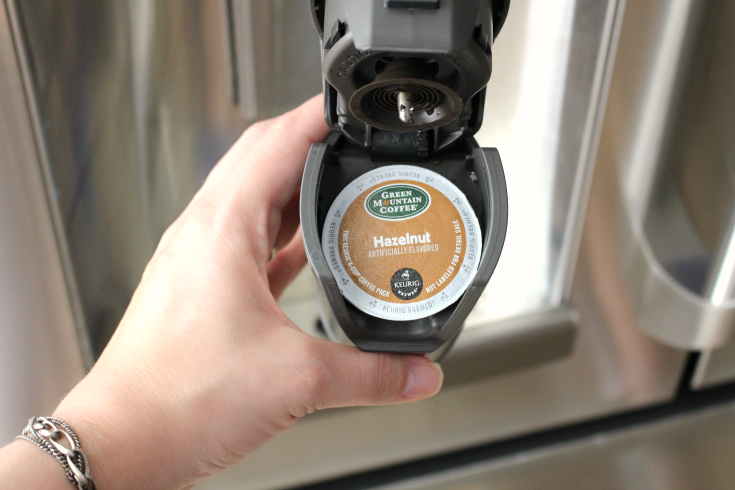 Now all you do is slide your attachment under the hot water section, and your cup selection automatically pops up.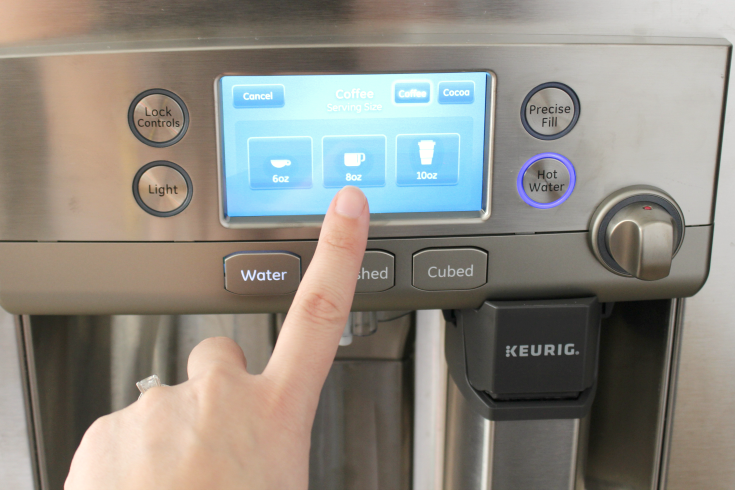 Once the hot water is ready, a red ring lights up around the hot water button. Simply push it and turn!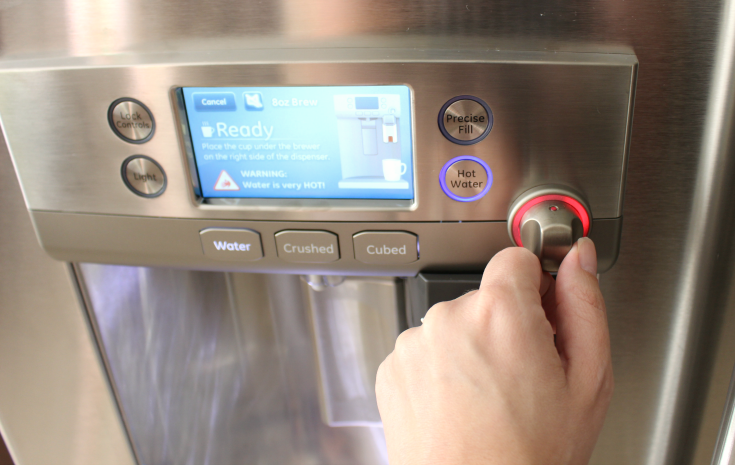 That's it! Let the coffee flow!!!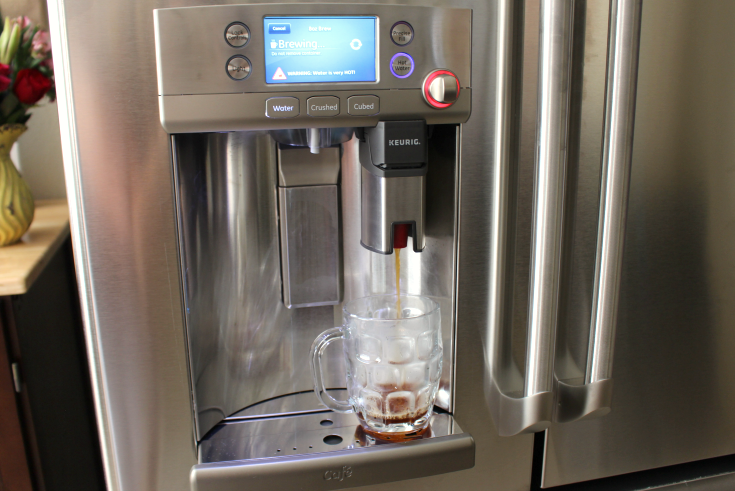 Of course, the dispenser doesn't just make coffee. You can also get filtered water any time, hot or cold. You can even dial in the amount so you don't have to measure it out. And it has four preset temperature settings, so you can get whatever temperature you want – cold, cool, warm, or yow-that's-hot. You can even set it from your phone! Dial in coffee as soon as you get up, and have it ready and waiting by the time you get downstairs!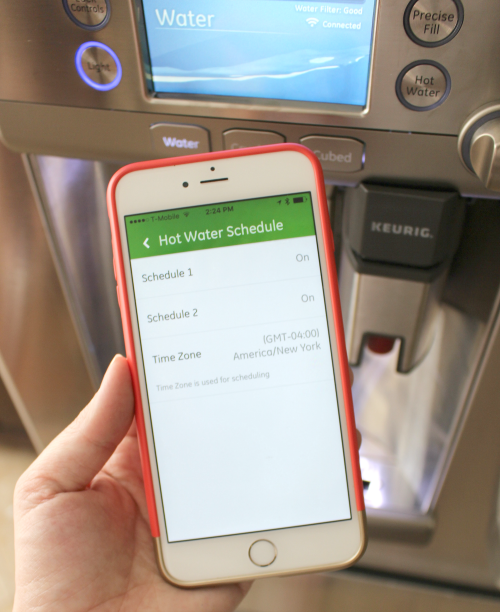 So right now you're probably thinking, "Oh man, where do I get one of those?" Well, good news! You have a chance to win not just this GE Café Series refrigerator with Keurig K-Cup Brewing System, but the entire GE Café kitchen suite, with a matching range, dishwasher, and microwave that are just as amazing. They even throw in a box of K-Cups for the coffee maker. Just click here now through April 17 to enter.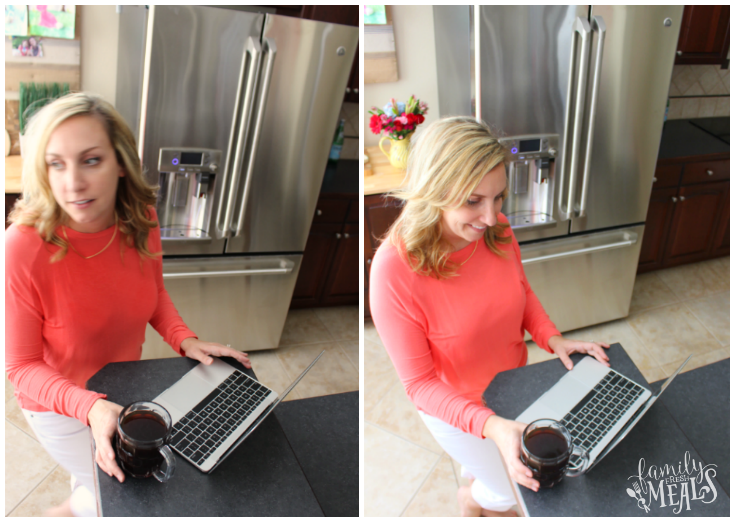 And there are even more goodies you can win! If you take a photo of your kitchen with the hashtags #GreatAmericanKitchen and #entry to Twitter or Instagram, you'll be entered to win a $250 gift card. AND, if you shop the Great American Kitchen Event at hhgregg any time through April 26, some of their appliance packages come with get a free upgrade to a Stainless Steel or Slate finish…plus up to $1,500 in rebates on top of that.
To find out more about GE-Keurig fridge and hhgregg, follow hhgregg's Facebook, Instagram, Twitter or Pinterest pages.
So what are you waiting for? Click now!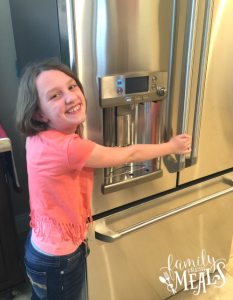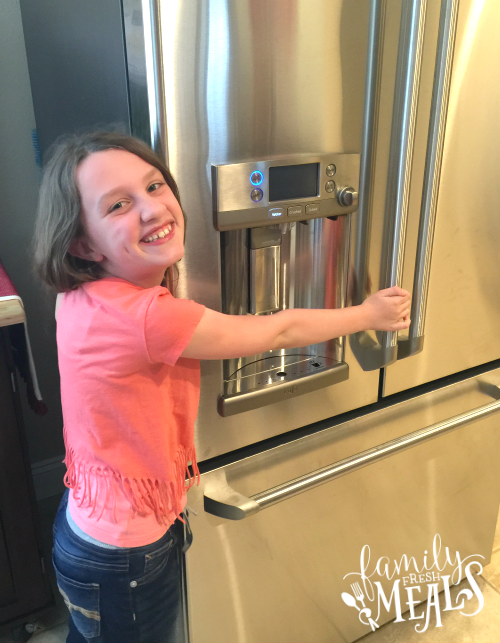 Do you love Family Fresh Meals? Never miss out on a FUN new meal or idea and SIGN UP to have my posts sent right to your inbox! It's EASY PEASY! Just CLICK HERE and enter your email!
XO
Corey, Darryl, Big D & Little D

This is a sponsored conversation written by me on behalf of hhgregg. The opinions and text are all mine. Comments submitted may be displayed on other websites owned by the sponsoring brand.