Lets get cute AND functional!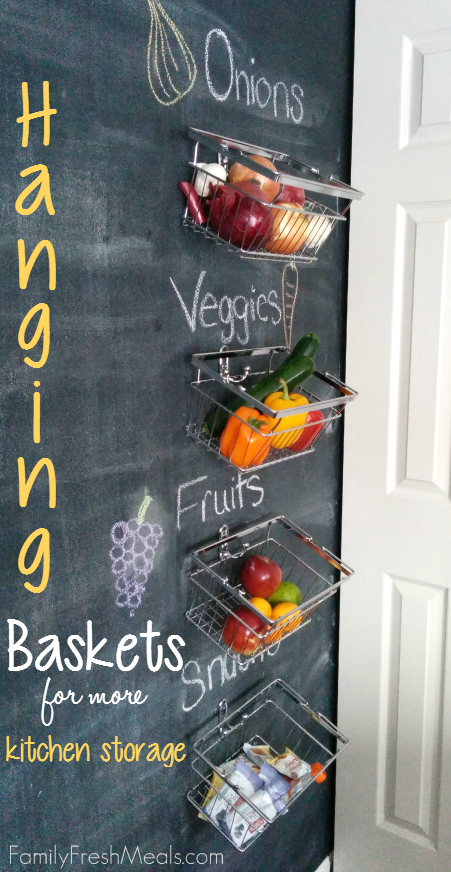 I have a smallish kitchen with an even smaller pantry. That being said, I am always struggling to find places to store all of our goodies.While shopping at our local Trader Joe's , I commented to my husband how I loved the chalk board labels in the fruit & veggie section.
LIGHT BULB! (Did I mention we have a chalkboard wall in the kitchen?) Darryl's genius brain came up with the fabulous idea to hang a couple baskets from our kitchen chalkboard wall to add extra storage!
I love this man.
---
After hunting around online, I found out that baskets can be expensive! DANG. I was thrilled to find these baskets for half the price of most I found. LOVE THEM. Sturdy, just the right size and they have handles. I don't necessarily use the hands while they are hanging, but when summer hits and my garden is in full bloom, I can grab these baskets off the wall and fill them up in my garden. I. can't. WAIT! (As an Amazon Associate I earn from qualifying purchases.)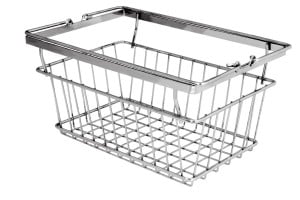 Now, how are we going to hang these bad boys? Luck have it, there was a stud right where I wanted to hang the baskets. So we needed a double hook to keep the baskets level. Darryl found one at Home Depot, but this one is exactly the same.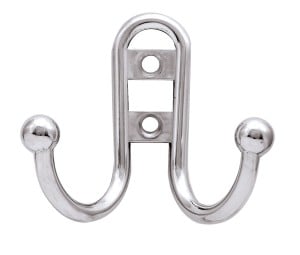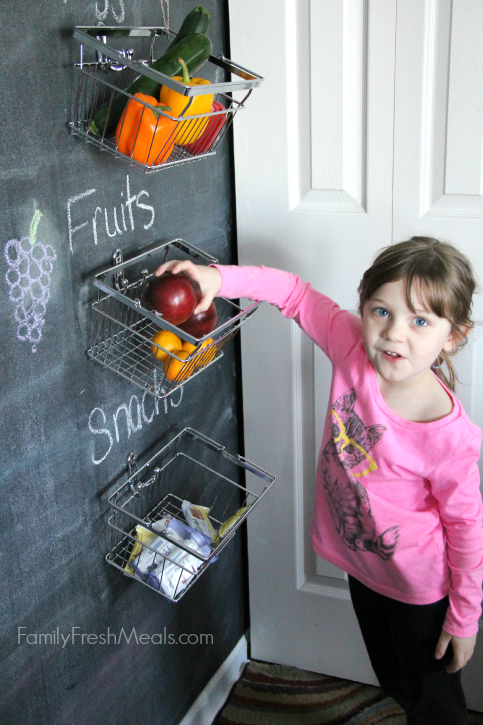 The bottom two baskets are designated for fresh fruit, and snacks. I'll keep those stock for the kiddos to grab when they would like a healthy snack.
Those two baskets are low enough for both girls to reach so it will help with the "Mooooooom…can you get me a snaaaaaack?"
The very top holds my onions and garlic, followed by veggies and then the fruit and snacks. There is room at the bottom for one more basket, so I might add one more for potatoes.
If you don't have a chalkboard wall, no worries. They sell these super cute chalkboard labels you could attach to the baskets.
I hope this post helped you find more storage. I am so excited to have that little extra counter top space to create some new fabulous Family Fresh Meals for all of you!