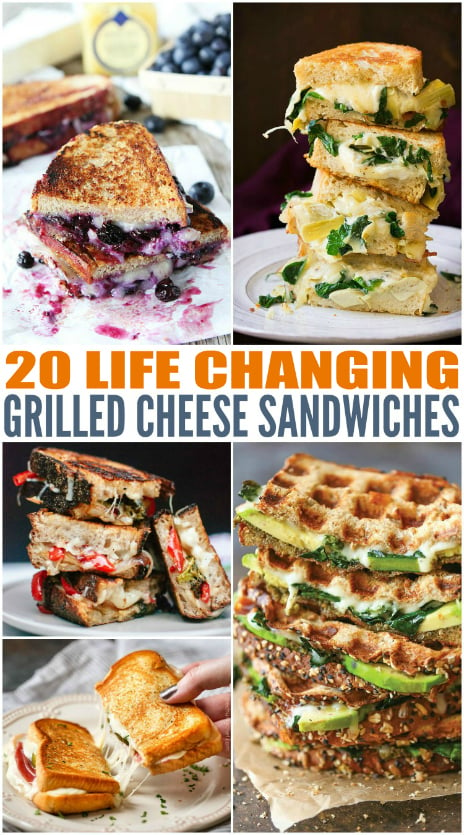 When you think of grilled cheese, what comes to mind?
For me it used to be two slices of wonder bread, slathered with butter (or mayo) with a piece of yellow wrapped cheese placed perfectly in the middle. My mom could make a banging grilled cheese sandwich. They were always paired with a big, steaming bowl of tomato soup.
As an adult, when I think of a grilled cheese sandwich that yellow wrapped cheese isn't so delicious sounding. But these are…
Life Changing Grilled Cheese Sandwiches
1- If you love caprese salad, then you need to make this Caprese Grilled Cheese.
2- Green Bean Casserole Grilled Cheese is the perfect solution to your Thanksgiving leftovers!
3- Curb your cheese craving in less than 10 minutes with this Spinach and Ricotta Grilled Cheese.
4- This Blueberry & Lemon Curd Grilled Cheese is sweet. Perfect for a last minute dessert
5- Can't decide if you want salty or sweet? Try this Bacon Brie & Apricot Grilled Cheese. It's sweet, salty, and gooey!
6- I never, ever would have thought to add asparagus to a grilled cheese. But now I must have an Asparagus Grilled Cheese.
7- Balsamic Roasted Broccoli & Red Pepper Grilled Cheese is so stuffed with veggies you will only be able to eat one.
8- Looking for an easy lunch? Pear with Red Onion & Rosemary Grilled Cheese is easy and healthy.
9- Kale Pesto Avocado Grilled Cheese is hearty, cheesy, nutritious and filled with plenty of greens!
10-Even better than the dip. This Spinach Artichoke Grilled Cheese doesn't have to be shared.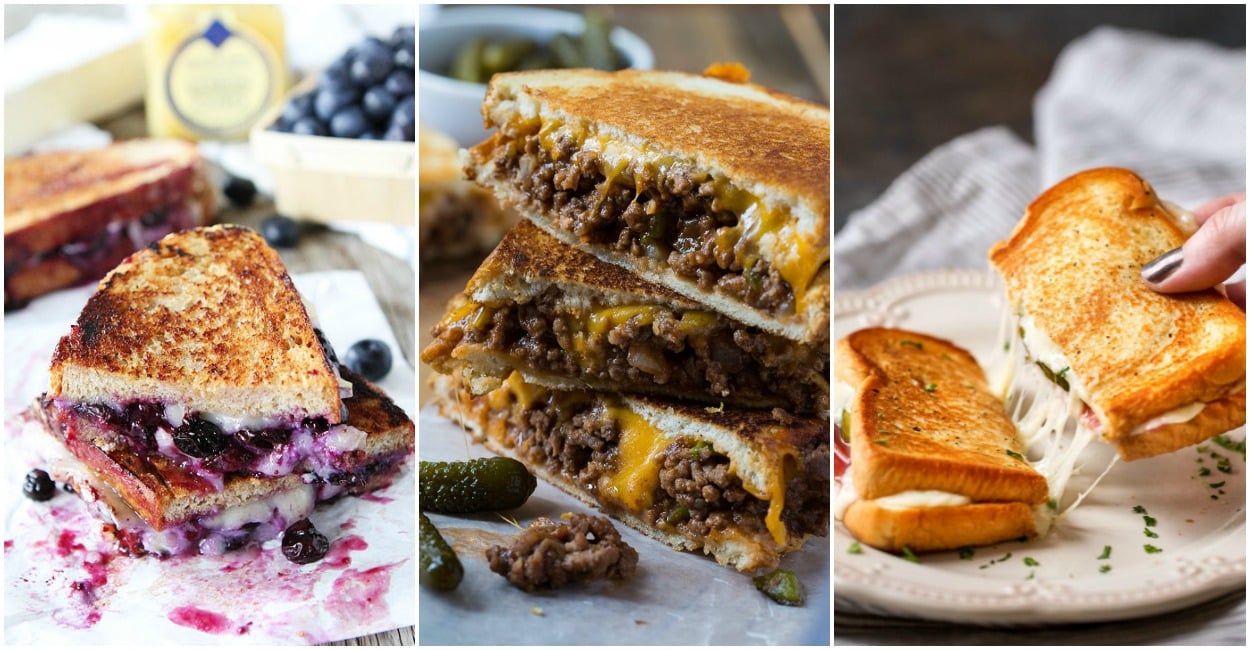 11- Just like the appetizer, but this Salami & Pickle Grilled Cheese is in rolled (gooey) form.
12- Sloppy Joe Grilled Cheese are super simple to prepare. They take hardly any time at all.
13- The Reuben Grilled Cheese is a classic American food, in grilled cheese form.
14- Want a ton of flavor? Then make the Harissa Grilled Cheese.
15- Pair this Pesto Grilled Cheese with a bowl of home made tomato soup.
16- The Buffalo Chicken & Bacon Grilled Cheese tastes best when served with a big side of ranch dressing.
17- You need to be a Brie lover to enjoy this Blackberry & Peach Brie Grilled Cheese. But if you are, you will love it.
18- Shrimp lovers rejoice. This Shrimp & Bacon Grilled Cheese makes the world a tastier place.
19- Provolone & Prosciutto Grilled Cheese is filled with prosciutto, blue cheese, arugula & fig jam.
20- Another quick and delicious dessert, the Honey Banana Grilled Cheese will have all your guests asking for seconds.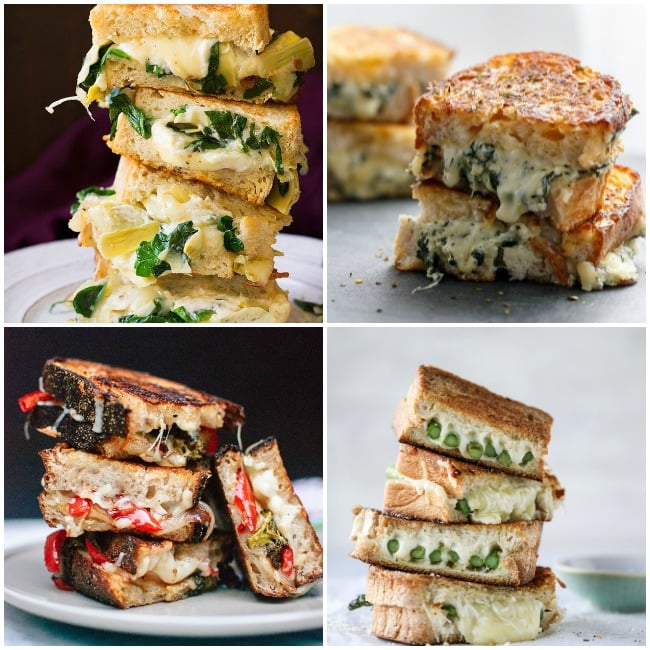 Do you love Family Fresh Meals? Never miss out on FUN new meals or Easy Lunchbox Ideas for the Family and SIGN UP to have my posts sent right to your inbox! It's EASY PEASY! Just CLICK HERE and enter your email!
XO
Corey, Darryl, Big D & Little D