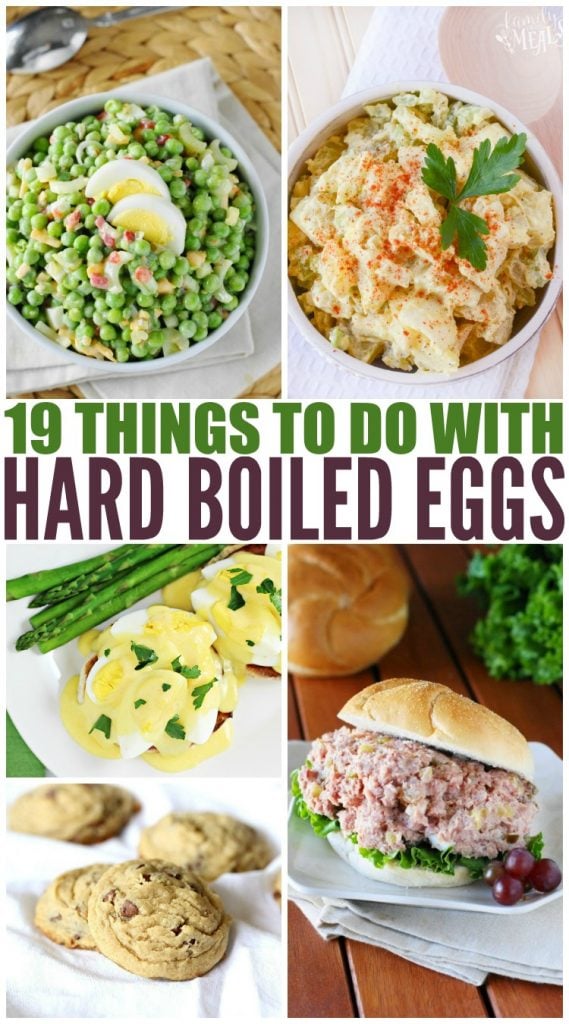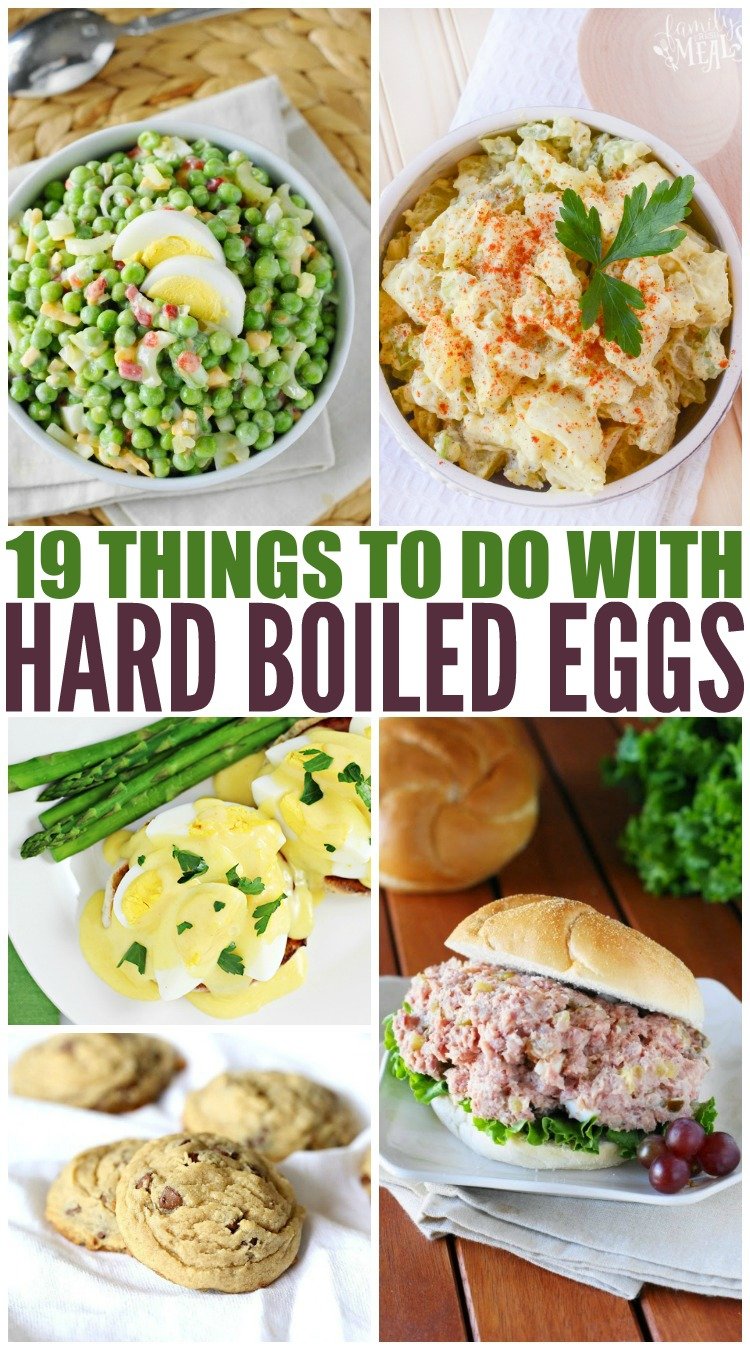 Growing up, Easter was one of my favorite holidays. I loved getting all dressed up, painting eggs, spending time with family and of course getting an Easter basket filled with goodies. As an adult, it's one of my least favorite and it's all because of the eggs.
Making them is no big deal. I actually make hard boiled eggs in the oven and Big D and Little D love painting eggs so we make a ton. But I loathe dealing with them after the are painted. I always end up making egg salad sandwiches or just eating them with a bit of mayo. But that can get boring FAST! This year I am planning ahead. I am deciding now what I want to do with all those leftover hard boiled eggs and coming up with a plan of attack! Here's a few on the plan 🙂
Which ones look good to you?
Things to do With Leftover Hard Boiled Eggs
1. Chop them up and toss them in the Best Potato Salad Ever.
2. Served with sliced tomatoes and arugula on toast, this Healthy Egg Salad is a perfect quick lunch.
3. I never in a million years would of thought you could make Chocolate Chip Cookies with hard boiled eggs, but these look delicious.
4. Do you also have left over ham? Then this Cobb Salad is a great option.
5. Or you could make Ham Salad Sandwiches.
6. If you love Chinese food you will love these Soy Sauce Braised Eggs.
7. This Egg Salad recipe uses Greek yogurt instead of mayo. Much healthier than normal egg salad.
8. Egg Breakfast Casserole makes enough to feed an entire crowd, or prep breakfast for the entire week.
9. Make a huge batch of this Chicken & Egg Salad and lunch is done all week long.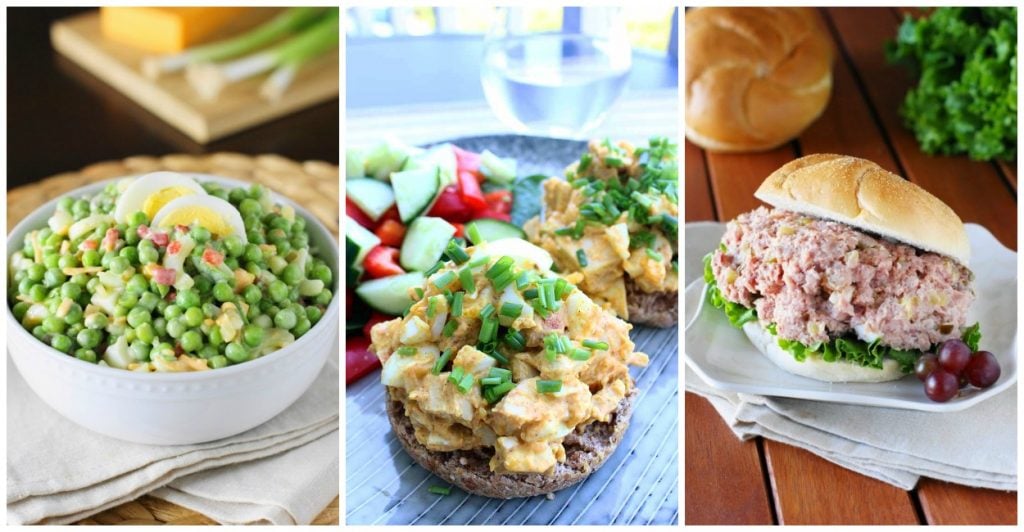 10. Creamed Eggs On Toast is a true comfort food. It is also a super easy and affordable dish to make.
11. This Cheeseless Caprese Salad is Whole 30, Paleo and Gluten Free.
12. Peas, celery, hard-cooked egg, shredded cheddar, and pimentos combine to make Pea Salad.
13. Love avocados as much as eggs? Try out this Creamy Avocado Egg Salad.
14. When Eggs and Pickles combine, you get amazing things. Like these Red Wine Vinegar Pickled Eggs.
15. Making poached eggs is a pain. This Eggs Benedict recipe calls for hard boiled ones.
16. Cauliflower Potato-Style Salad features all the traditional flavor and savor without all the calories
17. This Portuguese Pizza is topped with cheese, ham, olives, onions and hard boiled eggs!
18 These Tomato & Cheese Stacks are quick and easy to make. Great idea for last minute company.
19 Tuna Empanadillas are filled with tuna, hard boiled eggs and and olive stuffing- yum!
I hope you loved these recipes for hard boiled eggs!
Do you love Family Fresh Meals? Never miss out on FUN new meals or Easy Lunchbox Ideas for the Family and SIGN UP to have my posts sent right to your inbox! It's EASY PEASY! Just CLICK HERE and enter your email!
XO
Corey, Darryl, Big D & Little D
Looking for more free recipes? Subscribe to my newsletter and follow along on Facebook, Twitter, Pinterest and Instagram for all of the latest updates.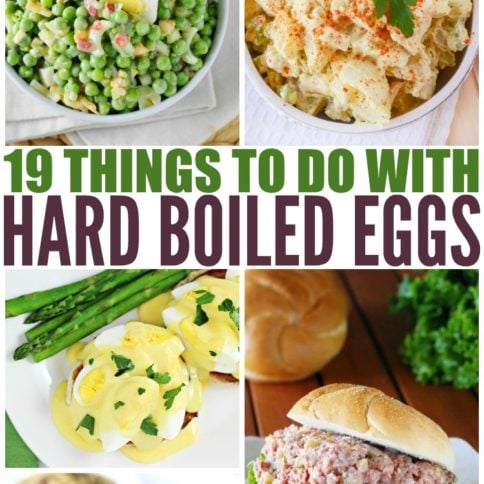 Things to do With Leftover Hard Boiled Eggs
For Easter, we always have a ton of hard boiled eggs leftover. What to do with them all? Here is a list of 19 Things to do With Leftover Hard Boiled Eggs.
Prep Time: 10 minutes
Cook Time: 35 minutes
Total Time: 45 minutes
Serves:10
Hover over "serves" value to reveal recipe scaler
Ingredients
6 medium white potatoes or Yukon golds about 2 lbs pounds, quartered
2 Tablespoons white vinegar
2 large celery stalks diced
½ cup onions finely diced
5 hard boiled eggs peeled
1½ cups mayonnaise
1 Tablespoon yellow mustard
1 teaspoons celery seed
1 teaspoon kosher salt
¼ teaspoon ground black pepper
paprika for garnish
Instructions
Place potatoes in large pot and add enough water to cover potatoes. Cover and heat to boiling; reduce heat to low. Cook covered 25 to 30 minutes or until potatoes are tender. Drain potatoes and let cool enough to handle. Cut potatoes into cubes.

Mix mayonnaise, vinegar, mustard, salt and pepper in a large bowl.

Add potatoes, celery and onion; toss. Stir in eggs. Sprinkle with paprika. Cover and refrigerate at least 4 hours to blend flavors and chill. Store covered in refrigerator.
Save this recipe for later! Click the heart in the bottom right corner to save to your recipe box!
Nutrition Disclaimer
Family Fresh Meals is not a dietician or nutritionist, and any nutritional information shared is only an estimate. We recommend running the ingredients through an online nutritional calculator if you need to verify any information.