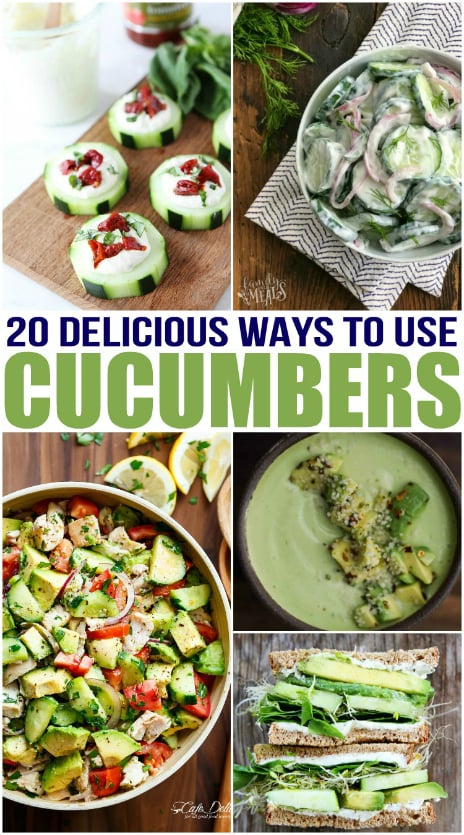 Driving home from the mall yesterday I spotted a pop up farmers stand by the side of the road. I stopped and the guy offered me a killer deal on all his remaining cucumbers because the weather was about to take a turn for the worse and he wanted to go home. I ended up with about 30 pounds of cucumbers for just under ten dollars, a total steal.
When I got home and got them all washed I was bit intimidated about how many cucumbers were on my kitchen counter. Don't get me wrong, I love cucumbers but what in the world was I going to do with so many. I sat down and searched online and found so many different things I could do with them. Here are some of my favorites.
20 Delicious Cucumber Recipes
1- My Creamy Homestyle Cucumber Salad only takes 10 minutes to prep, then chill for a few hours!
2- Once you make Pico de Gallo with cucumbers, you'll never make it a different way.
3- Chicken Cucumber Avocado Salad can be thrown together at any time of the day.
4- This Asian Cucumber Salad features bright colors and crunchy textures.
5- If you love garlic, then you will love this Radish and Cucumber Salad. Includes a recipe for dressing too.
6- Looking for a super simple supper? Make these Cucumber Tuna Salad Bites.
7- When it's too hot to turn on the oven, make this Quinoa and Cucumber Noodle Salad.
8- Cucumber Canapés are topped with whipped feta, sun-dried tomatoes and basil. The perfect party appetizer.
9- This perfectly refreshing Pineapple Cucumber Salad is wonderfully easy to make and simply delicious!
10- Tuna In Cucumber Cups are low carb, paleo and Whole30 approved!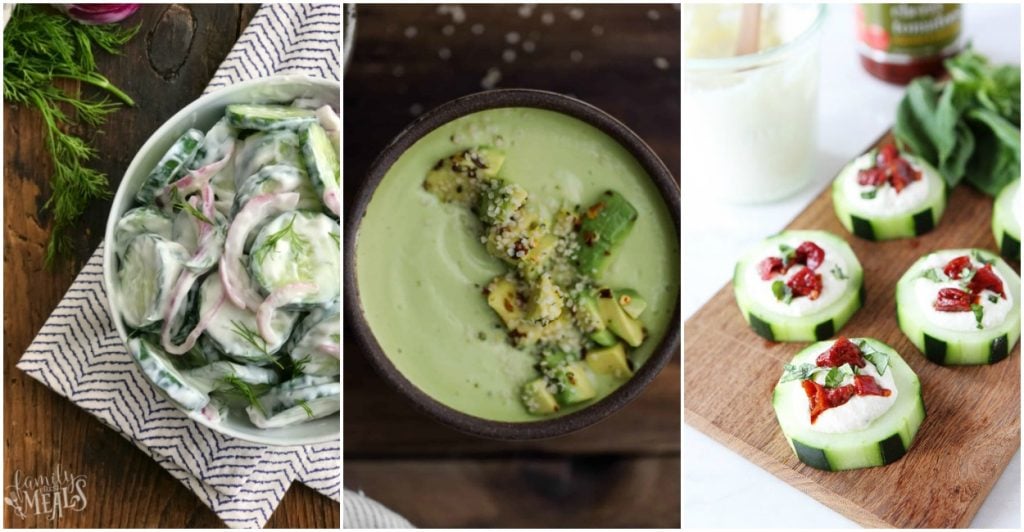 11- This Chilled Cucumber and Avocado Soup is great for a hot day.
12- This Minty Pineapple Cucumber Green Smoothie will be the best green smoothie you've ever had.
13- This Cucumber and Avocado Sandwich is a fresh and simple vegetarian meal that's great for lunch or dinner.
14- Cucumber Lime Mint Paletas are the perfect frozen treat.
15- Spicy Cucumbers are a great alternative to chips.
16- This Horiatiki Salad combines the freshest ingredients of the season with feta, olives and peperoncini.
17- These Easy Pickles are fresh, briny, and crunchy! They're perfect on burgers or straight out of the jar.
18- Old Fashioned Relish is quick and easy to make. It's so fresh and delicious you'll want to slather it on everything.
19- Watermelon Blueberry Feta Salad with Cucumbers is perfect for big get togethers.
20- Gin and Cucumber Basil Smash is a light and fragrant cocktail you'll want to drink all year long.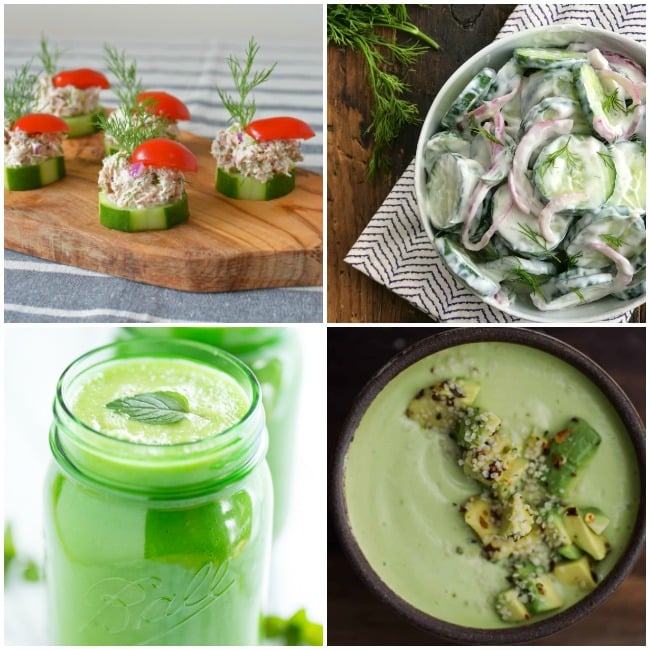 Do you love Family Fresh Meals? Never miss out on FUN new meals or Easy Lunchbox Ideas for the Family and SIGN UP to have my posts sent right to your inbox! It's EASY PEASY! Just CLICK HERE and enter your email!
XO
Corey, Darryl, Big D & Little D