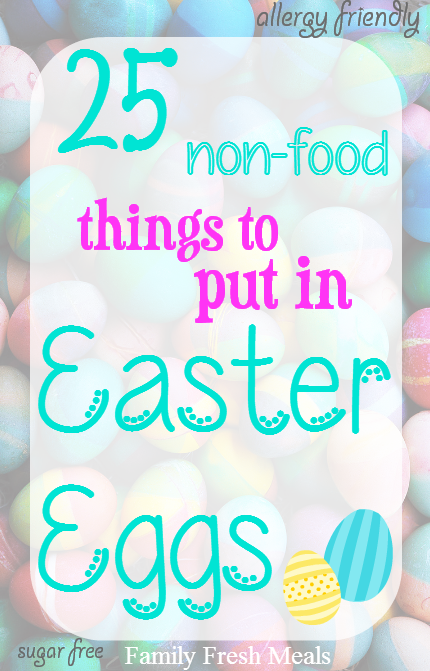 Easter is coming up soon, and it's time to start planning for those beloved Easter baskets and egg hunt.
That silly rabbit is always leaving the kids SOOOOO much candy.  Last year I think we had MORE candy at Easter than we did for Halloween! HA
Here are a list of 25 little items you can place into those fun plastic eggs that DO NOT involve food, making these treats sugar free and allergy free 🙂
25 Things to put in Easter Eggs
1. money (coins, bills, whatever…)
2. rings
3. necklaces
4. bracelets
5. earrings
6. stickers
7. erasers
8. puzzles pieces ( it will take a couple eggs, but when they find them all, they have a puzzle to put together)
10. little farm animals
11. Squinkies
12. Littlest Pet Shop figures
13. googly eyes ( I mean really… who doesn't like googly eyes)
14.  craft pom poms
15. Little People
16. Polly Pockets or their clothing
17. Barbie Clothes
18. cars
19. balloons
20. bouncy balls
21. hair accessories (bows, bands,clips)
22. nail polish
23. chapstick
24. lip gloss
25. mini LEGO set
Do you love Family Fresh Meals? Never miss out on a FUN new meal or idea and SIGN UP to have my posts sent right to your inbox! It's EASY PEASY! Just CLICK HERE and enter your email!
XO
Corey, Darryl, Big D & Little D
Here is some of the stuff our Easter Bunny stocked up on 🙂 XO Corey