Do you want to be the  talk of the party?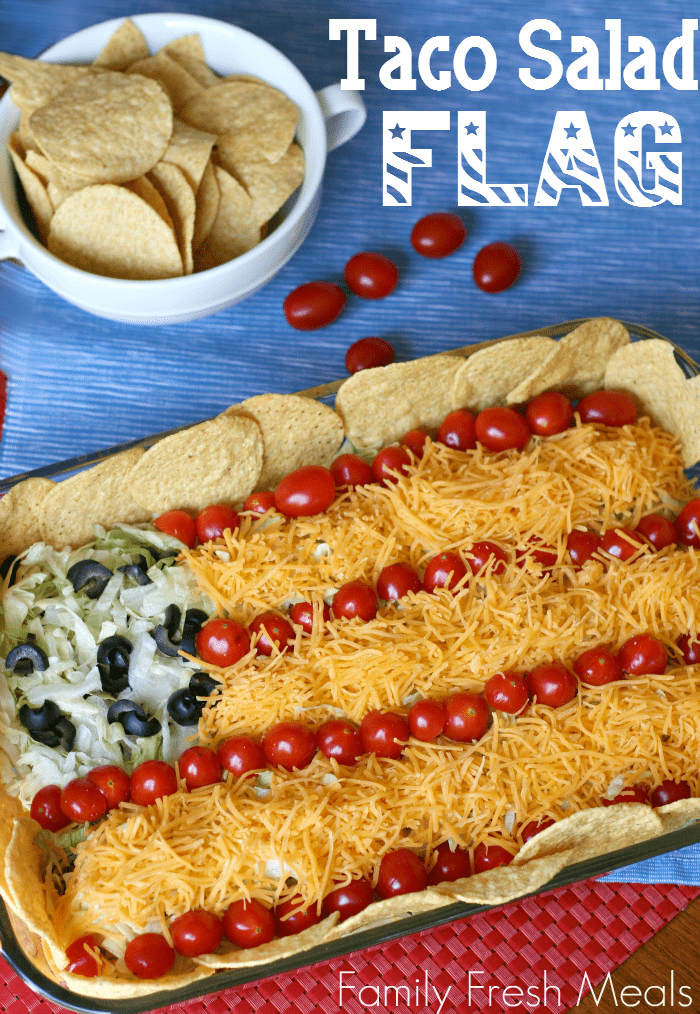 Do you need a fun, EASY dish to bring to your Memorial Day gathering, or a 4th of July  picnic? Look no further. This super easy taco salad flag not only looks pretty, but tastes AMAZING!  It literally only took me a couple minutes to make and my entire family loved it.
Need a vegetarian version? No problem! I was able to make this vegetarian friendly for Darryl using our soy crumbles. Here is what you need to make this fun dish!
Easy Taco Salad Flag
Ingredients
1 pound ground beef  (or vegetarian crumble)
3/4 cup water
1/4 cup salsa
1 envelope taco seasoning  (or 2 TBSP of my DIY Taco Seasoning)
4-6 cups tortilla chips
4  cups shredded lettuce
1/2 cup  pitted large olives, sliced lengthwise
2 cups  shredded cheddar cheese
2-3 cups cherry tomatoes
Directions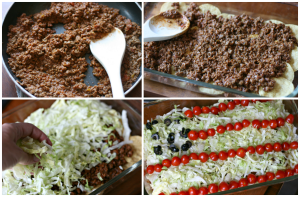 1. In a large skillet, cook beef over a medium heat until meat is no longer pink. Drain off any extra grease. Next,  stir in the water, salsa  and taco seasoning. Bring to a simmer and cook uncovered for about 10 minutes, or until most of the liquid is absorbed.
2. Place chips in a 13-in. x 9-in. dish.  Next spread beef evenly over the top of chips.
3. Cover beef  with a layer of lettuce.
4. Arrange olive slices together in the upper left corner to form stars. For the  stripes, alternate tomatoes and cheese.  I added a couple extra chips to the side of the dish for some extra crunch.
NOTE: If you are making this several hours in advance, I would skip placing the chips at the bottom of the taco salad and just serve them on the side.
Optional: I also like to drizzle a little bit of Italian dressing over the individual servings 🙂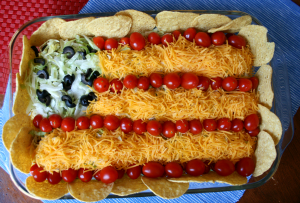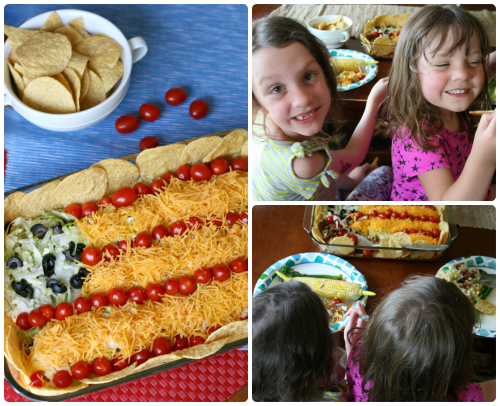 Do you love Family Fresh Meals? Never miss out on FUN new meals or easy lunchbox ideas for thefamily andSIGN UPto have my posts sent right to your inbox! It's EASY PEASY! JustCLICK HEREand enter your email!
XO
Corey, Darryl, Big D & Little D

Easy Taco Salad Flag
Ingredients
1 pound ground beef (or vegetarian crumble)
¾ cup water
¼ cup salsa
1 envelope taco seasoning (or 2 TBSP of my DIY Taco Seasoning)
4-6 cups tortilla chips
4 cups shredded lettuce
½ cup pitted large olives, sliced lengthwise
2 cups shredded cheddar cheese
2-3 cups cherry tomatoes
Instructions
In a large skillet, cook beef over a medium heat until meat is no longer pink. Drain off any extra grease. Next, stir in the water, salsa and taco seasoning. Bring to a simmer and cook uncovered for about 10 minutes, or until most of the liquid is absorbed.
Place chips in a 13-in. x 9-in. dish. Next spread beef evenly over the top of chips.
Cover beef with a layer of lettuce.
Arrange olive slices together in the upper left corner to form stars. For the stripes, alternate tomatoes and cheese. I added a couple extra chips to the side of the dish for some extra crunch.
NOTE: If you are making this several hours in advance, I would skip placing the chips at the bottom of the taco salad and just serve them on the side.
Optional: I also like to drizzle a little bit of Italian dressing over the individual servings 🙂
 Here is what I used to make this Easy Taco Salad Flag