This has been called heaven in a bowl…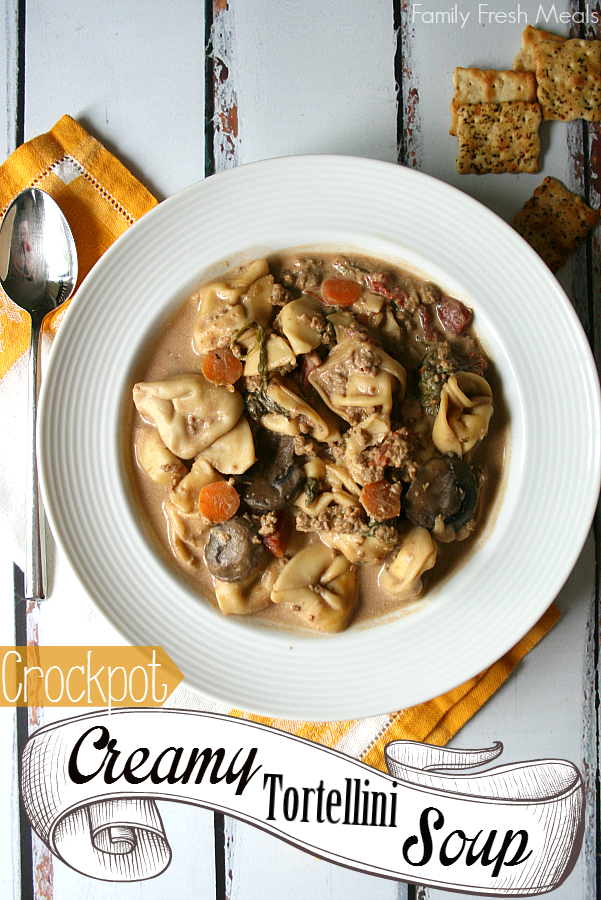 I'm a huge fan of Crockpot Tortellini Soup. I make it often for my family, so I wanted to try a new twist on our favorite. Boy oh boy am I glad I decided to experiment!
This Creamy Crockpot Tortellini Soup is BETTER than any tortellini soup I have made in the past. There are a lot of, what I like to call, "hidden veggies." The spinach, mushrooms and carrots blend so well into the soup, both of my mushroom hating children didn't blink and eye and ate 2 bowls full! SUCCESS!
NOTE: This can also be made vegetarian friendly, substituting veggie crumbles, and veggie broth.
Creamy Crockpot Tortellini Soup
24 oz jar spaghetti sauce
2 cups water
1/4 cup diced onion
3-4 garlic cloves, minced
1/2 cup diced carrots
1lb ground beef, browned
4 cups of loosely packed fresh spinach leaves
4 cups beef broth
8 oz cream cheese, cut into 1 inch cubes
8 oz sliced fresh mushrooms
16 oz refrigerated cheese tortellini (you can also use frozen, just add 30 more minutes to cooking time)
Combine spaghetti sauce, water, meat, onions, garlic, carrots, spinach, cream cheese, beef broth, and mushrooms in a slow-cooker. Cook on LOW for 7 hours, on HIGH for 5 hours.
Before adding in tortellini, take a whisk to your soup to break up any chunks of cream cheese. Stir in tortellini. Cover and cook for 20-30 minutes or until tender and hot. (If using frozen tortellini, I would cook for about 45 more minutes, or until tender and hot)
HERE ARE MORE CROCKPOT SOUPS WE LOVE!
Looking for more free recipes? Subscribe to my newsletter and follow along on Facebook, Twitter, Pinterest and Instagram for all of the latest updates.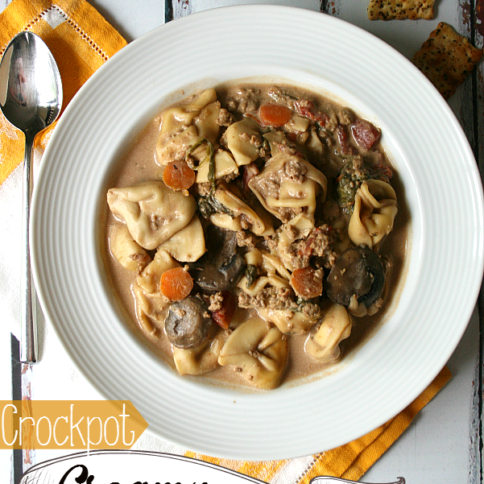 Creamy Crockpot Tortellini Soup
This Creamy Crockpot Tortellini Soup recipe is BETTER than any soup. It's easy to make & my family loves it!
Prep Time: 5 minutes
Cook Time: 5 hours
Serves:8
Hover over "serves" value to reveal recipe scaler
Ingredients
24 oz jar spaghetti sauce
2 cups water
1/4 cup diced onion
3-4 garlic cloves minced
1/2 cup diced carrots
1 lb ground beef browned
4 cups of loosely packed fresh spinach leaves
4 cups beef broth
8 oz cream cheese cut into 1 inch cubes
8 oz sliced fresh mushrooms
16 oz refrigerated cheese tortellini you can also use frozen, just add 30 more minutes to cooking time
Instructions
Combine spaghetti sauce, water,  meat, onions, garlic, carrots,  spinach, cream cheese, beef  broth, and mushrooms in a slow-cooker. Cook on LOW for 7 hours, on HIGH  for 5  hours.

Before adding in tortellini, take a whisk to your soup to break up any chunks of cream cheese. Stir in  tortellini. Cover and cook for 20-30 minutes or until tender and hot. (If using frozen tortellini, I would cook for about 45 more minutes, or until tender and hot)
Nutrition Information:
Calories: 423kcal (21%)Carbohydrates: 35g (12%)Protein: 25g (50%)Fat: 21g (32%)Saturated Fat: 9g (45%)Cholesterol: 77mg (26%)Sodium: 1331mg (55%)Potassium: 781mg (22%)Fiber: 4g (16%)Sugar: 8g (9%)Vitamin A: 3268IU (65%)Vitamin C: 12mg (15%)Calcium: 172mg (17%)Iron: 4mg (22%)
Post updated September 2020