Surprise those hungry ghouls and goblins with these fun Halloween pizza ideas!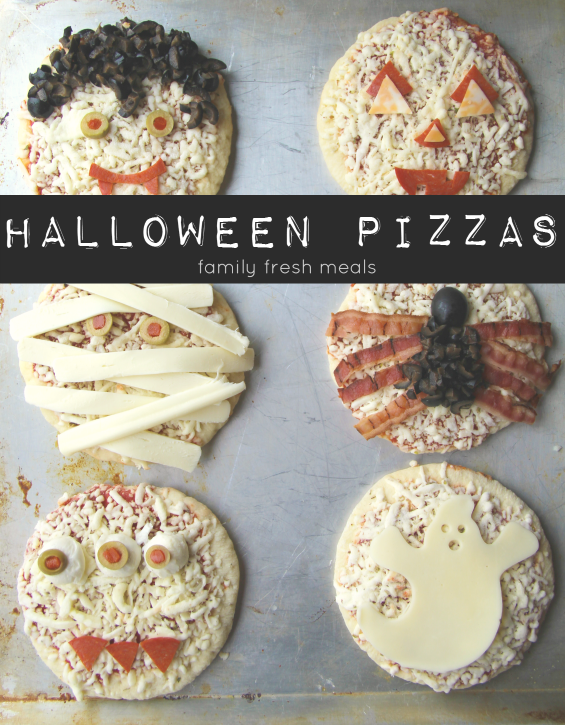 Around here, Fridays are pizza night. I'm preeeeetty sure that there might be a couple other families out there that do the same thing.
Well……since Halloween falls on a Friday this year, I thought it would be neat to come up with some fun Halloween Pizza Ideas to share with you. These were personal sized pizzas I got from Trader Joe's. I know there are other personal sized pizza brands at our local store if you don't have a Joe's nearby. But don't feel like you have to do these mini versions. All of these can easily be adapted to fit larger, family sized pizzas!
NOTE: If kids aren't fond of the ingredients being used, no worries. Cheese comes in a variety of colors, and can be cut into just about any shape. So I would recommend subbing in a cut-out slice of cheese or meat topping for anything that doesn't sound good 🙂
Let's start with these two spooky friends. Vampire and the Jack-o-Lantern!
The vampire has black olive hair, olive eyes and pepperoni mouth and fangs.
For the Jack-o-Lantern, I just used kitchen scissors to cut out pepperoni and cheese (<—to make it look like is was lit up)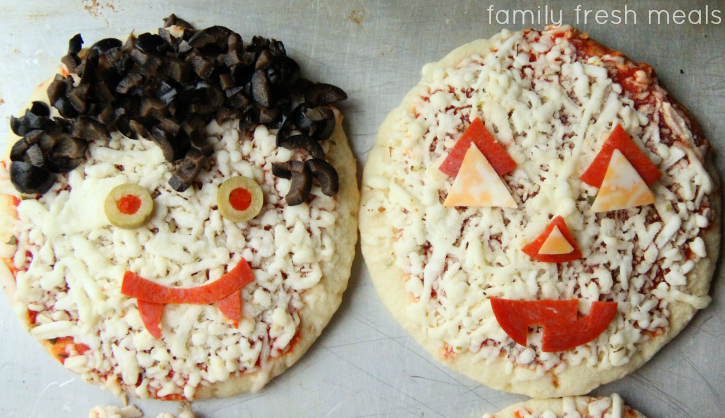 Next up we have Mr. Mummy and a big black SPIDER!!! Eek!
For Mr. Mummy, I cut mozzarella sticks into strips and laid them out to look like mummy bandages. Don't forget the olive eyes!
The spider was made with 1 whole olive for the head, with diced black olives for the body. Those delicious legs are bacon!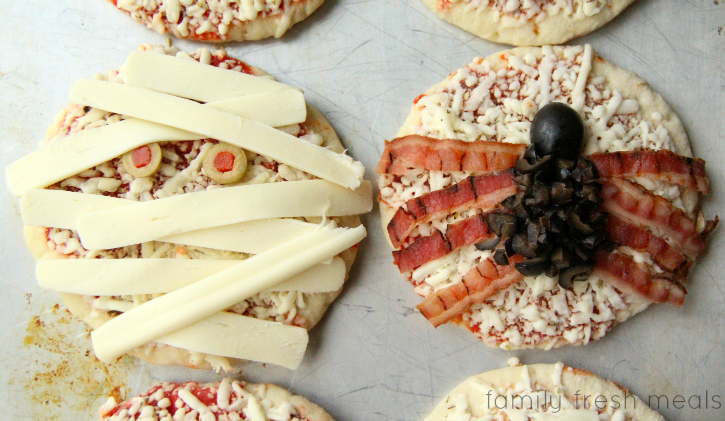 Last but not least is this creepy couple, the Monster and Ghost.
This monster has 3 eyes made of fresh mozzarella balls and olives, along with pepperoni fangs. For the ghost, I just cut a piece of cheese with a cookie cutter. Yay!
NOTE: The ghost kinda disappeared after cooking, as you will see below. So next time, I will use a different colored cheese or I will add some extra sauce behind his eyes and mouth to make him stand out more.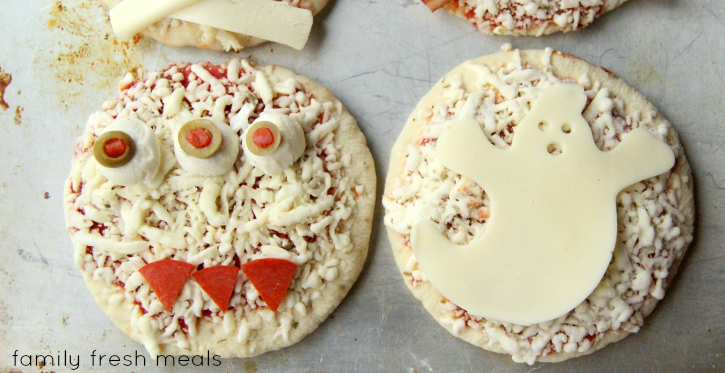 Here they are all baked and ready to devour! Nom Nom Nom…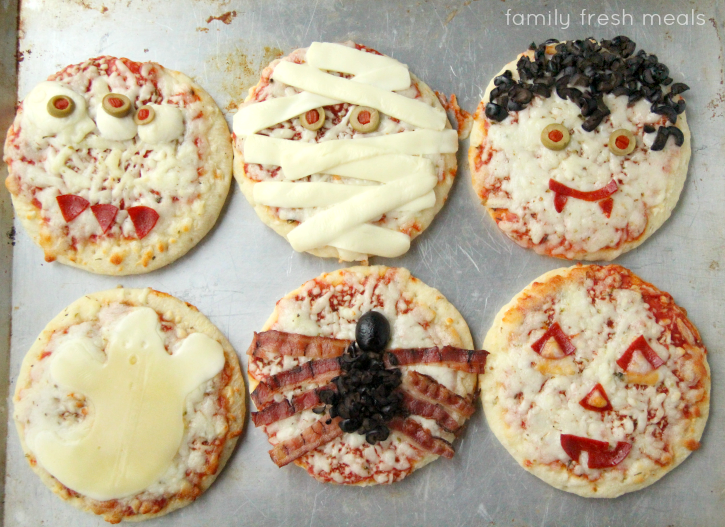 Need even MORE fun Halloween Ideas? Make sure to check out my other ideas here!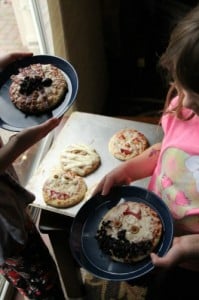 Do you love Family Fresh Meals? Never miss out on FUN new meals or easy lunchbox ideas for thefamily andSIGN UPto have my posts sent right to your inbox! It's EASY PEASY! JustCLICK HEREand enter your email!
XO
Corey, Darryl, Big D & Little D

Fun Halloween Pizza Ideas
Corey: Corey Valley
Serves: 6
Ingredients
frozen or homemade pizzas, uncooked
pepperoni
olives
variety of cheese
bacon
Instructions
Place Halloween shapes on pizza and bake according to directions.