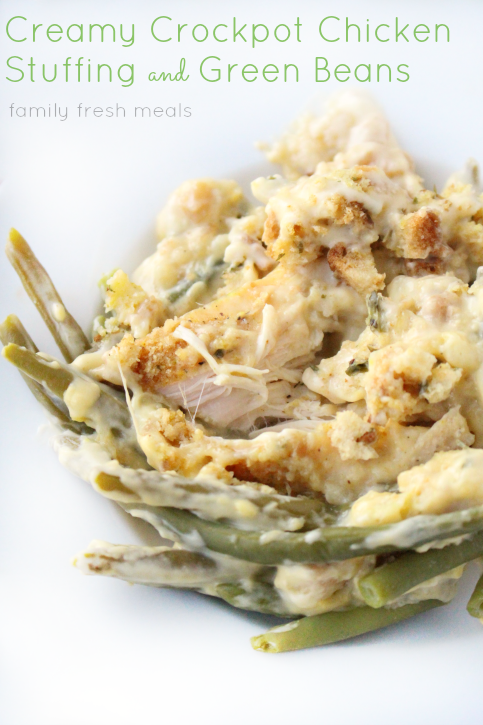 Friends, let us pause for a minute to consider the humble one-pot  hotdish.
A hotdish, for anyone who doesn't know, is sort of the essence of basic, hearty, Midwestern cooking. It can mean any sort of one-pot meal, but most often it's a casserole with cream soup, some kind of protein, veggie and a starch. So it's a whole meal in one dish.
This Creamy Crockpot Chicken  Stuffing and Green Beans is the one-pot  hotdish at its best. It has everything a good hotdish should have: meat, starch, and veggie all in one pot, with no fancy or complicated ingredients. Just good, plain, solid comfort food.
And because it's made in the crockpot,  it literally takes only a few minutes to put it together. Just toss everything in the crock in the afternoon, and your dish is piping hot by suppertime. It's all ready to pop in the car and take to the potluck-or to serve up right at your own table. Because that's the wonderful thing about hotdish: it brings the cozy with it, no matter where it goes.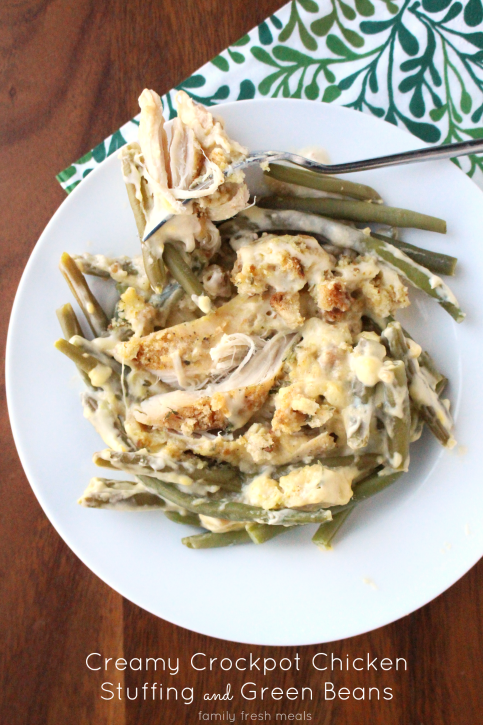 Creamy Crockpot Chicken Stuffing and Green Beans
Ingredients
2 lbs (about 4 chicken breast)
1 (6oz) box of stuffing mix
1 (10.5 oz) can cream of chicken condensed soup
3/4 cup sour cream
1/3 cup water
10 oz bag frozen green beans
salt and pepper to taste
(recipe inspired by isavea2z.com )
Directions:
1. Prepare crockpot with cooking spray. Season chicken with salt/pepper and place in the bottom of a crockpot.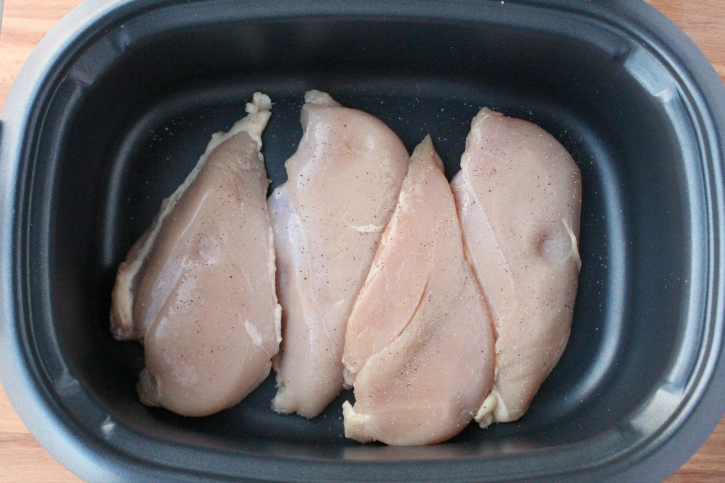 2. Next, top chicken with 1 box of stuffing mix.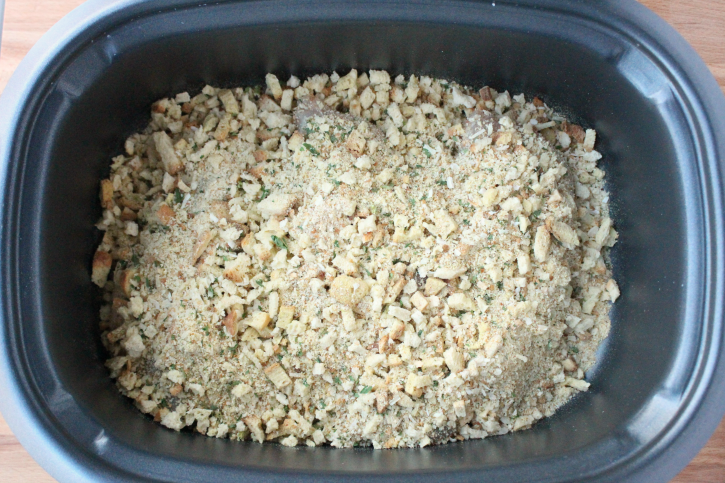 3. In a separate bowl, mix together condensed soup, sour cream and water.  Spread mixture over stuffing.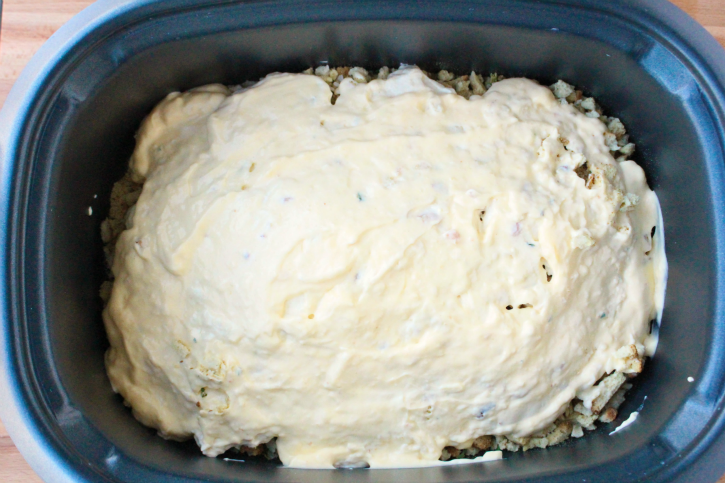 4. Place green bean on top.  Cover and cook on HIGH for 4 hours. If you need a longer cooking time, you can do LOW for 6 hours, but I recommend the high setting 🙂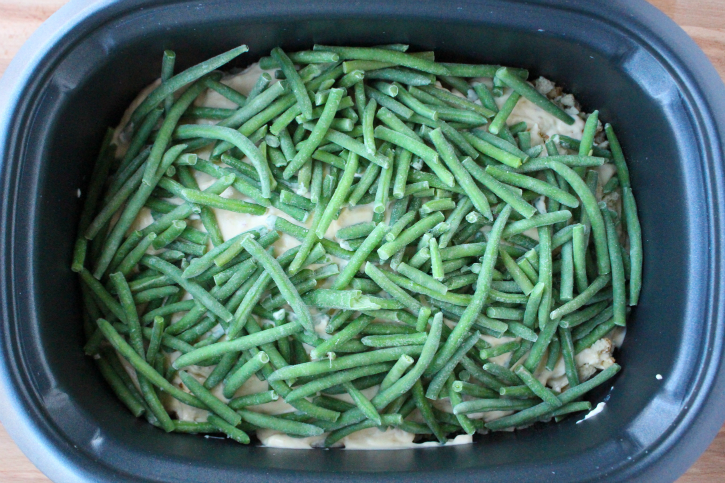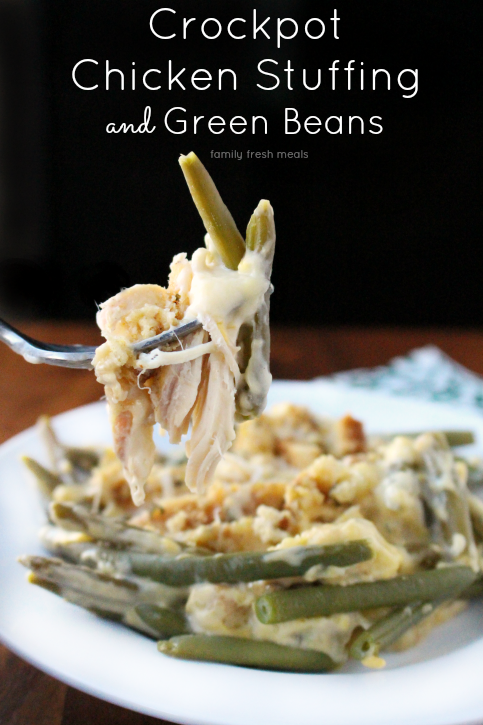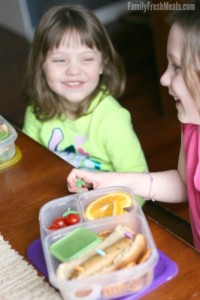 Do you love Family Fresh Meals? Never miss out on FUN new meals or easy lunchbox ideas for thefamily andSIGN UPto have my posts sent right to your inbox! It's EASY PEASY! JustCLICK HEREand enter your email!
XO
Corey, Darryl, Big D & Little D

Creamy Crockpot Chicken Stuffing and Green Beans
Ingredients
2 lbs (about 4 chicken breast)
1 (6oz) box of stuffing mix
1 (10.5 oz) can cream of chicken condensed soup
¾ cup sour cream
⅓ cup water
10 oz bag frozen green beans
salt and pepper to taste
Instructions
Prepare crockpot with cooking spray. Season chicken with salt/pepper and place in the bottom of a crockpot.
Next, top chicken with 1 box of stuffing mix.
In a separate bowl, mix together condensed soup, sour cream and water. Spread mixture over stuffing.
Place green bean on top. Cover and cook on HIGH for 4 hours. If you need a longer cooking time, you can do LOW for 6 hours, but I recommend the high setting 🙂