Dinner just got a whole lot easier.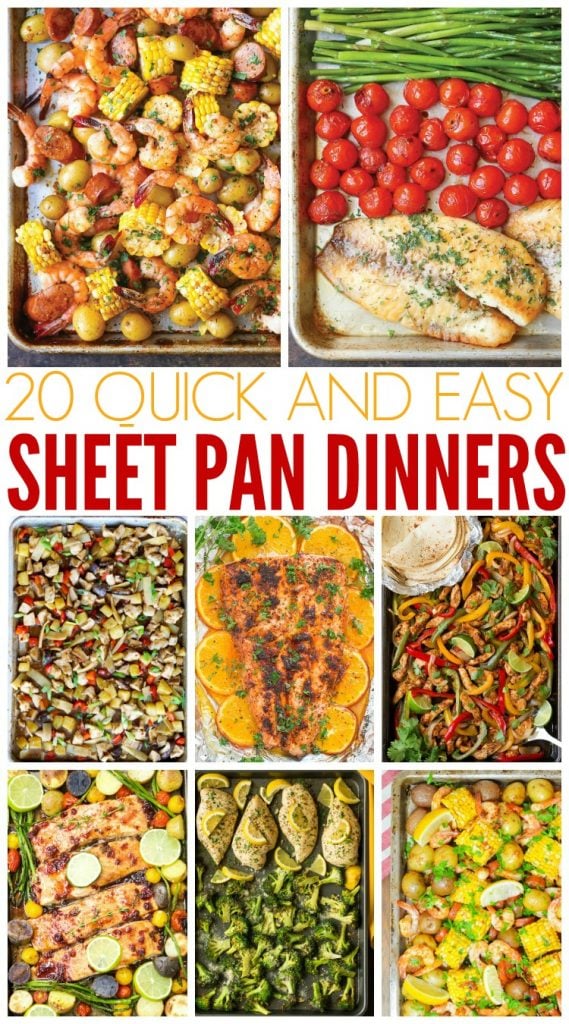 I have been making Sheet Pan Dinners for as long as I can remember. Tossing everything onto one pan, that I typically cover with aluminum foil first to make cleaning up easier is literally the easiest way ever to make dinner.
Here recently, they have started to become a trendy dish. A quick search on Pinterest will find you thousands of different meals, all promising to be the best Sheet Pan Dinner you have ever had.
To save you from Pinterest, I have rounded up 20 Easy Sheet Pan Dinners that I have tried and some I plan on trying soon!
20 Quick and Easy Sheet Pan Dinners
1. Of course I have to start with one of my own. Salmon Sheet Pan Dinner has a secret ingredient, you'll never guess what it is.
2. Chicken drumsticks and thighs can typically be found on sale, which means this Roasted Chicken Sheet Pan Dinner is super affordable.
3. If you are cravin' Cajun spice then this Cajun Shrimp & Sausage Sheet Pan Dinner is what you should try first.
4. After the Panko dredge, Baked Fish & Chips is all made in the oven on a single sheet pan.
5. This Sheet Pan Orange Chili Salmon only takes 5 minutes to prep.
6. Mix up the teriyaki sauce the night before to make this Stir-Fried Chicken Sheet Pan Dinner even better.
7. Ranch Potatoes & Chicken promises to be crispy and delicious, plus ready in 45 minutes or less.
8. Split the potatoes in half, toss the rest on the sheet and in less than 30 minutes you have Tangy Salmon & Veggies for dinner.
9. This is the easiest Shrimp Boil ever! It's mess free too, all you'll need to wash is one pan!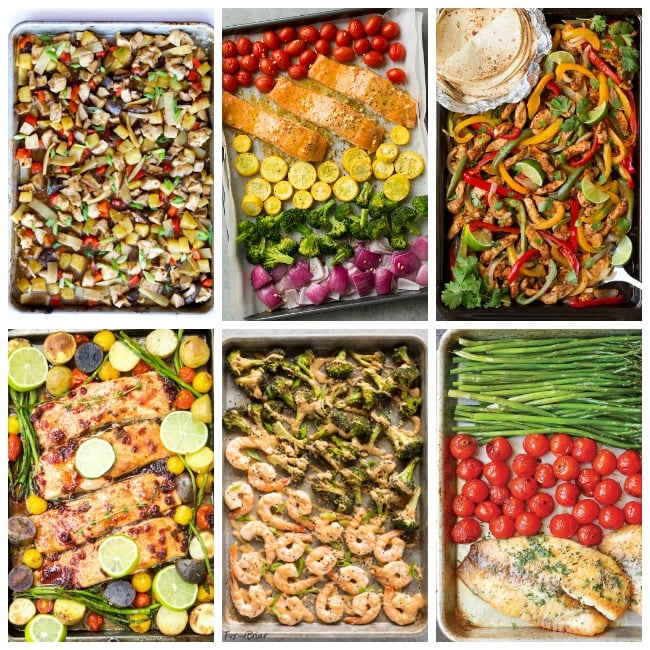 10. Sheet Pan Chicken Fajitas can also be done with steak, depending on which meat you love more.
11. Sheet Pan Garlic Butter Talipia promises to be the flakiest fish ever! Baked with roasted asparagus and cherry tomatoes.
12. Are you are a veggie lover? Try this Honey Mustard Salmon with Rainbow Veggies Sheet Pan Dinner.
13. I don't often cook with lemon, but this Sheet Pan Lemon Chicken & Broccoli Dinner makes me wanna try more often.
14. Sheet Pan Roasted Potatoes, Sausage & Peppers is made with only 6 ingredients! It is also gluten-free, dairy-free & paleo!
15. This Sheet Pan Peanut Sauce Shrimp and Broccoli is a quick and delicious weeknight dinner, made all in one pan!
16. This Spanish-inspired Roasted Asparagus and Chicken Sheet Pan Dinner is ready in under 30 minutes and healthy.
17. Sheet Pan Paprika Chicken and Tomatoes is a deliciously different weeknight meal.
18. This One Pan Sausage Bake will be your new favorite sausage dinner!
19. Honey Garlic Chicken Sheet Pan Dinner is complete with sides of carrots, broccoli and baby potatoes.
20. Looking for a dinner packed with flavor? Try this Balsamic Salmon Sheet Pan Dinner.
Corey: Corey Valley
Serves: 4
Ingredients
4 Salmon fillets, approx. 6oz each
¼ cup Lemon Juice
zest of 1 lemon
2 teaspoons garlic, minced and divided
3-4 Carrots, peeled and sliced
½ - 1 lb. Green beans, ends snipped
2 Tablespoons Oil
1 teaspoon Dill, fresh
2 Tablespoons capers
2Tablespoons Oil
Salt and pepper, as desired
Instructions
Preheat oven to 350 degrees F. Season fillets with salt, pepper and lemon zest and set aside.
On a parchment lined sheet pan, lay fish skin side down. In a small bowl, combine lemon juice, 1 teaspoon of minced garlic, salt and pepper and begin to brush the lemon juice mixture all over the tops.
In another bowl, combine green beans and carrots. Drizzle the oil over the vegetables and season with salt and pepper and your other teaspoon of minced garlic. Mix them around until they are all coated.
Sprinkle the capers over the top of the fish
Bake in the oven for 20 – 25 minutes or until the fish is cooked thoroughly and vegetables are tender.
Do you love Family Fresh Meals? Never miss out on FUN new meals or Easy Lunchbox Ideas for the Family and SIGN UP to have my posts sent right to your inbox! It's EASY PEASY! Just CLICK HERE and enter your email!
XO
Corey, Darryl, Big D & Little D