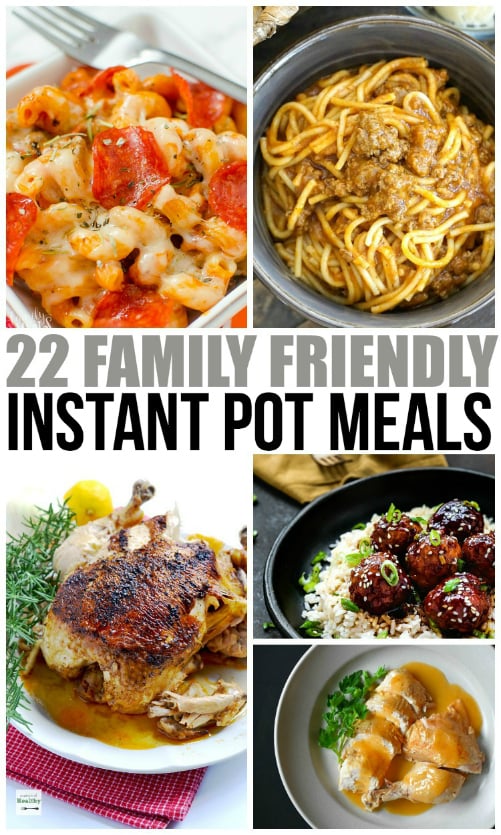 Contains affiliate links
When it comes to family friendly dinners, here recently I have been turning to my Instant Pot. I use it for basically everything – meat, poultry, soups and stews, rice, even oatmeal – and it cooks it all in no time at all. This summer I am trying my best to spend as little time in the kitchen as possible and instead creating as many memories as I can with with Big D and Little D, and the Instant Pot is helping me do this.
Family Friendly Instant Pot Meals
1- My go to on super busy nights, Shredded Chicken can be used in so many different dishes. Eat it plain, make enchiladas or put it in tacos. The possibilities are endless.
2- Corned Beef & Cabbage is a tender and juicy meal that will have everyone asking for seconds and maybe thirds.
3- Don't count on leftovers when you make Pizza Pasta. My kids lick the plate clean.
4- This Whole Rotisserie Chicken only takes 45 minutes from raw to ready. Serve it with a pasta salad for a delicious meal.
5- Teriyaki Turkey Meatballs are perfect when you want a fast, family-friendly meal in a jiffy.
6- If you want an affordable dinner, that everyone will gobble up, then try making Beef Stew. Stew meat is always on sale.
7- My kids love anything smothered in gravy, so this Chicken & Gravy recipe is sure to be a hit.
8- Dinner can be super delicious and on the table in under 30 minutes with Turkey & Sweet Potato Chili.
9- No one will notice the hidden veggies in Beef With Rigatoni.
10- Pair this Creamy Tomato Soup with a grilled cheese for a quick and easy dinner any day of the week.
11- If you have cheese lovers, then you must try this Cheesy Chicken Pasta dish. It's ready in under 30 minutes.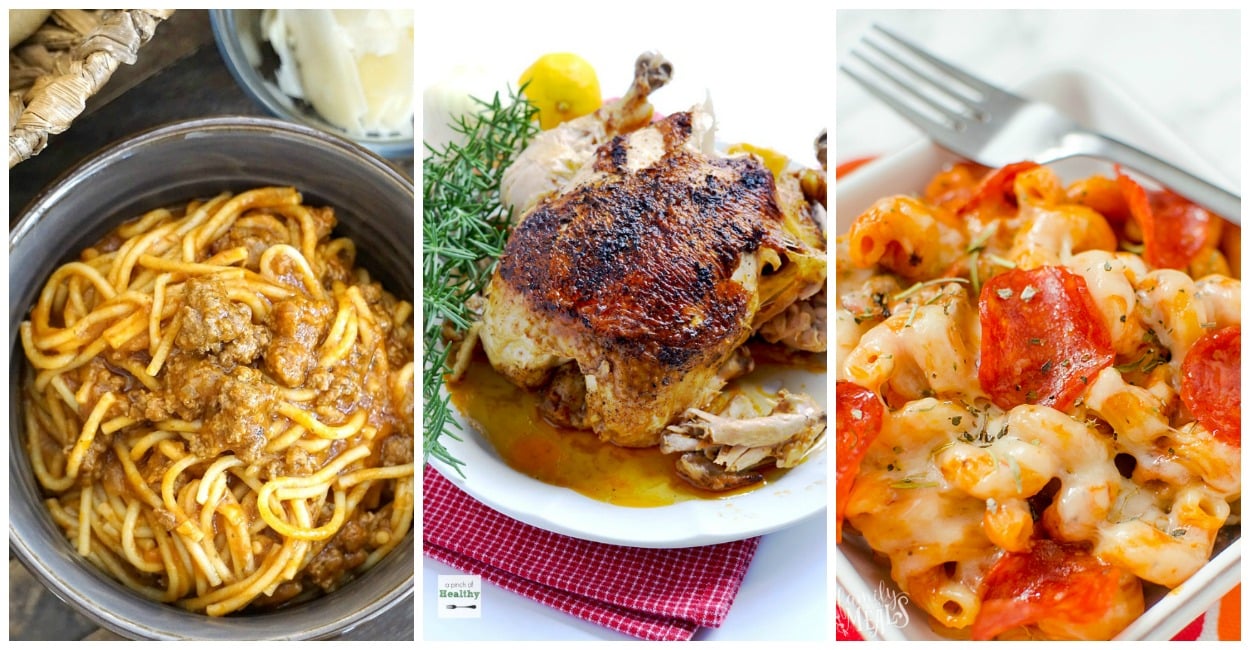 12- This Macaroni & Cheese recipe calls for just four ingredients and takes less than 10 minutes. Wow!
13- Ginger Garlic Drumsticks are cooked in a sweet and sour sauce that makes them fall apart tender.
14- You can use bone in or bone out pork chops to make this 30 minute Mushroom Pork Chop dish.
15- Not a mushroom fan? Then try these BBQ Pork Chops instead.
16- Chicken & Rice is a delicious and simple supper that is great on hot or chilly nights.
17- Spaghetti is one of our favorite meals and done in just 15 minutes including prep time.
18- You can have fork-tender Barbecue Pork Ribs with homemade sauce on the table in under 1 hour with your pressure cooker.
19- This easy Vegetable Soup is hearty and delicious. Great for a meatless Monday option.
20- You can use skin on chicken thighs for major flavor in this Chicken Noodle Soup recipe.
21- Orange Chicken is healthier than takeout and so very easy to make.
22- These Turkey Meatballs are cooked in a savory, umami gravy inspired by teriyaki sauce. Kids won't know the difference.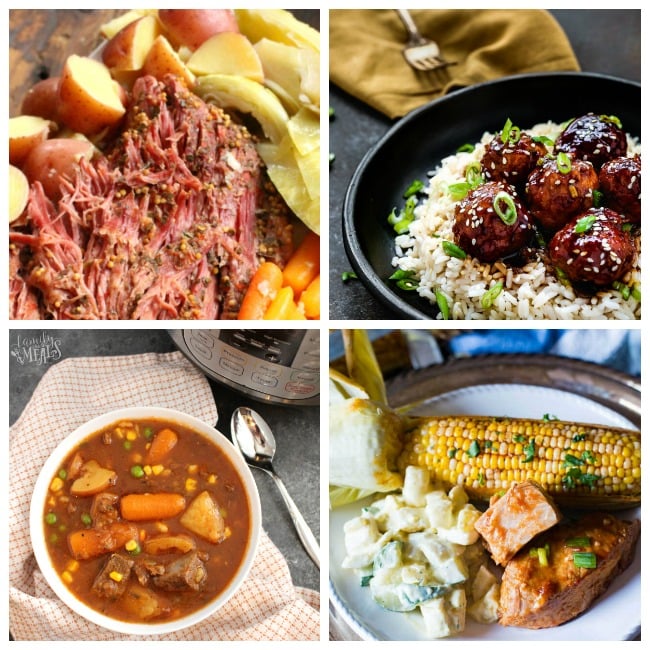 Do you love Family Fresh Meals? Never miss out on FUN new meals or easy lunchbox ideas for the family and SIGN UP to have my posts sent right to your inbox! It's EASY PEASY! Just CLICK HERE and enter your email!
XO
Corey, Darryl, Big D & Little D

Family Friendly Instant Pot Meals
Ingredients
1.5-2 lbs boneless chicken breasts
½ teaspoon salt
½ teaspoon garlic salt
⅛ teaspoon pepper
½ cup chicken broth
Instructions
NSTRUCTIONS
Place chicken in your Instant Pot
Season both sides of chicken with garlic salt and pepper.
Pour in chicken broth.
Seal Instant Pot, making sure your valve is set to sealing. Press poultry button. Once done, wait for Instant Pot to depressurize on it's own, known as natural release.
NOTE: If you are wanting to use the "quick release" method, I suggest adding 5 extra minutes to the Instant Pot cooking timer. If you do this, once timer goes off, you can switch your valve to "venting" which will cause a faster release.
Place chicken on a cutting board and shred with 2 forks, OR slice chicken breast.
Here is what I used to make these Family Friendly Instant Pot Meals!
Click on image for details. (affiliate link)