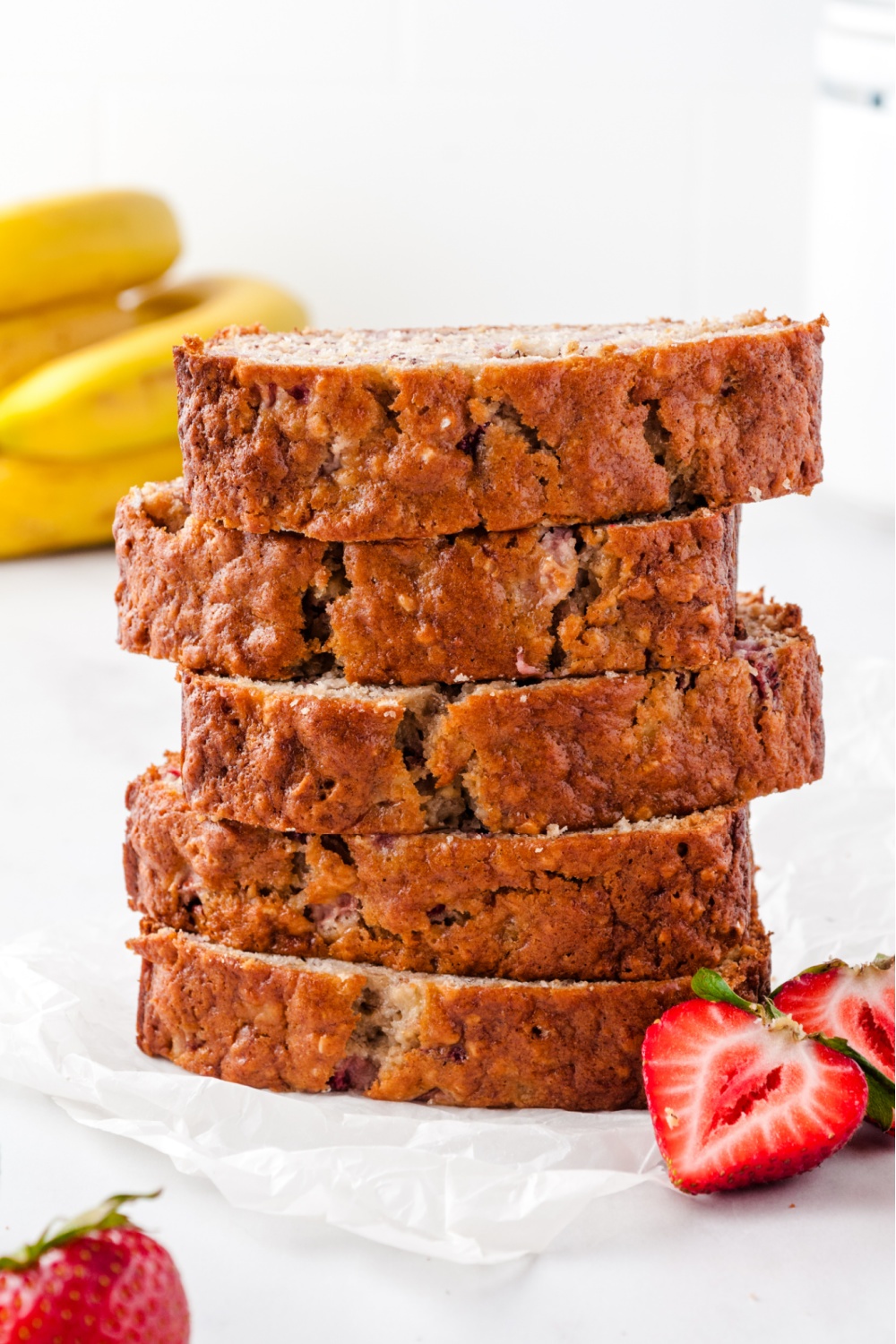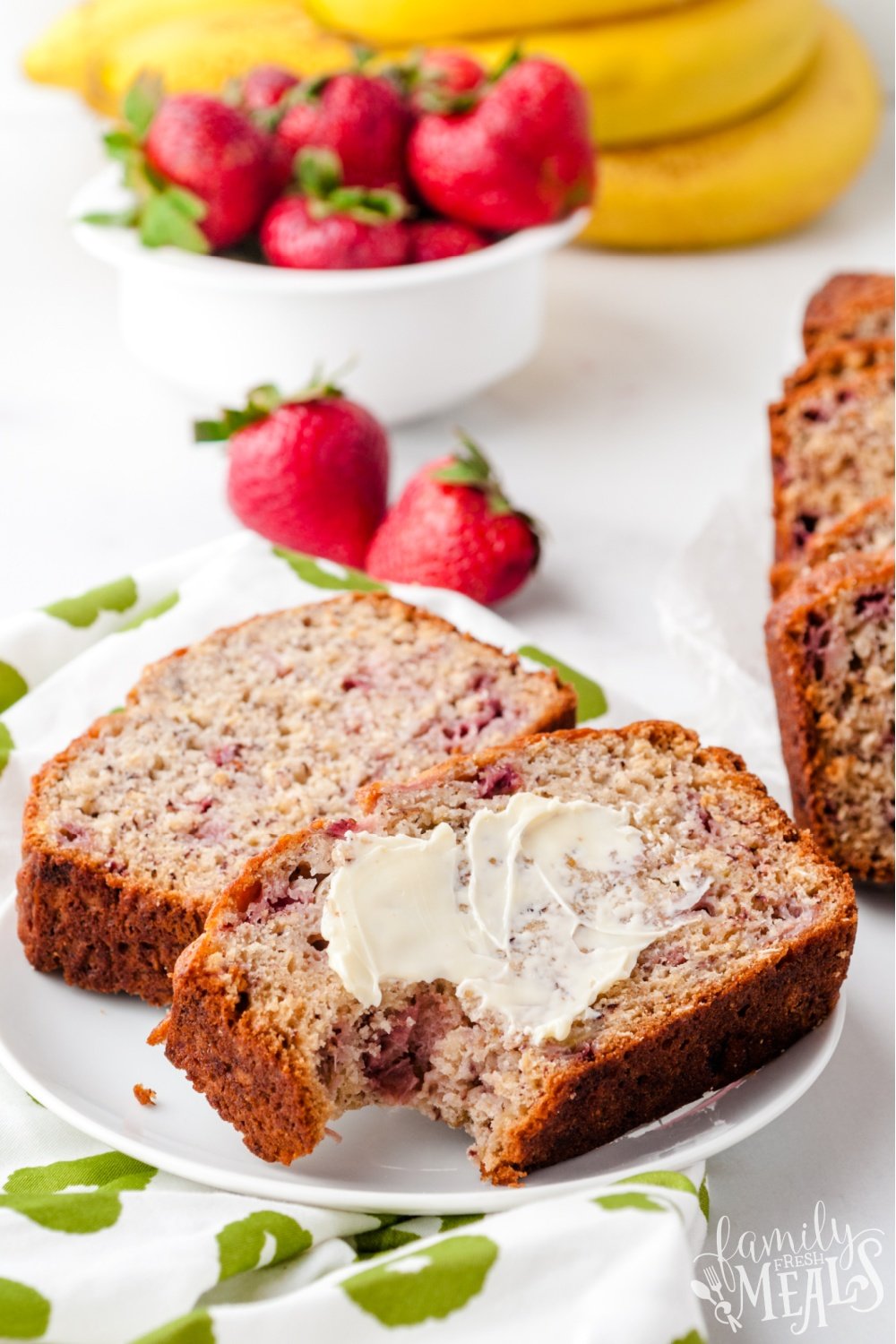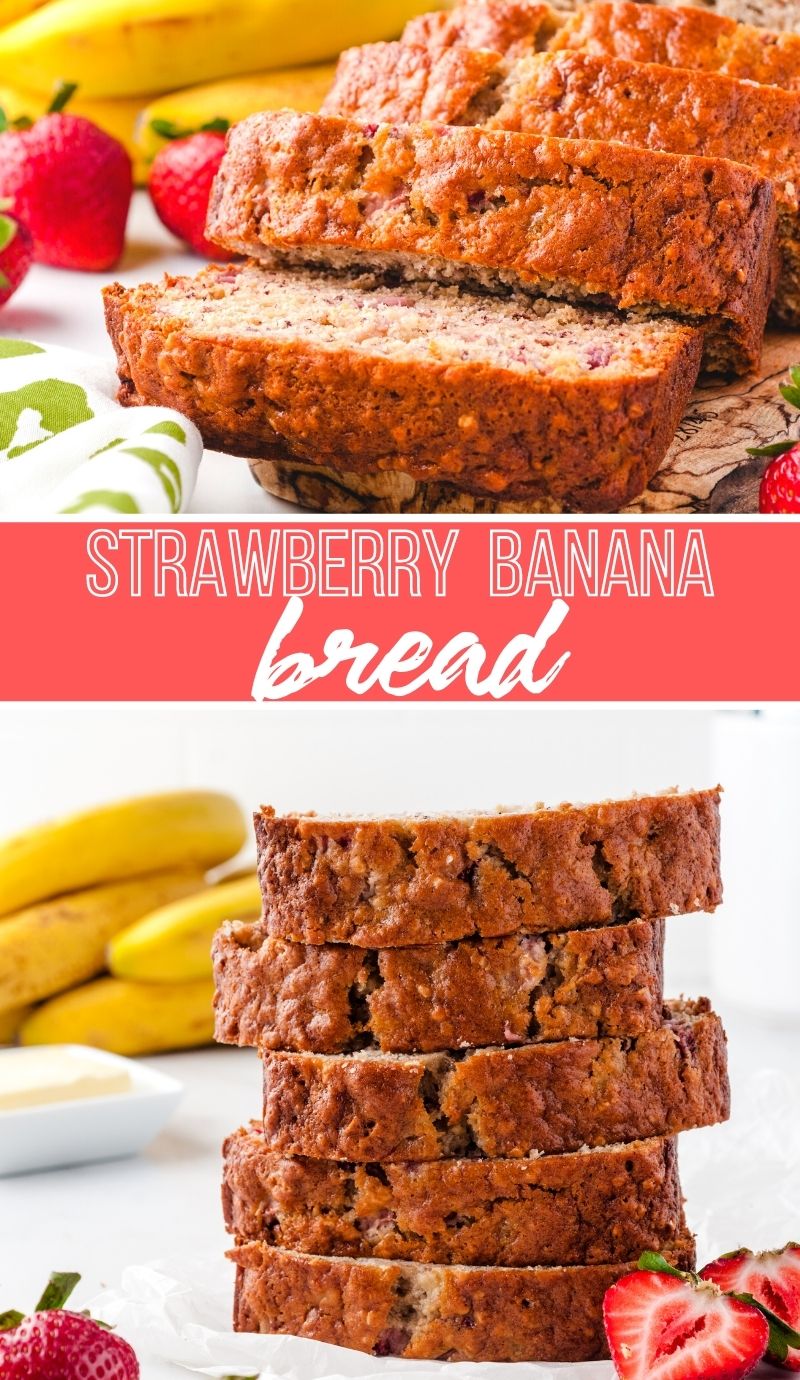 Two delicious fruits in one moist, tender loaf.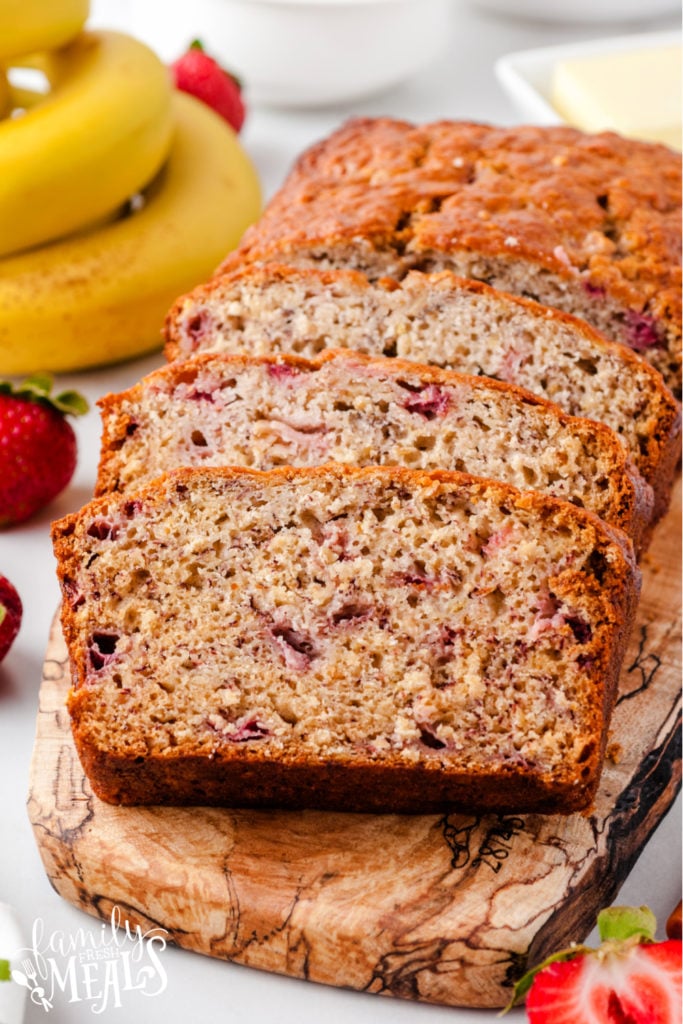 Like most people, I love a good loaf of fresh-baked banana bread. But unlike most, I've never really been satisfied with just plain banana bread. I just can't resist putting a little extra spin on the recipe to make it special – like adding a swirl of cinnamon in the middle of the loaf, or stuffing it with cream cheese.
So when my latest batch of bananas started to reach that slightly-overripe stage, instead of just mashing them and baking them, I started thinking about what I could add to make the bread more interesting. And the answer I hit on was… strawberries!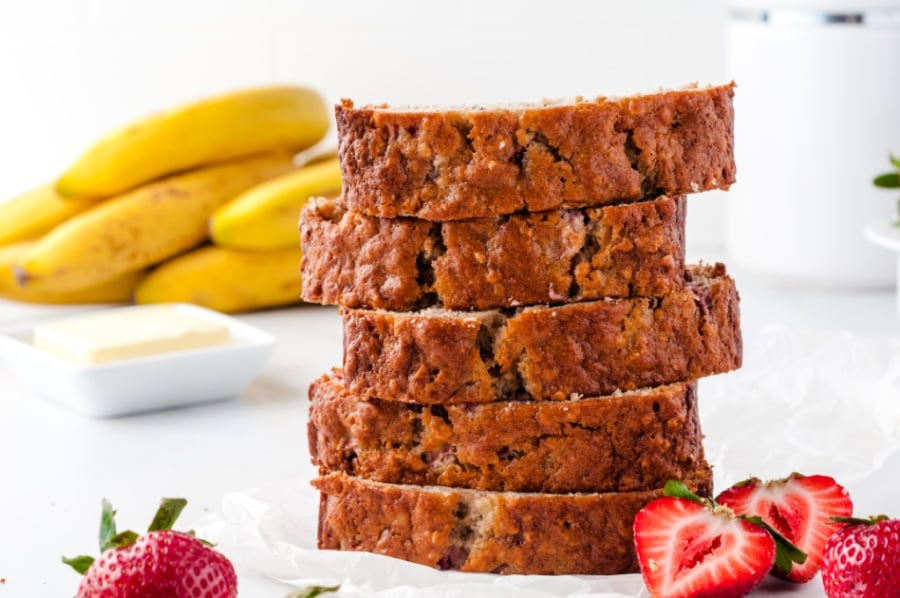 Adding juicy chopped strawberries to the banana batter makes this bread incredibly moist and soft. In fact, it's almost too moist, which is why I had to add some rolled oats to the mix to soak up all the extra liquid. Which also – bonus! – adds a dose of healthy fiber. And it's super easy to whip up – just ten minutes of prep time, one hour in the oven, and no need to get out the mixer.
Soft, tender, and bursting with fresh strawberry flavor, this Strawberry Banana Bread is double the fruit, double the fun.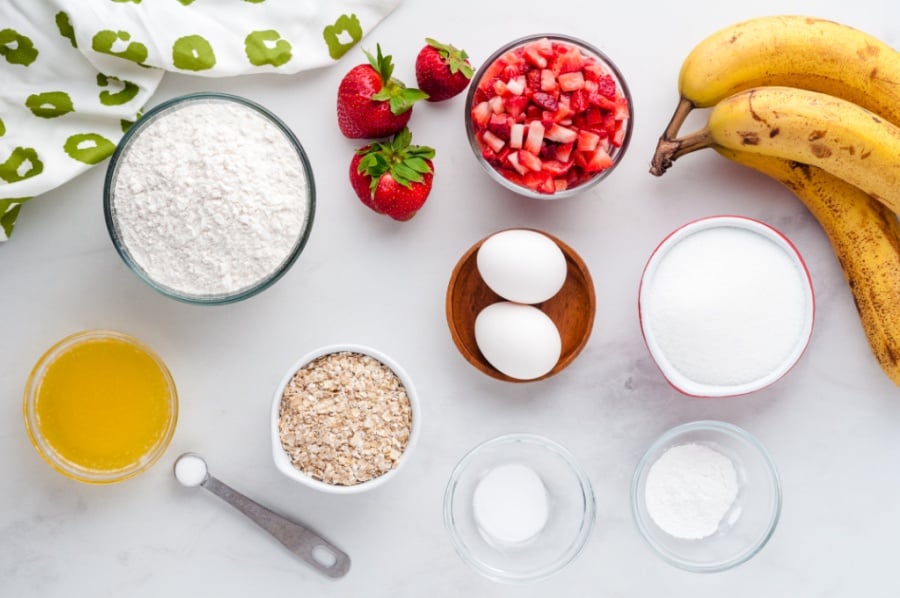 How long does the Strawberry Banana Bread keep and how should I store it?
The Strawberry Banana Bread will keep for about 4 days at room temperature, or up to 7 days in the fridge. Store it in an air-tight container once the bread has cooled.
Can I use frozen fruit instead of fresh fruit?
You can use frozen fruits rather than fresh fruits in this recipe.
Can I make the recipe with bananas only, omitting the strawberries?
Not in the mood for strawberry bread? You can make this recipe by omitting the strawberries. Add an extra banana instead!
What kind of oats works best for this recipe?
You can use Old-Fashioned Rolled Oats (larger flakes) for a more chewy texture, or Quick-Cooking Rolled Oats for a less chewy texture.
How to make Strawberry Banana Bread
Preheat oven to 350F. Grease a 9×5 loaf pan. Set aside.
In a large bowl, beat the eggs until they are frothy.
Add the butter, sugar, strawberries and mashed banana and mix well.
In another large bowl, whisk together the flour, rolled oats, baking powder, baking soda and salt.
Add the flour mixture to the egg mixture and stir gently until all ingredients are incorporated.
Pour the batter into the prepared pan. Bake for 60 minutes, until a toothpick comes out clean.
Cool for 10 minutes in the pan before taking the loaf out and letting it cool completely on a wire rack.
Here are some more breads you will love!
Looking for more free recipes? Subscribe to my newsletter and follow along on Facebook, Twitter, Pinterest and Instagram for all of the latest updates.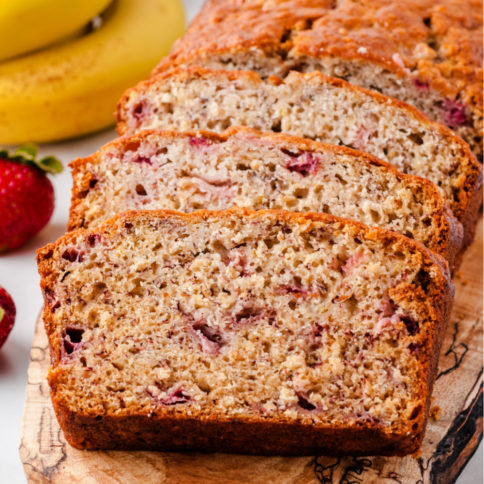 Strawberry Banana Bread
Soft, tender, and bursting with fresh strawberry flavor, this Strawberry Banana Bread is double the fruit, double the fun.
Prep Time: 10 minutes
Cook Time: 1 hour
Serves:8
Hover over "serves" value to reveal recipe scaler
Ingredients
2 eggs
¼ cup salted butter melted
1 cup sugar
1 cup strawberries chopped small
1 cup banana mashed
1¾ cup flour
½ cup rolled oats
2 teaspoons baking powder
½ teaspoon baking soda
½ teaspoon salt
Instructions
Preheat oven to 350F. Grease a 9x5 loaf pan. Set aside.

In a large bowl, beat the eggs until they are frothy.

Add the butter, sugar, strawberries and mashed banana and mix well.

In another large bowl, whisk together the flour, rolled oats, baking powder, baking soda and salt.

Add the flour mixture to the egg mixture and stir gently until all ingredients are incorporated.

Pour the batter into the prepared pan. Bake for 60 minutes, until a toothpick comes out clean.

Cool for 10 minutes in the pan before taking the loaf out and letting it cool completely on a wire rack
Video
Nutrition Information:
Calories: 309kcal (15%)Carbohydrates: 56g (19%)Protein: 5g (10%)Fat: 8g (12%)Saturated Fat: 4g (20%)Cholesterol: 62mg (21%)Sodium: 282mg (12%)Potassium: 259mg (7%)Fiber: 2g (8%)Sugar: 28g (31%)Vitamin A: 254IU (5%)Vitamin C: 12mg (15%)Calcium: 61mg (6%)Iron: 2mg (11%)