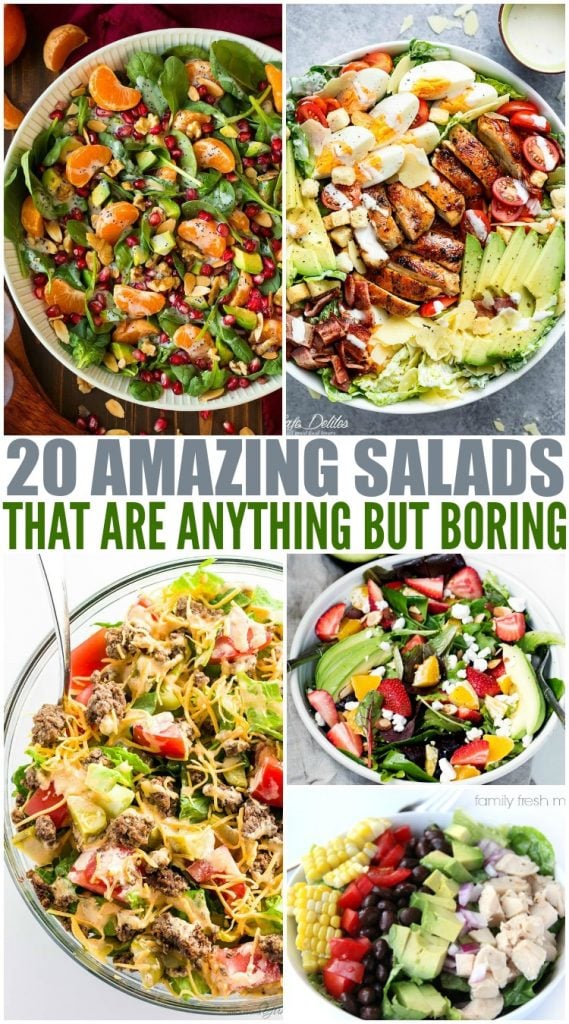 Amazing Salad Recipes
This Apple Walnut Goat Cheese Salad is best served with my homemade poppy seed dressing on top!
Pear Bacon and Brussels Sprout Salad will leave everyone asking for more.
I promise, Garbage Salad tastes way better than it sounds.
Two of your favorites merge into one when you eat Grilled Chicken Cobb Caesar Salad.
This easy low carb Big Mac Salad is ready in just 20 minutes. It's also gluten-free.
Fiesta Chopped Salad is an edible rainbow, served in a bowl.
Chimichurri Chicken Avocado Salad uses authentic chimichurri as a dressing that doubles as a marinade.
This Panera copycat Strawberry Avocado Salad is packed with heart-healthy fats.
BBQ Chicken Salad comes together quickly and will be loved by eve the little ones.
Thai Steak Salad is super quick to prepare and is loaded with veggies and a grilled marinated sirloin steak.
This Mandarin Pomegranate Spinach Salad is topped with a delicious homemade Poppy Seed Dressing.
Skip the shells, make Taco Salad instead. Much healthier option.
Seafood lovers will enjoy this Shrimp Avocado Salad.
Homemade apple cider vinaigrette tops this Strawberry Cucumber Spinach Salad.
Dried cranberries give this Cranberry Almond Spinach Salad a nice crunch.
Chicken Gyro Salad tastes just like your favorite gyro, but deconstructed.
The creamy cilantro dressing will be your favorite part of this Southwestern Chicken Salad.
---
Do you love Family Fresh Meals? Never miss out on FUN new meals or Easy Lunchbox Ideas for the Family and SIGN UP to have my posts sent right to your inbox! It's EASY PEASY! Just CLICK HERE and enter your email!
XO
Corey, Darryl, Big D & Little D