Wow your BBQ guests with these cool gadgets!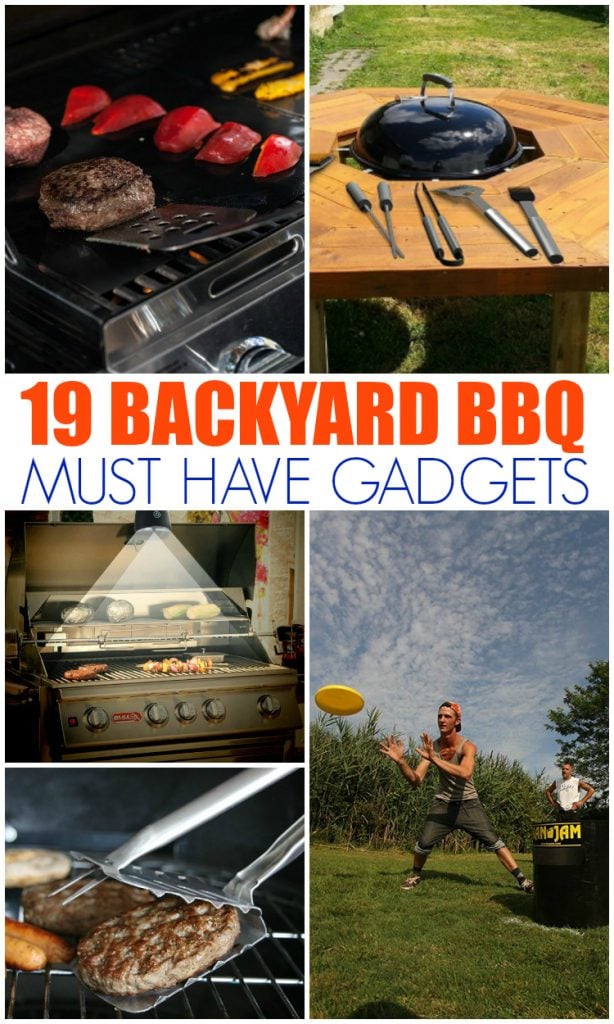 Post contains aff links
Summer is almost officially in full swing. Around my house that means we will be doing lots and lots of grilling outside. We try to use our grill at least a few time a week and then whenever we have family get togethers.
This summer we have lots of backyard BBQ parties planned. Summer is such a great excuse to have friends and family over and just hang out. We sip Sangria and play cornhole until the bugs come out and chase us all inside. The following Backyard BBQ Must Have Gadgets will make your BBQ a bit more enjoyable.
19 Backyard BBQ Must Have Gadgets
The grillfather funny BBQ apron will not only keep the food off the old fellas best shirt, it will also put a smile on everyone's face at any barbecue grill party!
These Grill Lights consist of 10 high quality, long-lasting bulbs with a lifespan of 50,000 hours. They are fully adjustable and rotatable, and compatible with all BBQ sets.

Tell family and friends that you'll bring the chicken to your next family gathering! Flicking' Chicken is a crazy new yard game played with. rubber chickens! Players toss the target to get started, then take turns flicking' their chicken at the target. After nine rounds, the player with the lowest score wins.
Never worry about burning your fingers! The 16" long handle keeps your hands safely away from the barbeque heat. Comfortable grip! The solid oak handles mean your hands stay cool whilst you cook.
5: Kan Jam

The KanJam Ultimate Disc Game from Kan Jam is fun, fun, fun, and even more fun. This kit includes everything that you could ever consider needing for an enjoyable game of Kan Jam. Barbecues, tailgates, and other festivities have never been as fun as they are with the KanJam Ultimate Disc Game.
Practical for both indoor and outdoor use, the Lasergrip 774 lets you safely measure surface temperatures from a distance while still maintaining laser-sharp accuracy.
Light your fire! And your grill, lantern – and so much more. Its slim nozzle and flexible neck easily fits into the opening of most lanterns and grills.
This handy knife has a specially serrated, carbon steel blade that is extra long and perfect for cutting through the tough outer rind of large watermelons. Contoured handle provides extra control while slicing, and it comes with a blade cover for safe storage.
These guys are sure to catch everybody's eye! Turn the bottles on their sides, squeeze, and see them close their eyes. Is it pleasure? Is it pain? Is it gross? Is it funny? We're not sure, but we do know we can't stop thinking about it. Bon appetit!
10: Complete Outdoor Grilling Kit

This 16-piece BBQ set is made of sturdy Stainless Steel construction assures you a great time with friends and family around! Everyone will admire the sleek beauty of these tools and how they make grilling so effortless!
11: Grill Mat
Are you tired of losing your food to the grill? It's so frustrating. Tugging at that perfectly marinated chicken breast that sits ruined and stuck to your grill. How about the spears of asparagus falling through the cracks? Never again with the Grill Mat!
12: Stuffed Burger Press

With the Cuisinart stuffed burger press it's simple to make a wide variety of delicious stuffed burgers.
This all natural slab of Himalyan salt is the perfect way to season your food while you cook. Preheat on your grill and cook your food right on top for moist, flavorful results. You can also chill the block to use as a serving dish for cold appetizers.
14: Grill Daddy

The griller's best, sterilize and clean your deluxe grill with the Grand Grill Daddy Luxurious professional Aluminum brush BBQ steam brush for the expert griller who wants healthier and tastier food – taste the meat of today, not yesterday.
Quit wasting aluminum foil for your veggies. Instead use one of these baskets for freshly grilled veggies in no time.
16: Wing Rack
This stainless steel wing rack allows you to hang chicken wings, thighs, drumsticks and cook without flare ups on your grill. The pan captures the drippings to create a wonderful smoke flavor. When you are finished cooking, the rack folds for convenient storage.
The Barbecue Gloves are designed to protect your hands against extreme temperatures up to 932ºF.
18: Stingray BBQ
The Stingray BBQ is the only BBQ multi-tool available on the market that has seven relevant functionalities combined in one product. Being able to mix these functionalities, without the need to change the tool in your hand, makes barbecuing even more enjoyable.
19: Grill Rotisserie

GrillPro universal rotisserie kit is a hassle free way to cook large roasts, chicken, and turkeys right on the grill!