Bento Love: Clowning Around lunchbox
In the main section of the Easy Lunchbox (love these boxes!) is a "clown salad", made of lettuce, spinach, cheese hat, ham hair, cheese & olive eyes, pepperoni nose, cheese & pepperoni mouth, and a carrot bow tie.
In the top right is a cereal, raisin, marshmallow mix. In the bottom right are orange slices and a Dora gummy.
The girls were watching Yo Gabba Gabba the day I made this Easy Lunchbox bento. For one of the episodes, there is a song called "What's Up Clown." They had been singing it all day, I couldn't get the idea of a clown bento box out of my head. hehe.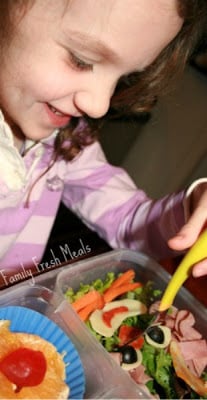 Here is Big D eating her bento, singing "What's Up Clown!!!" the entire lunch time.
Hope you enjoy!
XO, Corey