Bento Love: Fruit & Friends
Starting from the top, there are pepperoni & crackers, sandwiched between 2 cherry tomatoes. Champagne grapes next to an open faced cheese sandwich. At the bottom are kiwi & sliced plums.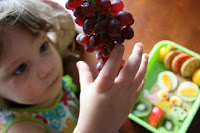 Little D goes crazy every time I bring home these champagne grapes. They are sometimes hard to find, so I as delighted to see them at Trader Joe's this morning. The girls pretty much loved the whole bento. Big D avoided the white cheese… she told me that it wasn't cheese 🙂 Weirdo.
Little D was not feeling the tomatoes today. I guess that is because she ate about 20 from our garden last night. Oh well 🙂 Hope you enjoy!