Bento Love: Gruesome Grub Halloween Lunch
On the left are hot dog witch fingers with fruit leather fingernails and bats. Next is a spooky ghost salad and cup of green and black olives, topped with cheese bones.
For dessert is a homemade black & white spider cookie:) The girls has so much fun "pointing" the witch fingers. That produced about 15 minutes of belly laughs from us all.
I was worried that the salad was not going to be the usually hit, do to the fact that I was out of the girl's beloved ranch dressing.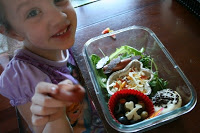 Instead I used a Trader Joe's Champagne Pear Vinaigrette. They loved it! Didn't even question the dressing choice! Score 🙂