Bento Love: Trick or Treat Halloween Lunchbox
Starting on the left, there are cheese pumpkins stacked with crackers and pepperoni.
Next are pear slices. On the bottom left is a salmon patty, topped with ketchup and a piece of skeleton cheese. For dessert are spooky fruit snacks.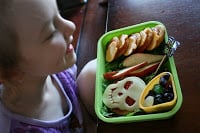 This one was a real crowd pleaser over here. Big D LOVES salmon… but salmon topped with cheese!!! Woohoo! There was a ton of food in this bento, so I didn't think the girls would come close to finishing it.
And they didn't. They ate about half. However, that made my life 100% easier at afternoon snack time, when I had leftover cheese and crackers ready to go!