Bento Love: Song Bird Lunchbox
On the top is a cup of yogurt, with fruit leather music notes. At the bottom are carrot and cucumber sticks.
In the top right corner are jelly roll ups (jelly in bread, rolled and cut), topped with veggies cheese birds. In the bottom left corner are cream cheese roll ups, with cheddar jack cheese birds!
Big D loved singing to her song birds 🙂 If you look at the very top right of the bento box in the picture above, you can see the cute little blue fork.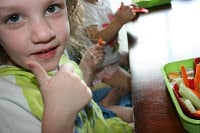 These were in the dollar section at my local Target. They came 24 in a pack of multicolored cocktail forks. They are perfect little forks for kids, and make eating new foods fun! Check our Target out!