Bento Love: Change of Season Lunchbox Idea
For this bento, I did a bed of quinoa & whole grain rice, topped with 3 cheese maple leaves.
To finish the box, I paired cheddar cheese block with steamed broccoli, divided by pepperoni.
We got to play outside this morning, and the girls were having a blast collecting fallen leaves. While they were playing, I got a chance to sketch out the idea for this box! Fall is here!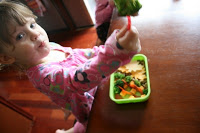 It worked out great, and the girls loved it! Hope you enjoy! XO Corey