Bento Love: There's a Party In My Tummy
All of the Yo Gabba Gabba characters are made of colored rice with cheese and nori eyes. On the sides are the famous cheese, green beans & carrots who want to "join the party in the tummy" In the front are chocolate covered sunflower seeds.
In the back is a homemade DJ Lance sugar cookie 🙂 YO GABBA GABBA!
For those of you who are unfamiliar with Yo Gabba Gabba..here they are!
And here are the happy foods from Party In My Tummy!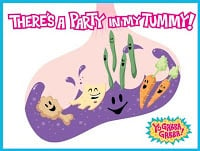 The girls were so excited about this bento.Yo Gabba Gabba is a favorite in our house, so this was a fun bento.