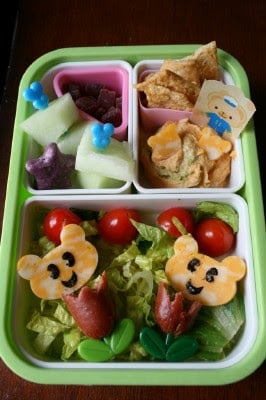 How to make this Bento Love : Tulips lunch
Tulip hot dogs & bear cheese on a bed of lettuce and backed with cherry tomatoes. In the upper right we have tri-flavored hummus with garlic-parmesan pita chips, topped with cheese baby bears.
In the upper left, there are dried fruit flakes, honey dew melon and a yogurt covered star cookie.
I hadn't made a bento for a bit, so the girls were super excited when they saw this for lunch. My youngest LOVED the hummus, but Big D did not 🙂 Other than that, this bento was enjoyed by all!
Here is Little D's WHOA face 🙂 hehe