This fun sandwich is just as fun as the real thing!
Bento Love: Watermelon Meal Lunchbox
For this EasyLunchBox lunch there is an open face "watermelon" pb&j sandwich, crackers, fresh watermelon and 2 gummy treats for dessert.
My new Family Fun magazine came and I was so excited to see this fun new peanut butter and jelly sandwich! My girls LOVE pb&j and LOVE watermelon, so I knew this sammie would rock their world 🙂 When I presented it to Big D, she said…."LOOK! A pizza!!!" (mommy fail)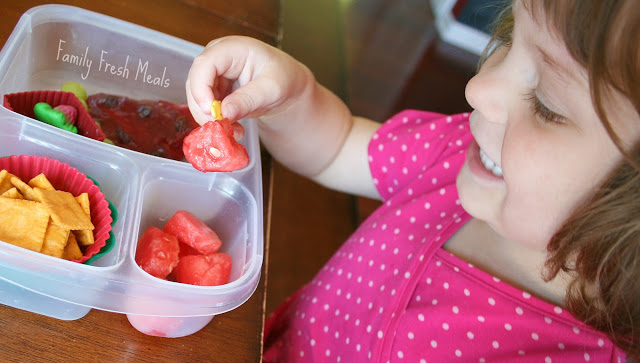 I then gave Little D her lunch, and she new right away that it was a watermelon. (mommy win!) hehe. Regardless, here are the quick, easy steps on how to make this fun sandwich.
Cut bread into a triangle with a rounded top. First spread peanut butter. (We LOVE Justin's)
Next spread on your jelly.
Add a couple raisins to look like watermelon seeds.
Place your sandwich on a plate, or in your EasyLunchBox (as pictured) and place grapes at the top to look like the watermelon rind.
Not only can you find this fun sandwich in the June/July 2012 Family Fun issue, but you can also see it on Kitchen Fun with My 3 Sons.
Easy and fun! Hope you enjoy!