Bento Love: Witch Wonder Lunchbox
For this lunch there is an open faced veggie cheese burger. On the left are turkey, tomato & olive skewers. In the back are cheese witch hats with wheat crackers. On the right is a cabbage salad and gruesome body part gummies! heheh YUM!
Last Halloween bento of the year 🙁 So sad. They sure were a ton of fun to make! Once again, the girls had a ton of fun with this bento. But Big D would NOT eat the gruesome gummy body parts.
She was like "EWWWW , I'm not eating that ear!" hehehe.
Little D shoved them in her mouth (candy lover) and told sissy they were YUMMY! We all had fun the rest of the night pretending with the gummies, filling the night with belly laughter 🙂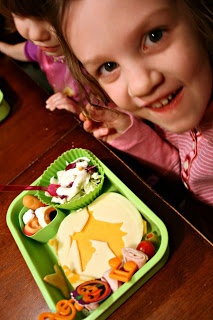 Happy Halloween friends!