Be a Smart Cookie and check out these Busy Mom Life Hacks!

Once upon a time…. a LONG time ago, I was a Girl Scout. Any other Girl Scout friends out there? Even if you're not a former Girl Scout,I bet you all LOVE their cookies! Am I right? With Coffee-mate® Girl Scouts® creamers, you can now enjoy all the delicious cookie taste, all year long!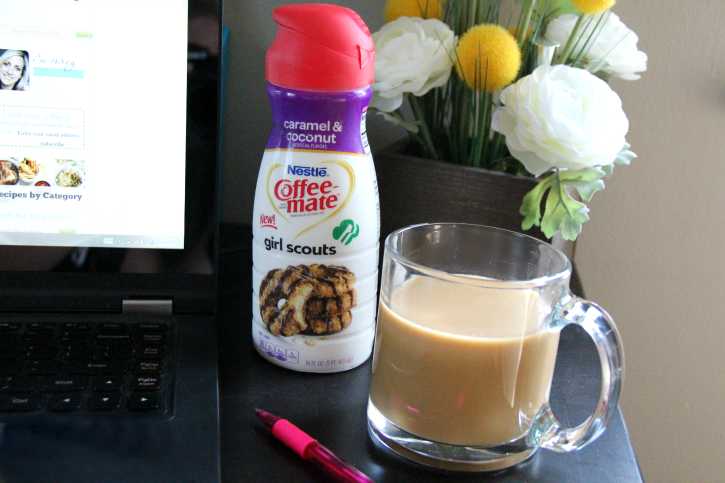 I seriously can't get enough of theGirl Scouts® Caramel & Coconut &Girl Scouts® Thin Mints® flavors. It's the perfect way to start off my busy mommy mornings 🙂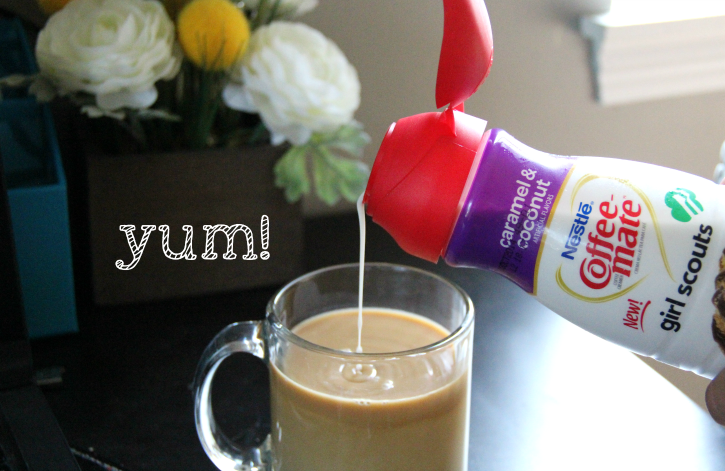 As a Girl Scout alumna, I am always trying to use my resourcefulness to come up with useful tips and tricks to solve everyday problems. Otherwise known as Life Hacks. I could spend hours on Pinterest finding fun life hacks to try out. LOVE THEM! So in the theme of being a "Smart Cookie" (get it… Girl Scout Cookies… smart cookie 🙂 hehe) I thought I would share with you my 5 favorite Busy Mom Life Hacks.
The Popsicle Drip Catcher. I have been using this trick since the girls were little. We keep a stack of muffin cups next to the freezer, and whenever I grab a popsicle for the little ones, I stick a muffin cup on the stick. Sticky fingers and stained hands NO MORE!
2. Using an egg slicer for strawberries. I love to get little hands involved in the kitchen. It's a great way to get kids excited about healthy foods. Most of us have an egg slicer in our kitchen drawer that NEVER gets used. Now you can put that kitchen gadget to use as a strawberry slicer. It makes perfect little slices for snacks, breakfast or ice cream toppers. Kids can easily slice up the fresh fruit and you don't have to worry about the knife!
Magnet cups. Simply hot glue magnets to the back of some water cups. I have a couple of sets, so every morning there is a fresh cup per kid, on the fridge ready for using. This way I'm not washing cup after cup as the kids take one drink and throw the cups in the sink. They know to place their cup back on the fridge when they are done with a drink. I started using this smart life hack when my girls got a little older. It's not the best idea to have children that are too little having access to the ice and water machine. It's begging for a mess 🙂
Recycling oldCoffee-Mate® bottles as snack containers. Don't throw away those oldCoffee-Mate® bottles when they'reempty! Rinse them out and voilà! You have theperfect snack storage containers. It's great for little hands to shake some snacks out into a bowl and not worry about them accidentally dumping the whole bag out. I also love this idea for trail mix. The smallerCoffee-Mate® Girl Scouts® creamers you see in the front work great for storing sugar to use with your coffee 🙂
Turning a silverware organizer into a toothbrush storage system. I like to keep our bathroom sinks clutter free. So if you don't have a massive bathroom vanity, this life hack is perfect for you! Silverware organizers work GREAT as toothbrush holders. There is even a place for the toothpaste and floss! Every person in the family has a section. Yes, if you have a bigger family, you might need a larger one or more than one. But they stack nicely, so that shouldn't be a problem. In the morning and at night, you just bring out the whole tray, and the last person can simply place the tray under the sink or in the bathroom closet.