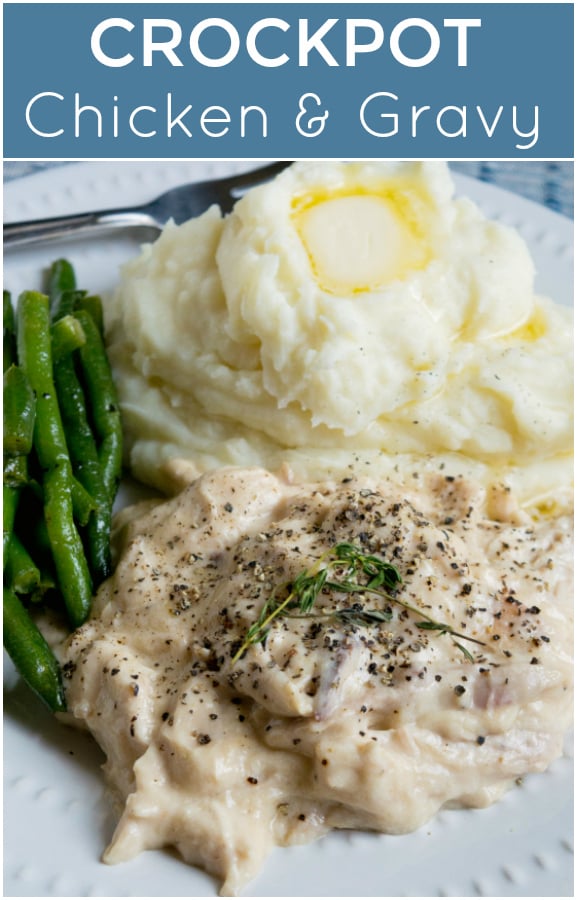 A creamy, comforting meal for anytime of year!
Whether you're coming home after a long day or gathering around the table with loved ones, this dish promises to be a crowd-pleaser. The crockpot does the heavy lifting, allowing the ingredients to meld together, creating a depth of flavor that is both satisfying and soul-soothing.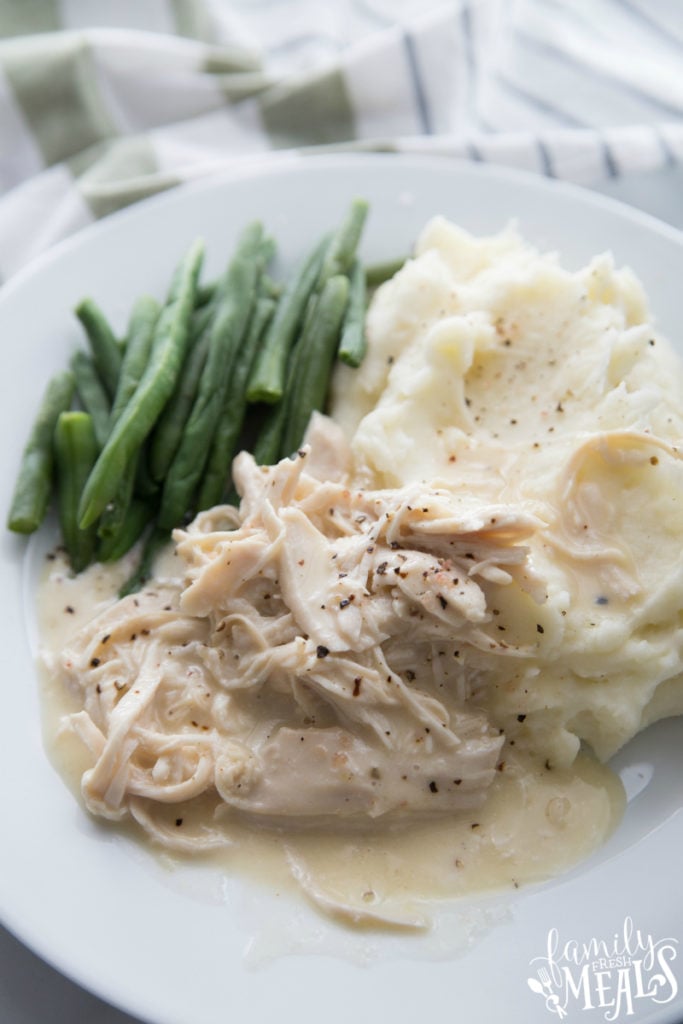 The result? A meal that feels like a cozy embrace, filling your kitchen with an aroma that is synonymous with love and care. A creamy, comforting meal for anytime of year that the whole family will love!
How to make The Best Slow Cooker Chicken and Gravy
Here's my latest comfort-food recipes: Crockpot Chicken and Gravy. It's got shredded chicken, seasoned with pepper and garlic powder, swimming in a rich, creamy gravy laced with sour cream. So it's kind of like beef Stroganoff, only with chicken – which is cheaper and healthier.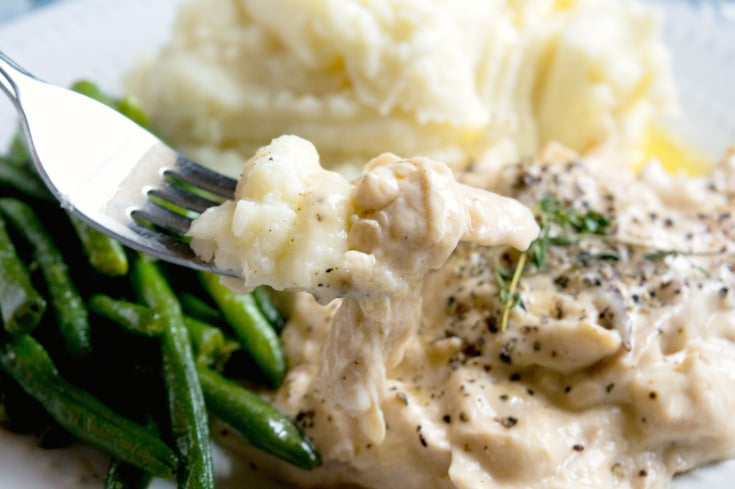 To up the comfort factor on this even more, you can serve it over mashed potatoes, rice, noodles or a couple slices of white bread. So the whole meal has a soft, warm, creamy texture that just slips blissfully down your throat.
And the beauty part is, the whole dish takes only about five minutes to put together – so the cook has plenty of time to curl up and get comfortable, too.
Recipe Notes:
Boneless Skinless Chicken Breasts: The star of the dish, chicken breasts are a lean protein source that absorb the flavors of the gravy while becoming tender and juicy during the slow cooking process.
Garlic Powder: This aromatic spice adds a subtle depth of flavor, enhancing the savory notes of the dish and complementing the richness of the gravy.
Black Pepper: A staple in most kitchens, black pepper brings a mild heat to the dish, balancing the creaminess of the other ingredients and adding a layer of complexity to the flavor profile.
Dry Chicken Gravy Mix: This ingredient is a convenient way to add flavor and thickness to the gravy. It combines various seasonings and thickening agents to create a rich and savory base for the dish.
Cream of Chicken Soup: Creamy and flavorful, this soup acts as a base for the gravy, contributing to its velvety texture and enhancing the chicken flavor in the dish.
Sour Cream: Adding a tangy richness, sour cream contributes to the creamy texture of the gravy and balances the savory elements, resulting in a well-rounded flavor.
Mashed Potatoes for Serving: The perfect accompaniment, mashed potatoes soak up the delicious gravy and complement the tender chicken, making each bite a comforting and hearty experience.
How to Make Crockpot Chicken and Gravy
Pour gravy packets, cream of chicken soup and water into your crockpot. Whisk to combine.
Season both sides of chicken with garlic power and black pepper and place into crockpot.
Cook on HIGH for 3-4 hours or on LOW for 6-7 hours.
Shred chicken with 2 forks and stir in sour cream.
Serve over mashed potatoes or rice.
---
Can you make this slow cooker chicken and gravy recipe without sour cream ?
You can leave it out, but the dish won't be quite as creamy that way.
Can you use any other kind of cream soup instead of cream of chicken?
Cream of mushroom soup would also work well in this dish.
Could you make this in an Instant Pot?
Yes! Put the chicken breasts, gravy mix, and water in the Instant Pot and cook it for 8 minutes at pressure. After releasing the pressure, stir in the cream soup and sour cream, and heat it through. Just as cozy and much faster!
Can I use store-bought gravy or a gravy recipe from scratch?
Absolutely! If you prefer homemade gravy, you can make a roux with butter and flour, then slowly whisk in chicken broth until you achieve the desired consistency.

Yes, if you're short on time, using store-bought gravy is a convenient option. Just be sure to choose one that you like the flavor of, as it will be a prominent taste in the dish.
How can I thicken my gravy if it's too thin?
If you find the gravy too thin, you can make a cornstarch slurry (mix equal parts cornstarch and water) and stir it into the crockpot until the gravy reaches your preferred thickness.
Can I add vegetables to Crock Pot Chicken and Gravy?
Yes, adding vegetables like carrots, peas, or potatoes can make the dish more nutritious and flavorful. Just be mindful of the cooking times for different vegetables.
TOOLS USED FOR THIS CROCKPOT CHICKEN AND GRAVY
Slow Cooker: Here is one of my favorite crockpots!
Slow Cooker Liners: Do you love easy clean-up jobs? Give these liners a try.
Food Tongs: Non-slip Surface design offer you the best control on food.
Looking for more free recipes? Subscribe to my newsletter and follow along on Facebook, Twitter, Pinterest and Instagram for all of the latest updates.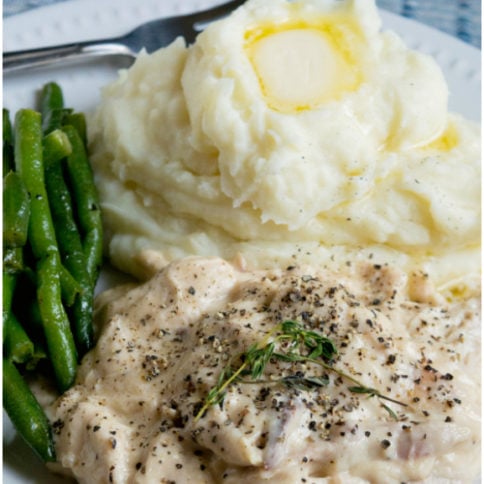 Crockpot Chicken and Gravy
This Crockpot Chicken and Gravy Recipe is the ultimate comfort food. It only takes minutes to throw into the crockpot and is a family favorite!
Prep Time: 5 minutes
Cook Time: 5 hours
Total Time: 5 hours 5 minutes
Serves:4
Hover over "serves" value to reveal recipe scaler
Ingredients
1.5 lbs boneless skinless chicken breasts.
1/2 tsp garlic powder
black pepper to taste
2 packets dry chicken gravy mix
10.5 oz can cream of chicken soup
1 and 3/4 cups water
1/2 cup sour cream
mashed potatoes for serving
Instructions
Pour gravy packets, cream of chicken soup and water into your crockpot. Whisk to combine.

Season both sides of chicken with garlic power and black pepper and place into crockpot.

Cook on HIGH for 3-4 hours or on LOW for 6-7 hours.

Shred chicken with 2 forks and stir in sour cream.

Serve over mashed potatoes.
Video
Save this recipe for later! Click the heart in the bottom right corner to save to your recipe box!
Nutrition Information:
Calories: 335kcal (17%)Carbohydrates: 7g (2%)Protein: 38g (76%)Fat: 11g (17%)Saturated Fat: 4g (20%)Cholesterol: 127mg (42%)Sodium: 538mg (22%)Potassium: 1031mg (29%)Sugar: 1g (1%)Vitamin A: 495IU (10%)Vitamin C: 2.3mg (3%)Calcium: 40mg (4%)Iron: 0.7mg (4%)
Nutrition Disclaimer
Family Fresh Meals is not a dietician or nutritionist, and any nutritional information shared is only an estimate. We recommend running the ingredients through an online nutritional calculator if you need to verify any information.