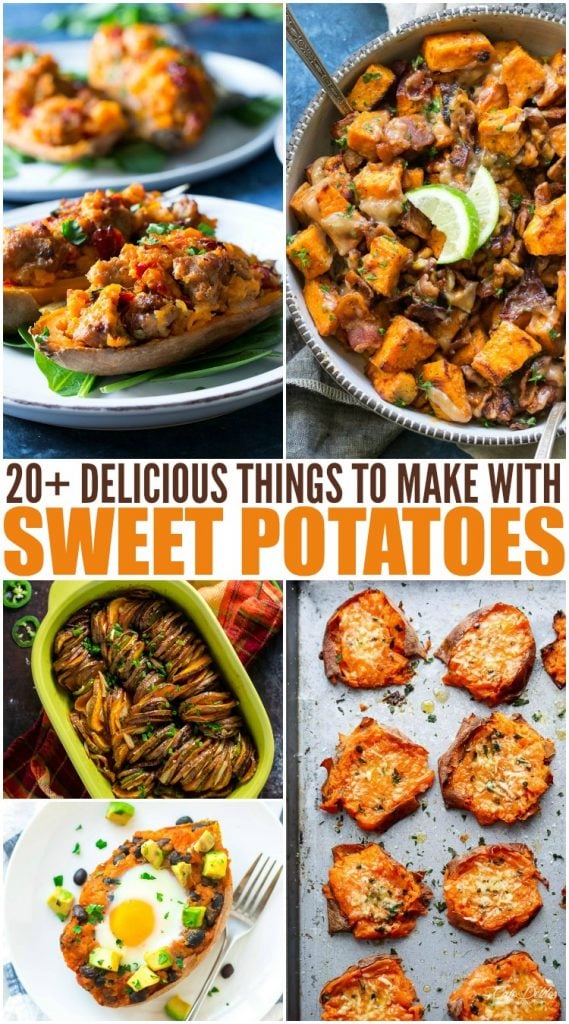 Delicious and Easy Sweet Potato Recipes
1. The maple glaze might just be my favorite part of these Sweet Potato & Pecan Cinnamon Buns.
2. Baked Parmesan Sweet Potatoes are coated with parmesan cheese and all kinds of spices.
3. When salty and sweet combine you get these delicious Roasted Sweet Potatoes with Candied Bacon.
4. Mexican Stuffed Sweet Potatoes are Whole 30 compliant.
5. Have you ever tried to make Sweet Potatoes in the crockpot?! It's magical!
6. These Twice Baked Sweet Potatoes are refilled with sausage pizza filling.
7. You will need white potatoes and sweet potatoes in this Two Potato Parmesan Bake.
8. Garlic Butter Smashed Sweet Potatoes are crispy and buttery on the outside, while soft and sweet on the inside!
9. You will never make normal fries again after having these Sweet N Spicy Sweet Potato Fries.
10. This Roasted Sweet Potato Salad is packed with savory bacon, toasted walnuts, and tossed in a date-sweetened lime vinaigrette.
11. Your guests will lick the plate clean when you serve these Sweet Potato Casserole with Candied Pecan Marshmallow Topping
12. When you make this vegan Moroccan Sweet Potato Lentil Soup, no one will miss the meat.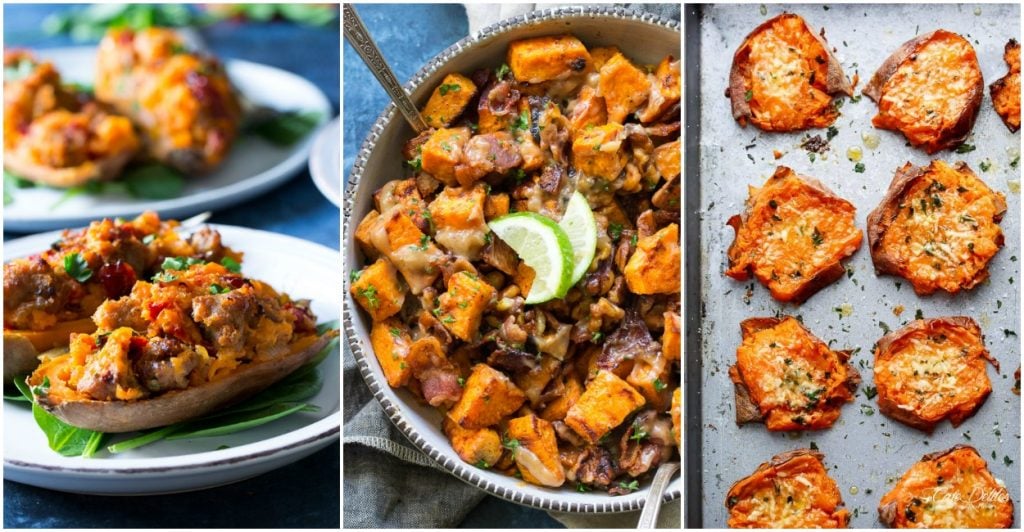 13. Hot Honey Garlic Sweet Potato Bake is beautiful enough for a fancy meal, but simple enough for an everyday side dish.
14. These Stuffed Sweet Potato Skins allow you to enjoy flavors of a chicken fajita at a fraction of the carbs.
15. You will only need five ingredients to make these Mexican Stuffed Sweet Potatoes .
16. Mediterranean Baked Sweet Potatoes take just 30 minutes and make a great lunch or dinner.
17. This naturally sweet, Sweet Potato Apple Breakfast Bake is quick and easy to put together and great to make ahead of time.
18. Sweet Potato Nachos are a delicious healthy-ish twist on a snack time classic.
19. These Sweet Potato Fritters are gluten free and super easy to make.
20. Your next Sunday morning brunch needs these Sweet Potato Hash Brown Nests.
21. The secret to this Eggless Chocolate Cake is sweet potatoes.
22. This Sweet Potato Flatbread only takes three ingredients, has no yeast, does not need to be kneaded.
23. Sweet Potato Noodles take just 25 short minutes to make.
24. No baking needed for these Mini Sweet Potato Cheesecakes.
25. This Sweet Potato & Sweetcorn Chowder is a great gluten-free option
Do you love Family Fresh Meals? Never miss out on FUN new meals or Easy Lunchbox Ideas for the Family and SIGN UP to have my posts sent right to your inbox! It's EASY PEASY! Just CLICK HERE and enter your email!
XO
Corey, Darryl, Big D & Little D