The amazingly versatile kitchen robot that makes homemade flatbread easy.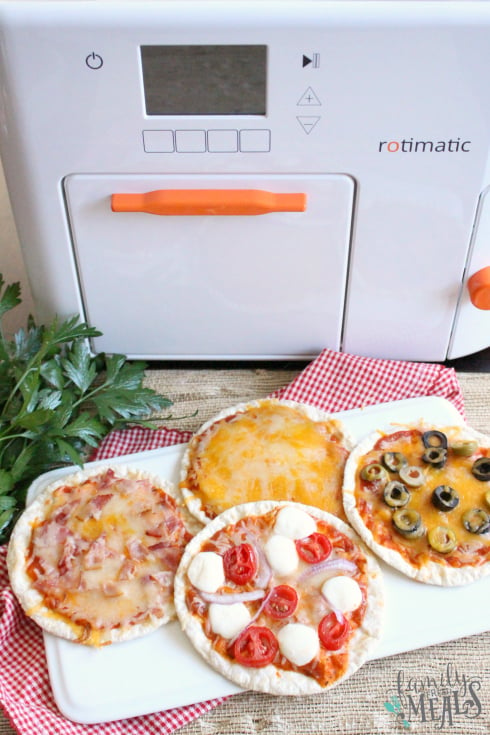 This post is sponsored by Rotimatic, but opinions expressed are my own.
Want to know what I think is the greatest thing since sliced bread? Bread that isn't sliced. In other words, flatbread.
Flatbreads are amazingly useful. They're traditionally served with curries, which makes a great way to mop up the sauce so none of it goes to waste. They also make great sandwiches, because you can roll the contents right up in the bread and not have to worry about anything leaking out the edges. You can even top them up with sauce and cheese for a quick and easy pizza.
The problem with flatbread is, it's best when it's fresh – but making it fresh is a tricky process. It takes practice to get really good results. And even when you're good at it, it's still time-consuming. Making rotis, a traditional Indian flatbread (also called parathas), takes about half an hour from start to finish.
So I was thrilled when I got a chance to try the Rotimatic, a brand-new kitchen gadget that can crank out flatbreads at lightning speed. All you have to do is load it up with flour, water, and oil, and hit the button. Rotimatic does all the work for you – measuring out the ingredients, kneading the dough, rolling it out, cooks it, and puffs it up into perfect flatbreads. You can go from raw flour to your first finished bread in just a few minutes, and after that, it can keep popping out new ones every 90 seconds.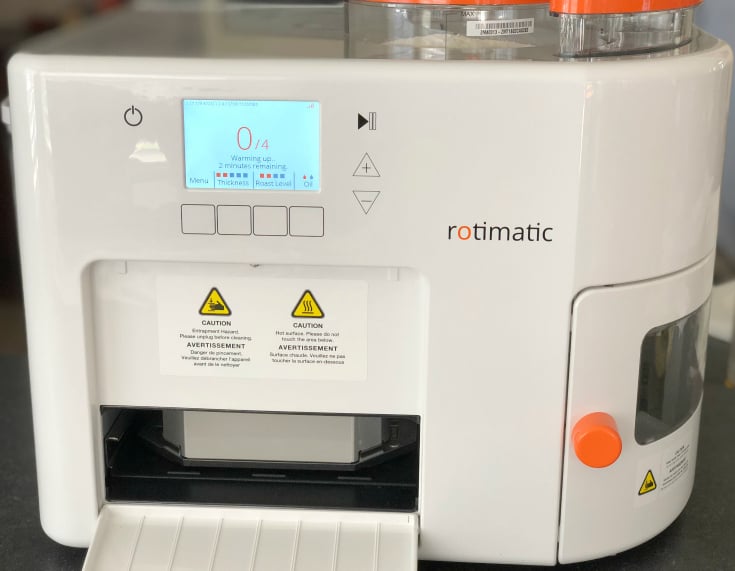 The great thing about making your own flatbreads is that you control the ingredient list. No need to worry about weird preservatives or too much sugar and salt – you can be sure there's nothing going in but fresh, whole, healthy ingredients. Plus, you can customize the recipe to make any kind of flatbread you want. Instead of the traditional whole wheat flour, you can throw in multigrain, chickpea, sweet potato – whatever floats your boat.
The Rotimatic can make several kinds of flatbreads. It can do rotis and puris, an Indian bread that puffs up like a balloon and is a big hit with kids. There's even a special setting for pizza crusts. And there are new updates are in the works that will allow the Rotimatic to make tortillas, pitas, and gluten-free flatbreads, so this versatile tool will get even more useful. Check out the Rotimatic Owners group on Facebook to see all the different ways people are using it.
I used the roti setting to make these adorable Homemade Flatbread Pizzas with the Rotimatic for our family pizza night. They're just the right size for one person, so we all got to pick out exactly what we wanted on our own pizzas – no squabbling over toppings. The kids loved it!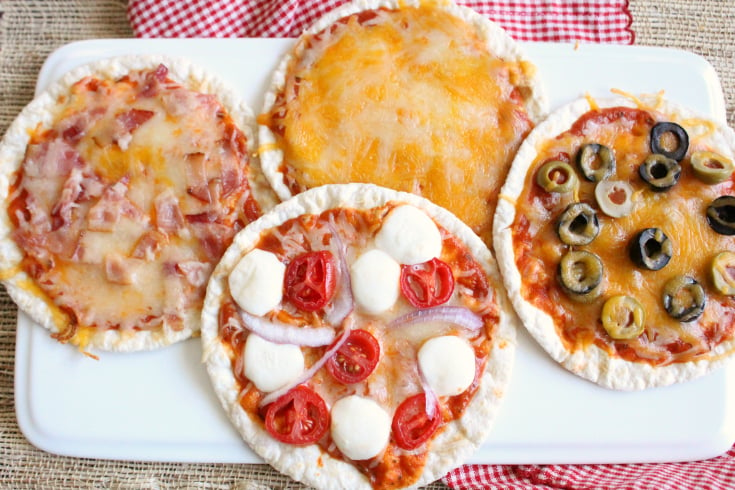 These little pizzas are also a great size for a lunch box, as you can see here. And because the Rotimatic works so fast, you could even whip up a fresh roti in less time than it takes to get the rest of the lunch packed.
Now, I'm not gonna lie: the Rotimatic isn't cheap. But, the company is offering a special deal for readers of this site: an exclusive discount for $100 off. How cool is that? Just CLICK HERE at the coupon code will automatically be applied! The extra cost is well worth the quality and ease the Rotimatic brings to the table. Now preparing multi-cultural meals at home is a cinch, and so much healthier compared to the restaurant or frozen meals.
So, bottom line, the Rotimatic is a great tool for any busy mom. It makes this super handy food convenient, healthy, and fast. And you know, Mother's Day is coming up soon… hint hint!
You can also read tons of customer reviews here https://rotimatic.com/reviews/
Homemade Flatbread Pizzas with Rotimatic
Here is a quick run through of us making our first roti!
The Rotimatic is super smart, and even updates itself through wifi! Did I mention it's also funny! When we first started up the Rotimatic, it greeted us with this message.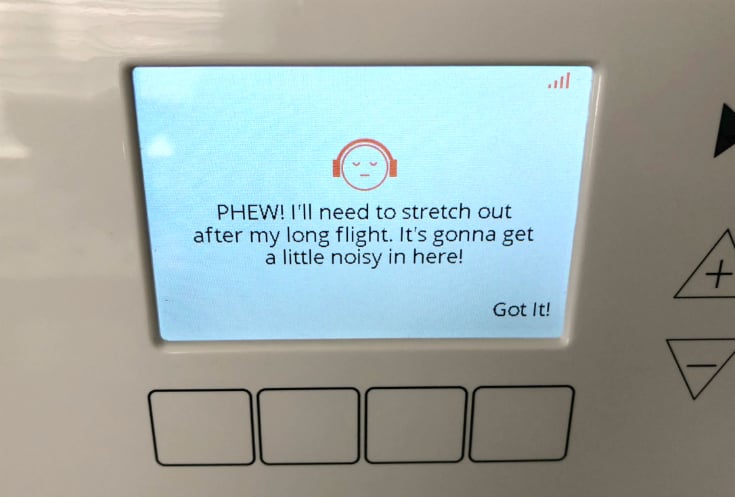 After it warmed up, we easily filled up the top containers with out flour, water and oil!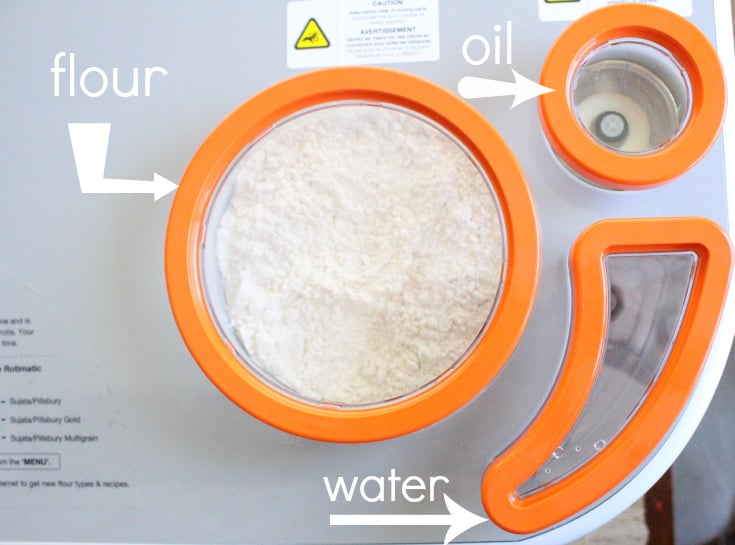 We also that if you are making a bunch of flatbreads at once, it will automatically let you know when your ingredients are running low, so you can pour some more in! You can also choose the thickness and quantity of roti flatbreads you are wanting to make. I really did love how smart this machine is!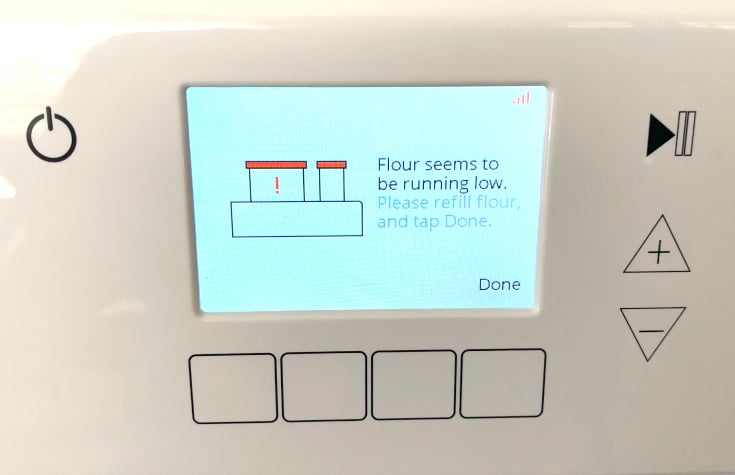 The ingredient mix themselves up in the little compartment on the bottom right, forming into a little ball of dough.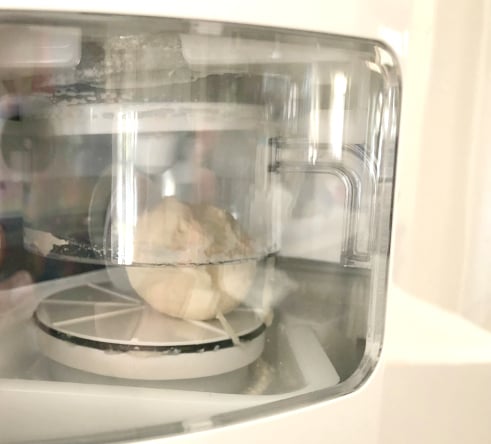 The machine then moved the dough over to the baking section, where it flatten, baked and puffs up the flatbread!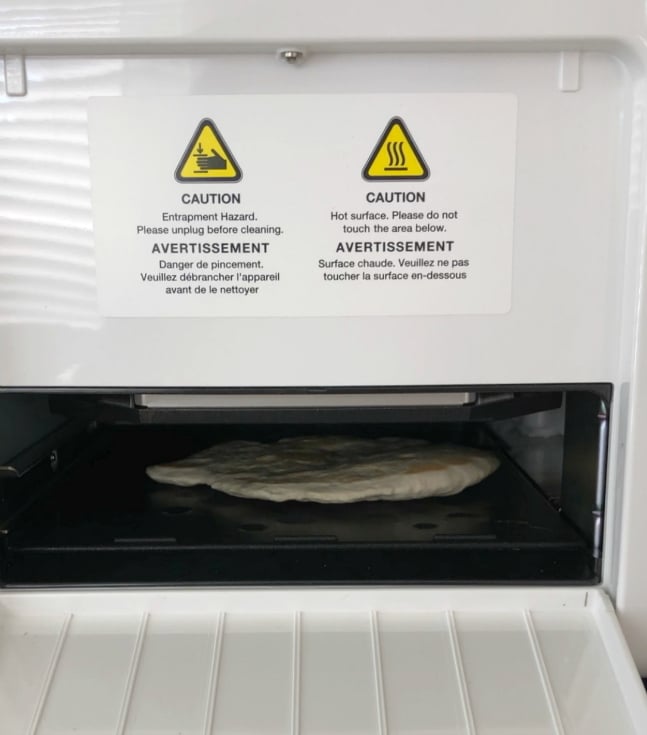 And then out pops your flatbread!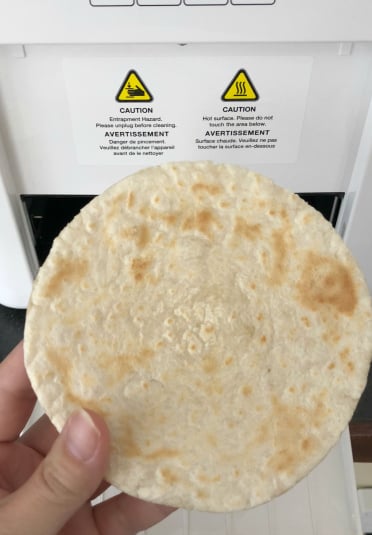 Next we topped out flatbreads and enjoyed!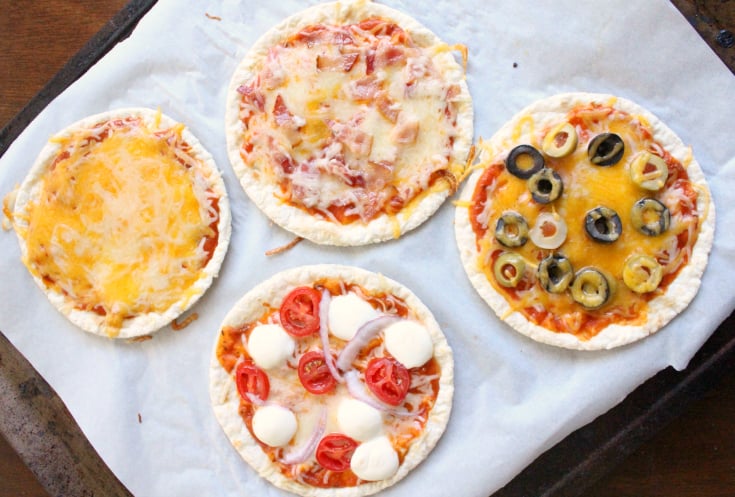 Looking for more free recipes? Subscribe to my newsletter and follow along on Facebook, Twitter, Pinterest and Instagram for all of the latest updates.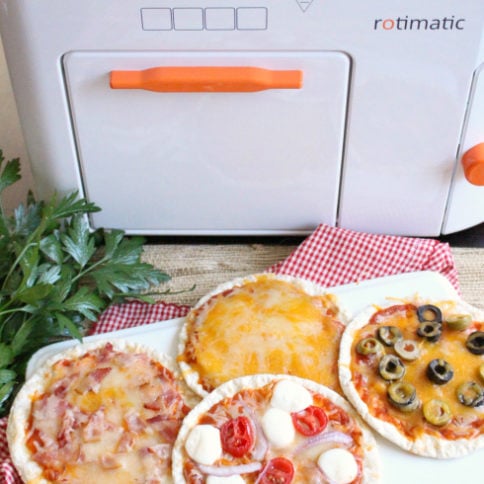 Homemade Flatbread Pizzas with Rotimatic
I used the roti setting to make these adorable Homemade Flatbread Pizzas with the Rotimatic for our family pizza night. They're just the right size for one person, so we all got to pick out exactly what we wanted on our own pizzas – no squabbling over toppings. The kids loved it!
Prep Time: 10 minutes
Cook Time: 5 minutes
Total Time: 15 minutes
Serves:4
Hover over "serves" value to reveal recipe scaler
Ingredients
4 Fresh Flatbreads I made mine with the Rotimatic
pizza sauce
shredded cheese
favorite pizza toppings
Instructions
Place sauce, cheese and topping on each flatbread.

Bake in an over at 350 F for about 3-5 mins until cheese has melted
Save this recipe for later! Click the heart in the bottom right corner to save to your recipe box!
Nutrition Disclaimer
Family Fresh Meals is not a dietician or nutritionist, and any nutritional information shared is only an estimate. We recommend running the ingredients through an online nutritional calculator if you need to verify any information.