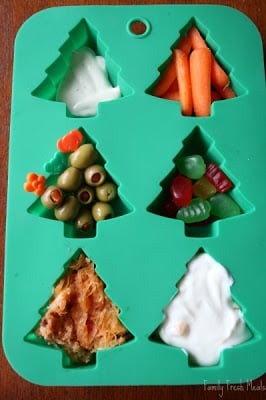 Muffin Tin Meal Olive My Christmas Tree
I don't know about you, but I love to sample a ton of food at my meals, and so do my kiddos. Muffin tin meals are perfect for just that.
It is also a great way to serve up any small leftovers you might have…..a way to get rid of those last 4 chips in the bottom of the bag, that last pickle sitting in the jar, the one piece of cheese calling your name, etc… I keep putting "buy muffin tins" on my to-do list, but seem to always forget.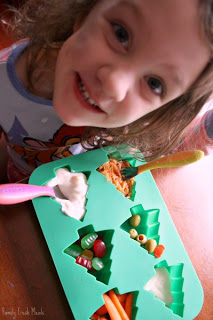 Last weekend when I was at Target (I know, it's hard to believe, me at Target) they had these great silicone muffin tins in the dollar section. I snagged one of each design and was all set to muffin-tin it up!
In the muffin lunch is starting top left, dressing for dipping, carrots, green olives, fruit snacks, spaghetti squash, and Greek yogurt!
I should have thought to get two of each set of muffin tins, because there was a fight over who got the tress and who got the snowflakes. Both had the same meal, but when you have a sister, EVERYTHING must be a fight… right?! hehe. Hope you enjoy!