Low Point Meals ready in a FLASH!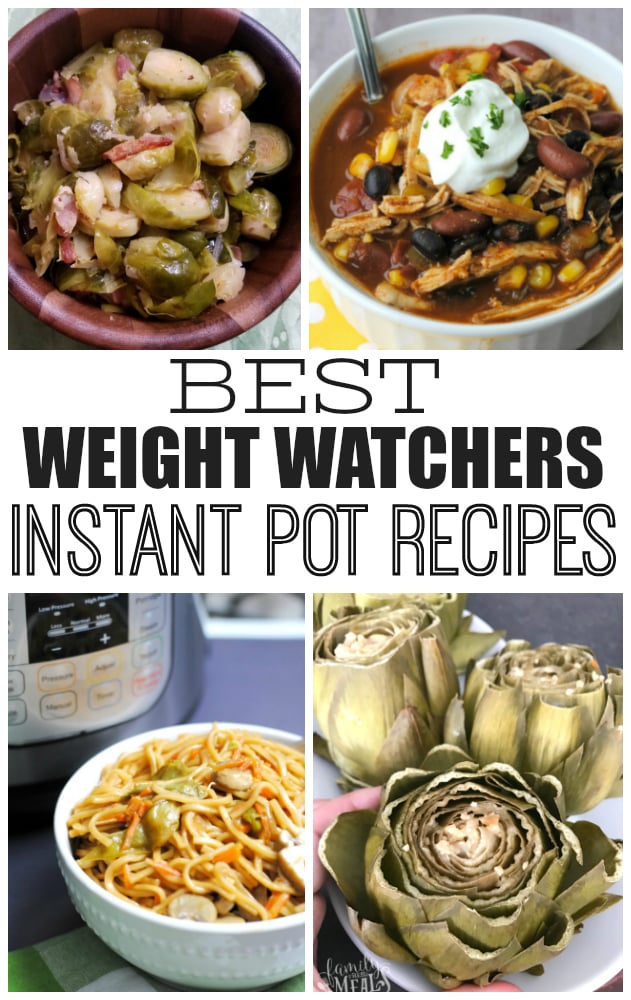 This post contains affiliate links.
I've had many requests for Weight Watcher recipes over the past month. I have always been a fan and love the the program even more since they launched the new Freestyle program, many of my favorite foods (chicken and eggs!) are 0 points. This means it's easy to make a low point dinner without any fuss, especially in the Instant Pot. If you've been here before, you know I absolutely love my Instant Pot, and so does the rest of my family!
There are many options for the Instant Pot. I highly recommend the 6-in-1 Lux if you're on a tighter budget. It is a pressure cooker, slow cooker, rice cooker, warmer, and steamer. It sautés and can even make cakes and eggs. The 9-in-1 replaces your pressure cooker, slow cooker, rice cooker, yogurt maker, egg cooker, sauté, steamer, warmer, sterilizer and it makes cake too. It's a little more expensive but well worth the investment.
Check out my Family Friendly Instant Pot Meals.
Weight Watchers Instant Pot Recipes
1. Shredded Chicken – 0 SmartPoints
2. Instant Pot Parmesan Garlic Artichokes – 1 SmartPoint
3. Mac and Cheese – 14 SmartPoints (can be lightened up for less points!)
4. Instant Pot Lo Mein – 6 SmartPoints
5. Instant Pot Brussels Sprouts with Bacon – 1 SmartPoint
6. Candied Sweet Potatoes – 4 SmartPoints
7. Instant Pot Chicken Taco Soup – 0 SmartPoints
8. Easy Chicken Stew – 3 SmartPoints
9. Spicy Mango Chicken – 4 SmartPoints
10. Instant Pot Salsa Chicken – 0 SmartPoints
11. Instant Pot Goulash – 3 SmartPoints
12. Instant Pot Chicken and Stuffing – 7 SmartPoints
13. Vegetarian Chili – 0 SmartPoints
14. Instant Pot Egg Bake – 2 SmartPoints
15. Pork Carnitas – 3 SmartPoints
16. Apple Cinnamon Oatmeal – 5 SmartPoints
17. Stuffed Pepper Soup – 5 SmartPoints
18. Sweet Potato Lentil Soup – 3 SmartPoints
19. Spaghetti with Meat Sauce – 10 SmartPoints
20. Instant Pot Steak Soup – 3 SmartPoints
21. Mango Pineapple Chicken – 0 SmartPoints
22. Beef Tomato and Acini de Pepe Soup – 5 SmartPoints
23. Shrimp & Rice – 2 SmartPoints
---
Do you love Family Fresh Meals? Never miss out on FUN new meals or Easy Lunchbox Ideas for the Family and SIGN UP to have my posts sent right to your inbox! It's EASY PEASY! Just CLICK HERE and enter your email!
XO
Corey, Darryl, Big D & Little D