The smoothie that looks and tastes like a dessert.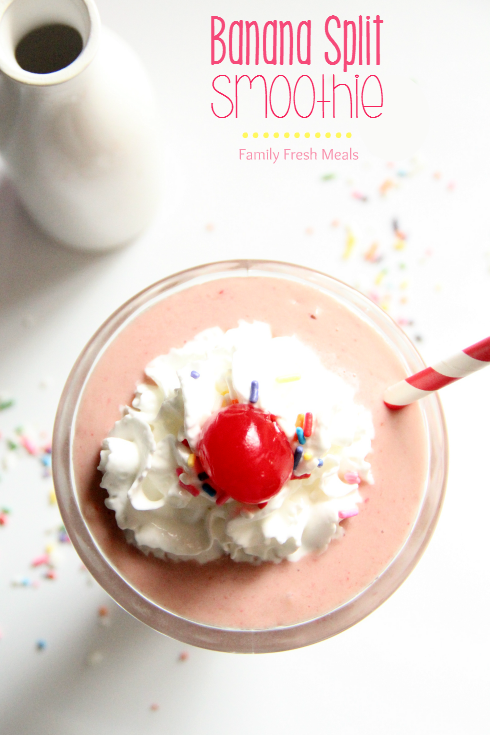 Welcome back to Smoothie Sunday! This Banana Split Smoothie is the girls' absolute favorite smoothie. Many times after dinner, they will BEG for it as a dessert.
I don't know about you, but I would much prefer my kiddos sipping on this fruit and yogurt packed smoothie, than a handful of cookies or ice cream. 
It's also fun to surprise the kids with a Banana Split Smoothie for breakfast. Seriously, wouldn't this be a super awesome way to start the day?!
Note: If you do not have frozen fruit to use for the smoothies, fresh fruit will work just fine. If using fresh fruit, make sure to add a handful of ice to the other ingredients before blending. The frozen fruit just adds that cold element to make an ice cold drink. 
Banana Split Smoothie
(Makes 2 large smoothies)
Ingredients:
3/4 cups plain Greek yogurt
2 cups frozen strawberries
1 large banana, sliced
1 cup chocolate milk ( chocolate almond and or coconut milk are awesome too!)
1 TB honey
(optional: Cherry, whipped cream and sprinkles)
Directions
Place all ingredients in a blender and blend until smooth.  Serve as is or with optional cherry and whipped cream.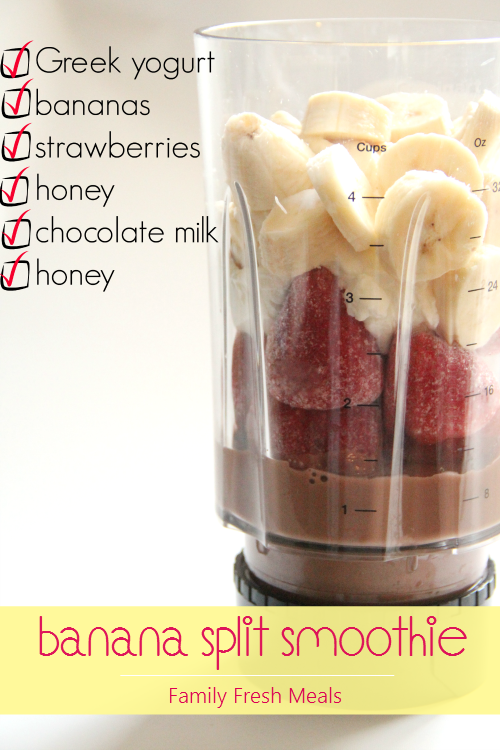 Do you love Family Fresh Meals? Never miss out on FUN new meals or easy lunchbox ideas for thefamily andSIGN UPto have my posts sent right to your inbox! It's EASY PEASY! JustCLICK HEREand enter your email!
XO
Corey, Darryl, Big D & Little D

Here is what I used to make this Banana Split Smoothie
Click on the images for more details
 (Post contains affiliate links)