Do you want a simple appetizer that will make EVERYONE at the party happy? Look no more!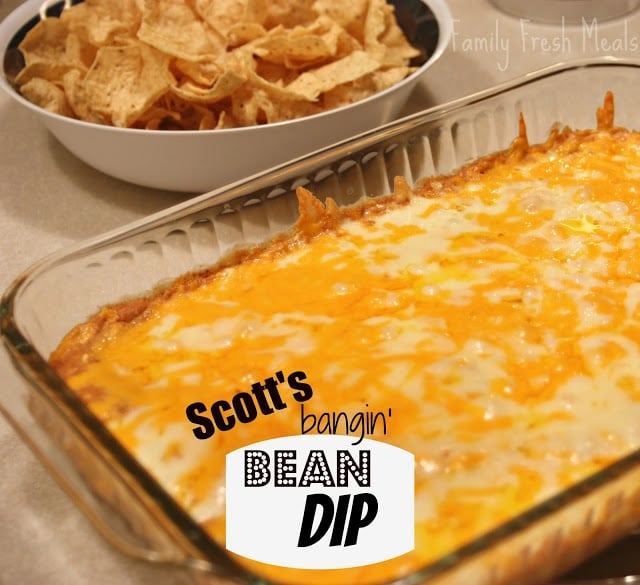 Please give a warm welcome to a dear friend of mine, Chef Scott and his famous Bean Dip. Scott and I met in middle school and soon realized our mutual love of tennis.
Our tennis careers followed us all the way through high school. He will never admit it, but I am a MUCH better tennis player (HELLO! I was MVP 2 years in a row…. beat that Scott!) 🙂 We have continued to stay friends throughout the years.
He is married to one of the coolest chicks I know, and happens to be one of my best friends. We love to hang out with these cool cats, and love it even more when this bean dip is waiting for us when we arrive for one of our famous game nights.
Now, I present Guest Chef Scott and his Bean Dip.
Cheesy bean dip is a must at any of our family gatherings. I have no idea where the recipe originated from, but it has been making appearances at birthday parties, Christmas celebrations, football games and game nights since… forever! Served warm, scooped out of the dish with tortilla chips, it is an awesome appetizer. Just be warned: once you make this dish and bring it somewhere, they will expect it next time!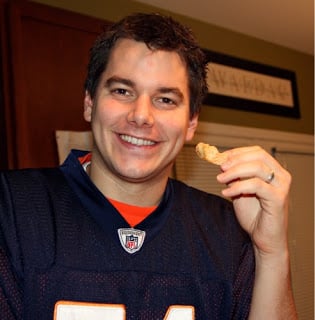 Guest Chef Scott: Bean Dip
Ingredients
8-oz package of cream cheese
- 1 cup (overflowing) sour cream
- 1 large can of Frito Bean Dip
- 1 package of taco seasoning
- 2 tablespoons minced onion
- Tobasco sauce to taste
- 6-8-oz Monterey Jack cheese
- 6-8-oz cheddar cheese
Instructions
Preheat oven to 350. Mix cream cheese, sour cream, bean dip, taco mix & minced onion.
Add Tobasco sauce to taste. More Tobasco = spicier bean dip!
Pour into a flat, 9x13 dish.
Sprinkle on cheese.
Bake until the cheese is bubbly.