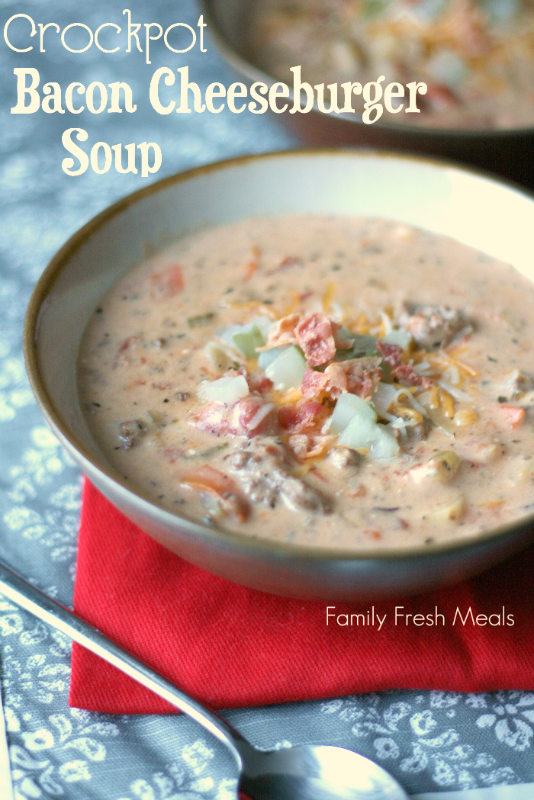 Is there anything better than a big juicy bacon cheeseburger? Your mouth just started watering a little bit…..didn't it?
This soup delivers that same mouth watering taste, but in the form of an easy peasy crockpot recipe.   Luckily for my vegetarian hubby, this Crockpot Bacon Cheeseburger Soup can easily be made vegetarian using soy crumbles.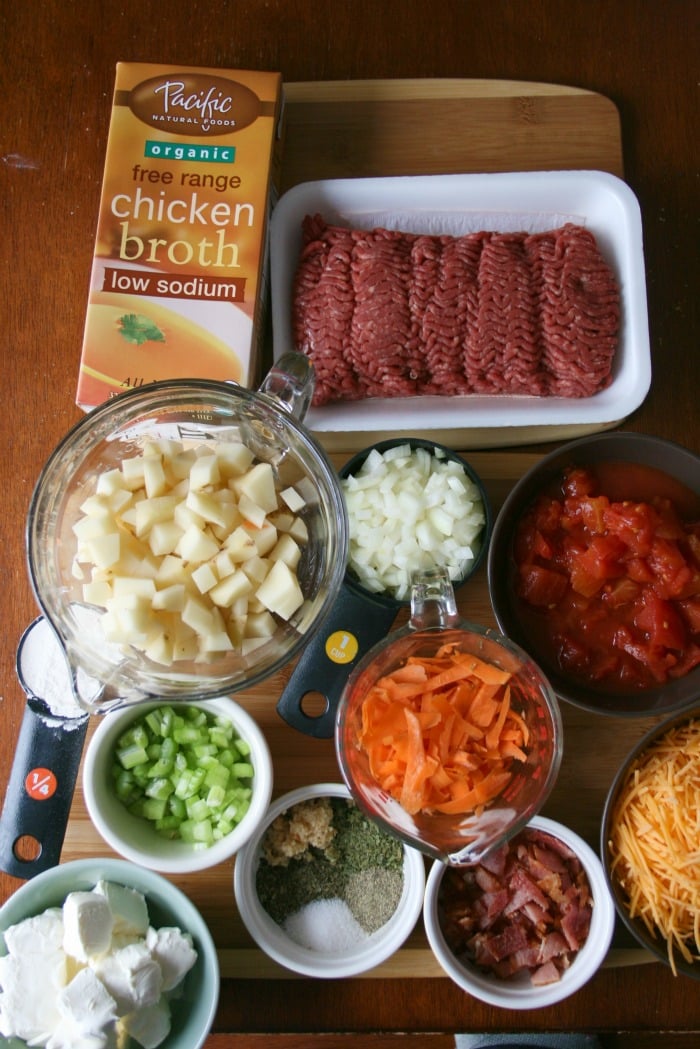 Crockpot Bacon Cheeseburger Soup
Ingredients: 
1 lb ground beef (or soy crumble for vegetarians)
1 cup onions, diced
2 cups shredded sharp cheddar cheese
1 can (14.5 oz) diced tomatoes
5 strips of bacon, cooked and crumbled (or soy bacon for vegetarians)
1/2 cup celery, chopped
1 cup carrots, shredded
2 cups potatoes, cubed
8 oz cream cheese, cubed
4 cups chicken broth (or veggie broth for vegetarians)
1/4 cup flour
1 cup milk
3-4 garlic cloves, minced
1 tsp salt
1 tsp dried basil
1 tsp dried parsley
1/2 tsp pepper
Directions:
1. Start by cooking onions and browning your beef together, until meat is no longer pink.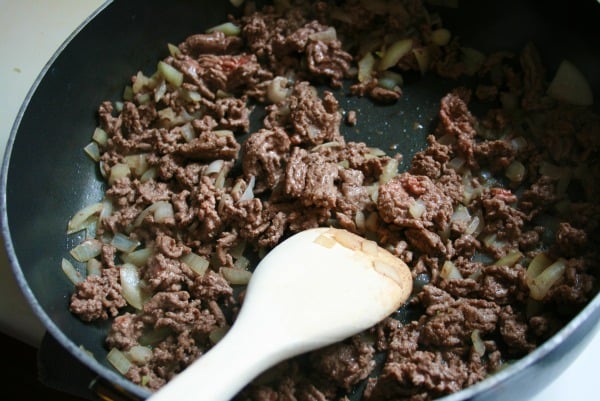 2. Next combine all ingredients EXCEPT for the shredded cheddar cheese, milk and flour.
It helps to hire an extra cute helper for this 🙂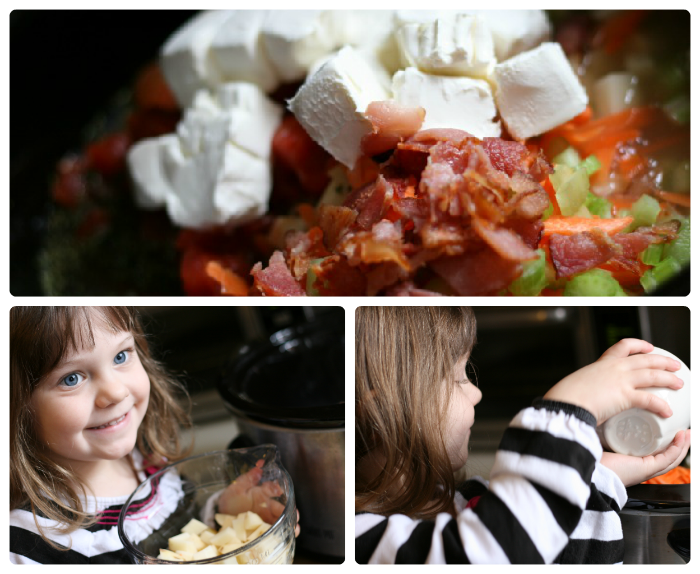 3. Stir to combine ingredients. Cover and cook on LOW for 7 hours.
4. When 10 minutes are left, you are going to add a thickener and  your cheese. To make the thickener, combine milk and flour. Whisk until all clumps are gone.

5. Uncover crockpot and  stir in shredded cheese and milk/flour mixture. Cover and cook for the remaining 10 minutes, until cheese is melted.
I served our soup with chopped up dill pickles to add that cheeseburger feel 🙂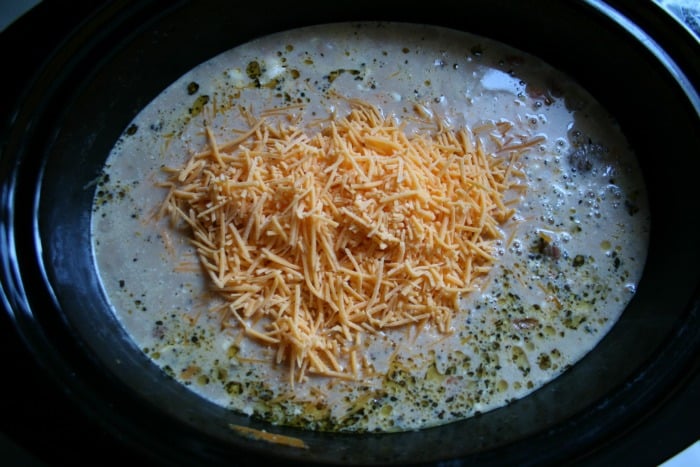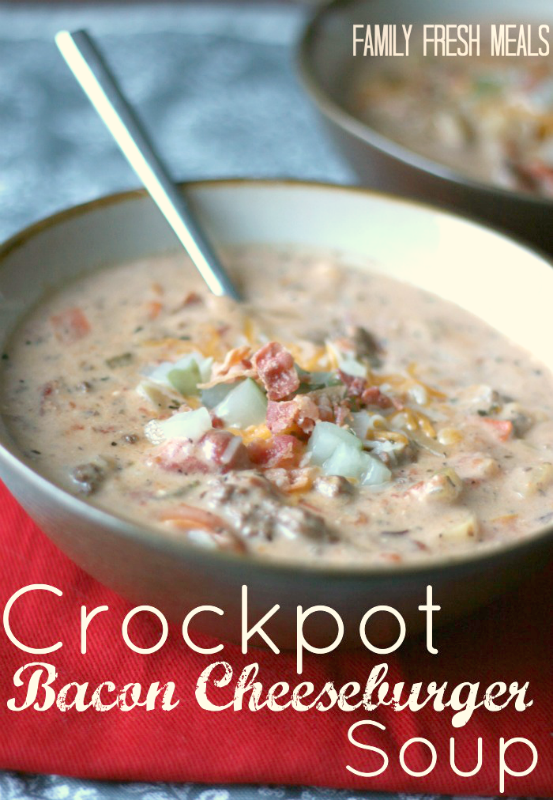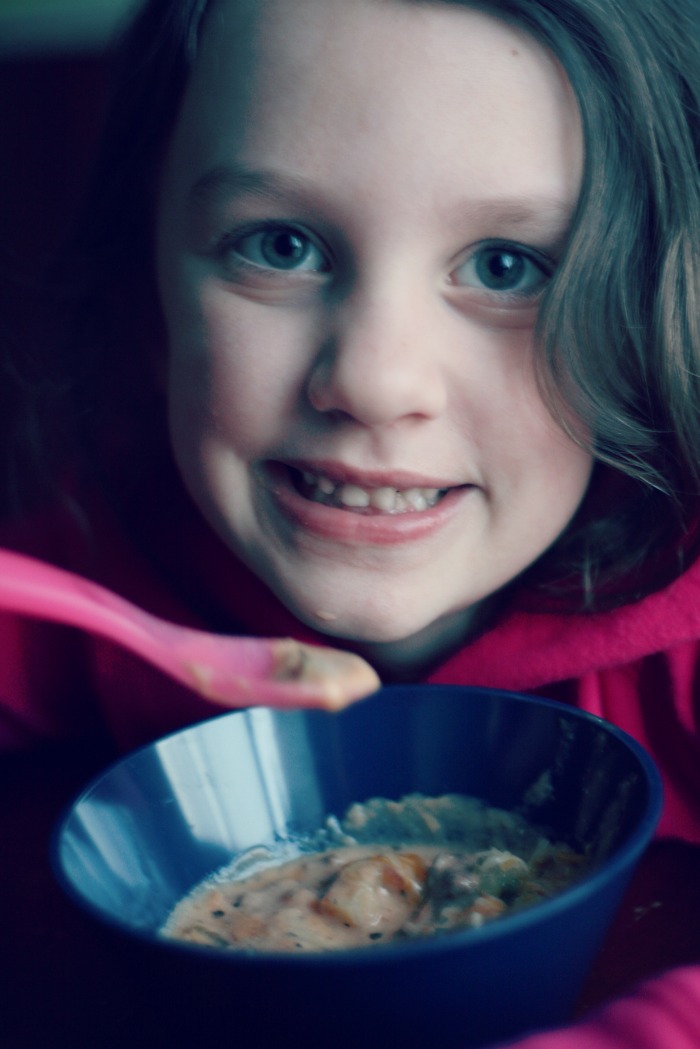 Do you love Family Fresh Meals? Never miss out on a FUN new meal or idea and SIGN UP to have my posts sent right to your inbox! It's EASY PEASY! Just CLICK HERE and enter your email!
XO
Corey, Darryl, Big D & Little D

Crockpot Bacon Cheeseburger Soup
Ingredients
1 lb ground beef (or soy crumble for vegetarians)
1 cup onions, diced
2 cups shredded sharp cheddar cheese
1 can (14.5 oz) diced tomatoes
5 strips of bacon, cooked and crumbled (or soy bacon for vegetarians)
½ cup celery, chopped
1 cup carrots, shredded
2 cups potatoes, cubed
8 oz cream cheese, cubed
4 cups chicken broth (or veggie broth for vegetarians)
¼ cup flour
1 cup milk
3-4 garlic cloves, minced
1 tsp salt
½ tsp pepper
1 tsp dried basil
1 tsp dried parsley
Instructions
Start by sauteing onions and browning your beef together, until meat is no longer pink.
Next combine all ingredients EXCEPT for the shredded cheddar cheese, milk and flour.
Stir to combine ingredients. Cover and cook on LOW for 7 hours.
When 10 minutes are left, you are going to add a thickener and your cheese. To make the thickener, combine milk and flour. Whisk until all clumps are gone.
Uncover crockpot and stir in shredded cheese and milk/flour mixture. Cover and cook for the remaining 10 minutes, until cheese is melted.
I served our soup with chopped up dill pickles to add that cheeseburger feel 🙂