How do you like your eggs?

I was compensated for this post. All thoughts are 100% my own.
You see a lot of stories these days about "superfoods" like kale or açai berries that are supposed to be loaded with nutrients and basically magical. Well, I don't know about that, but I can tell you what's my idea of a real superfood: eggs.
I mean, think about it. They're cheap, they're tasty, they're filled with protein. Eggs are a nutritional powerhouse, with one egg containing 6 grams of high-quality protein and nine essential amino acids, for 70 calories. Eggs are also one of the few foods that are a natural source of Vitamin D, nothing artificial.
Plus, you can do just about anything with them in a matter of minutes– making them perfect for back-to-school. You can cook them a dozen different ways: hard-boiled, soft-boiled, fried, poached, scrambled, shirred. And you can put them in anything, from omelets to souffles to muffins. You can make them savory or sweet. You can serve them at any meal. What other food can do that?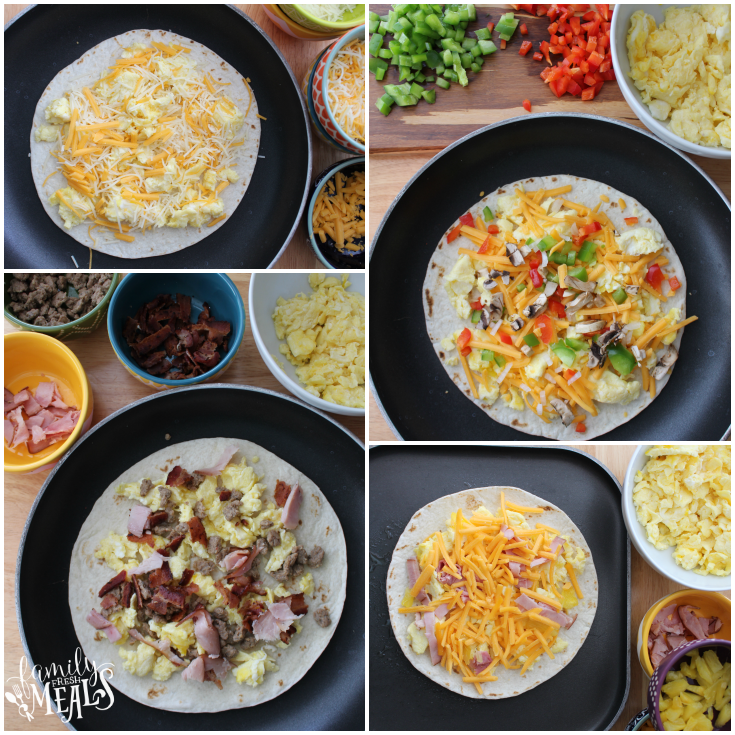 Here's an example of a recipe that puts the humble egg through its paces. It's a breakfast quesadilla that you can make four different ways. They all have the same base—eggs and cheese between two tortillas—but by changing up the add-ins, you can give the same dish a completely different flavor.
There's the hearty Meat Lover, packed with bacon, sausage and ham. The Cheese Lover mixes it up with three kinds of cheese, and the Veggie Lover is loaded up with fresh peppers, onions, and mushrooms. And last but not least, you can give it a tropical touch with the Hawaiian, with cheddar, ham, and pineapple.
And the mixing and matching doesn't stop there! Because this isn't just a great breakfast…you can also pack up the leftovers for a fun lunch. So it's not just four meals in one…it's four different breakfasts, and four different lunches.
I'd like to see an açai berry do that.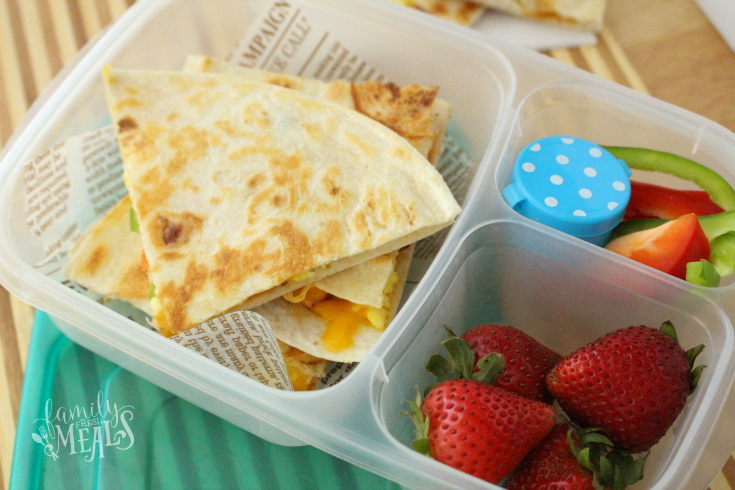 Visit IncredibleEgg.org for more hard-cooked egg recipes, tips, egg nutrition information and more.
Freezer Breakfast Quesadillas 4 Ways
Ingredients: (per 1 quesadilla, serves 2)
2 eggs
1 Tablespoon butter/cooking spray
2 large (8 inch) tortillas
1/2 cup shredded cheddar cheese
salt to taste
Optional Fillers
The Meat Lover: Add in 1-2 Tablespoons of each
bacon, cooked and diced
sausage, cooked, drained and chopped
ham, chopped
The Hawaiian: Add in 1-2 Tablespoons of each
pineapple chunks, well drained
ham, chopped
The Veggie Lover:
bell peppers, diced
onion, diced
mushrooms, diced
The Cheese Lover:
(reduce base cheddar cheese to 1/4 cup)
1/4 cup monterey jack cheese
1/4 cup shredded mozzarella cheese
In a small bowl, whisk the eggs and salt.
Coat a large skillet with cooking spray or 1 tablespoons of melted butter. Add eggs and cook, stirring over a medium heat until eggs are fluffy and set. Set eggs aside in a bowl.
Now place a tortilla in your skillet. Spoon eggs over tortilla and then top with your choice of fillings (about 2 tablespoons per filling and 1/2 cup of cheese) Top with other tortilla and cook over low heat for 1-2 minutes on each side or until cheese is melted.
Cut into fourths and serve (serves 2)
Not only are these fun to eat for breakfast, but make a super lunch! Talk about the perfect way to break out of that lunchbox rut!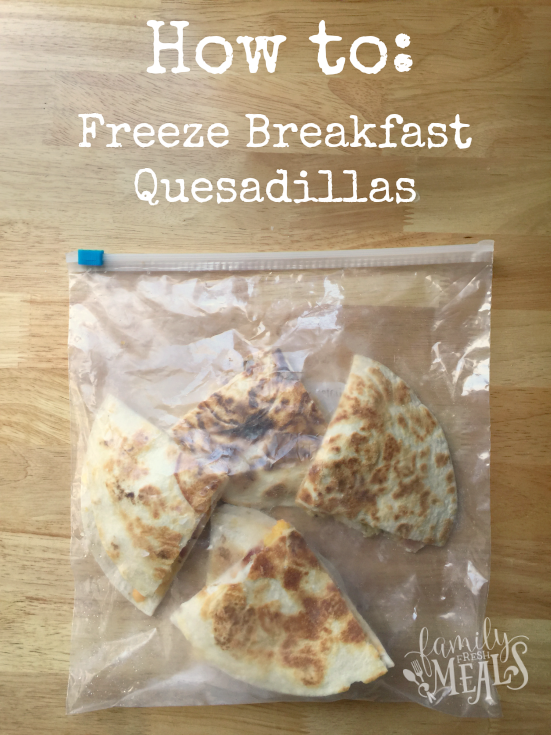 Want to save time for the week? Make a large batch of these egg-tastic breakfast quesadillas and freeze them. After following the above directions. Place individual quesadillas on a baking sheet lined with parchment paper and flash freeze them for 1-2 hours, until frozen. Remove them from the baking sheet and place them inside a freezer safe bag.
When ready to use, warm in toaster oven until warmed through or microwave (about 45 second – 60 second per serving)
More breakfast ideas we love!
Looking for more free recipes? Subscribe to my newsletter and follow along on Facebook, Twitter, Pinterest and Instagram for all of the latest updates.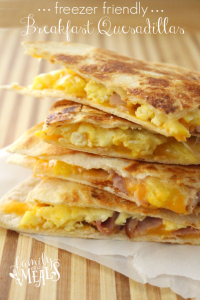 Freezer Breakfast Quesadillas 4 Ways
Want a great make ahead breakfast? Make a big batch of these Freezer Breakfast Quesadillas 1 of 4 ways for and easy grab and go breakfast!
Prep Time: 10 minutes
Cook Time: 10 minutes
Total Time: 20 minutes
Serves:2
Hover over "serves" value to reveal recipe scaler
Ingredients
2 eggs
1 Tablespoon butter/cooking spray
2 large 8 inch tortillas
1/2 cup shredded cheddar cheese
salt to taste
The Meat Lover: Add in 1-2 Tablespoons of each
bacon cooked and diced
sausage cooked, drained and chopped
ham chopped
The Hawaiian: Add in 1-2 Tablespoons of each
pineapple chunks well drained
ham chopped
The Veggie Lover:
bell peppers diced
onion diced
mushrooms diced
The Cheese Lover:
reduce fat cheddar cheese to 1/4 cup
1/4 cup monterey jack cheese
1/4 cup shredded mozzarella cheese
Instructions
In a small bowl, whisk the eggs and salt.

Coat a large skillet with cooking spray or 1 tablespoons of melted butter. Add eggs and cook, stirring over a medium heat until eggs are fluffy and set. Set eggs aside in a bowl.

Now place a tortilla in your skillet. Spoon eggs over tortilla and then top with your choice of fillings (about 2 tablespoons per filling and 1/2 cup of cheese) Top with other tortilla and cook over low heat for 1-2 minutes on each side or until cheese is melted.

Cut into fourths and serve (serves 2)

Want to save time for the week? Make a large batch of these egg-tastic breakfast quesadillas and freeze them. After following the above directions. Place individual quesadillas on a baking sheet lined with parchment paper and flash freeze them for 1-2 hours, until frozen. Remove them from the baking sheet and place them inside a freezer safe bag.

When ready to use, warm in toaster oven until warmed through or microwave (about 45 second - 60 second per serving)
Nutrition Information:
Calories: 274kcal (14%)Carbohydrates: 8g (3%)Protein: 20g (40%)Fat: 28g (43%)Saturated Fat: 13g (65%)Cholesterol: 239mg (80%)Sodium: 405mg (17%)Potassium: 108mg (3%)Sugar: 1g (1%)Vitamin A: 745IU (15%)Calcium: 405mg (41%)Iron: 1mg (6%)