A lean, green breakfast cuisine!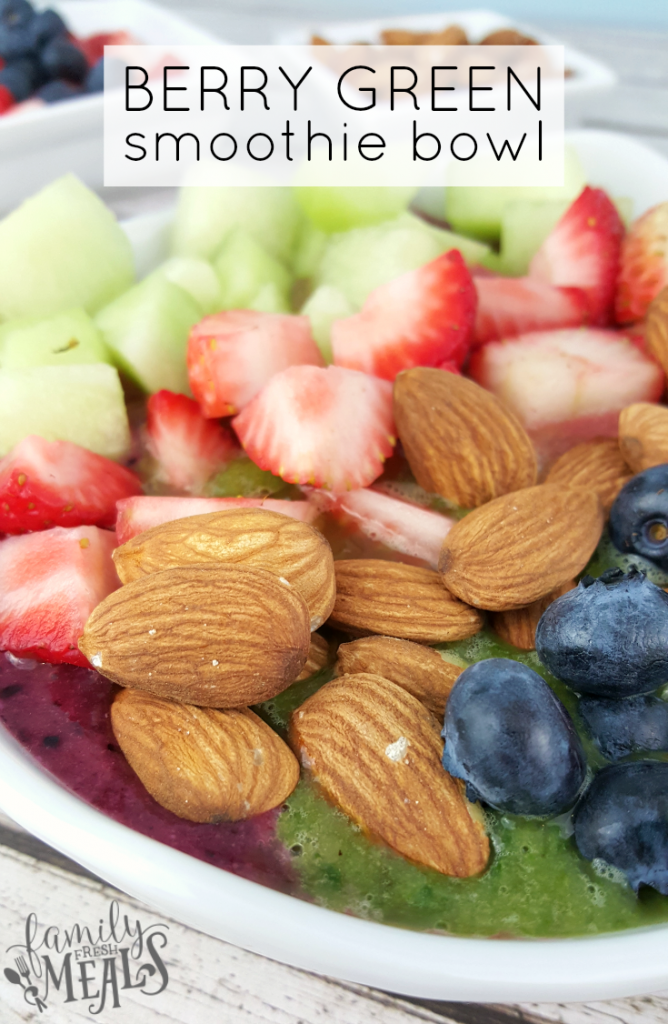 Not long ago, I discovered the benefits of enjoying a smoothie in a bowl, rather than a glass. Since then, I've just gone crazy coming up with new and exciting smoothie bowl combinations.
My newest one is extra healthy because it combines your basic berry smoothie with a green smoothie. You know how people are always telling you to eat more dark green, leafy veggies because they're just chock full of fiber and vitamins and other stuff your body needs? And so you keep trying to eat more of them, but after a while, you just can't face one more bowl of steamed kale?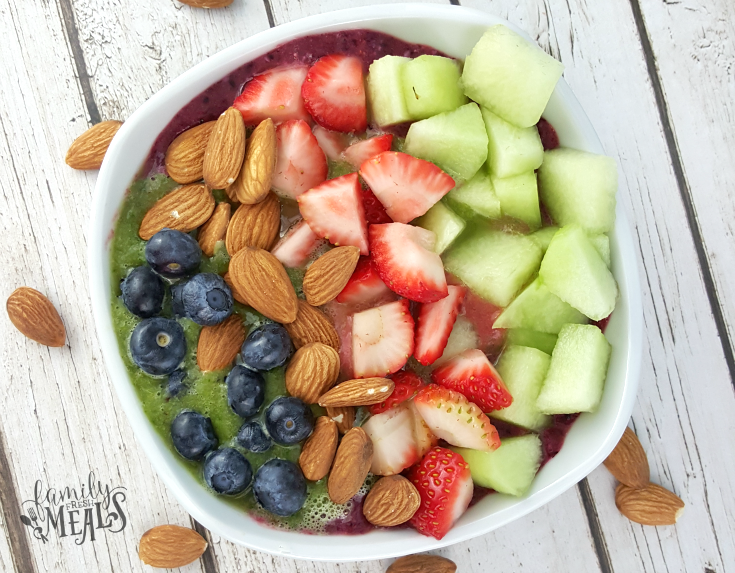 Well, a green smoothie is the perfect solution. It takes those super nutritious greens – in this case, spinach – and blends them with fruit and yogurt, for a combo that tastes good and is good for you.
And in this case, it's extra good in both ways, because the green smoothie gets layered on top of a mixed berry smoothie, and then topped with even more fresh fruit and almonds. So with every spoonful of this Berry Green Smoothie Bowl, you dip up a delicious, nutritious combo of berries, greens, nuts, and fruit. Soooooo good!
NOTE: You can use fresh or frozen fruit for this. If you use fresh, you will want to add a handful of ice to the blender.
Berry Green Smoothie Bowl
BERRY SMOOTHIE INGREDIENTS:
1 cup vanilla yogurt
½ cup raspberries
½ cup blackberries
½ cup strawberries
GREEN SMOOTHIE INGREDIENTS:
1 banana
1 cup vanilla yogurt
1 cup fresh spinach
½ cup blueberries
TOPPING IDEAS:
honeydew melon, strawberries, blueberries, almonds
DIRECTIONS:
Prepare the puree by combining the ingredients in a blender. Pulse until smooth. If you use fresh fruit, you will want to add a handful of ice to the blender. Pour into a bowl.
Rinse the blender, then puree the green smoothie ingredients. Gentle pour the green smoothie mixture on top of the berry smoothie.
Top with honeydew melon, strawberries, blueberries, almonds