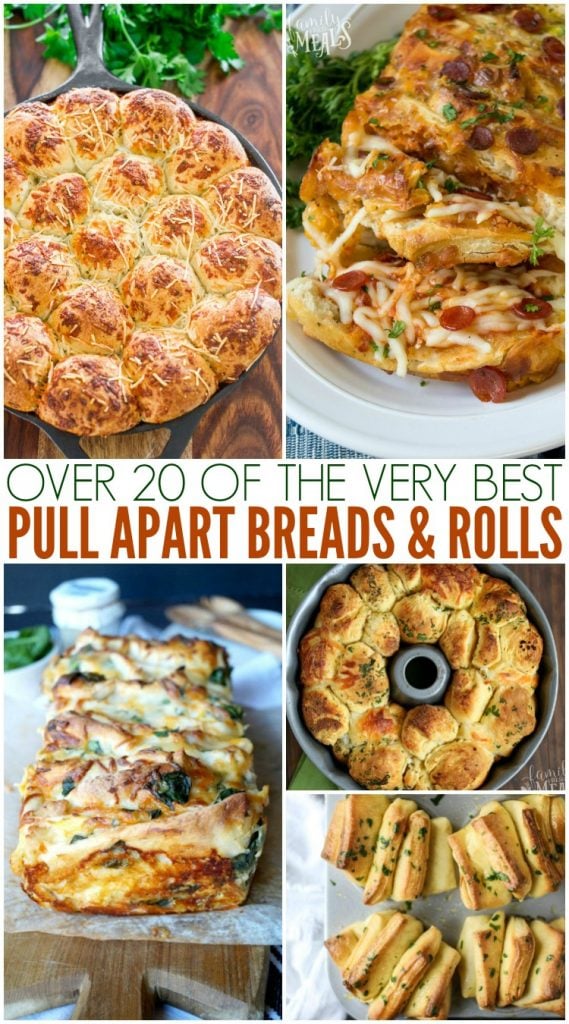 My very favorite part of a family get together is the food. I love making it and I love eating it. One of my favorite things to make when I am expecting a crowd is pull apart bread. No need for plates or knives, guests can simply grab a napkin and pull their piece off themselves.
But not all pull apart bread is made the same. Some are simply bread balls slathered with butter. But not the best ones. The best ones are packed with flavors (and usually cheese). I have rounded up the easiest and The Best Bread Roll Recipes from this site and my favorite bloggers. Let me know which ones you try!
The Best Bread Roll Recipes
1- Easy Cheesy Pull Apart Bread is so easy to make you will wonder why you didn't think of it before.
2- You can eat this Pull Apart Pizza Bread with your hands, no plate needed.
3- This Cheesy Garlic Pull Apart Bread is stuffed with mozzarella cheese and coated in herb butter.
4- Need a breakfast idea? Try these Pull Apart Sausage Egg And Cheese Rolls.
5- Garlic Butter Pizza Pull Apart Bread is smothered in garlic butter, stuffed with pizza fillings and topped with a ton of cheese.
6- When cheese and bacon collide you get this delicious Cheesy Bacon Pull Apart Bread.
7- Italian Skillet Pull Apart Bread is made using frozen bread rolls, that are rolled in an Italian herb melted butter and cheese.
8- A fresh take on classic pizza flavor, this Chicken Spinach Artichoke Pull Apart Bread is loaded with cheese.
9- Easy Cheesy Pull Apart Rolls only require 5 minutes of prep.
10- Even if you aren't a bread person, you will be after making these Garlic Butter Pull Apart Rolls.
11- Cheesy Pesto Pull Apart Bread is a great way to use up any fresh basil you have on hand.
12- This Garlic-Parmesan Cheese Pull Apart Bread uses frozen dinner rolls.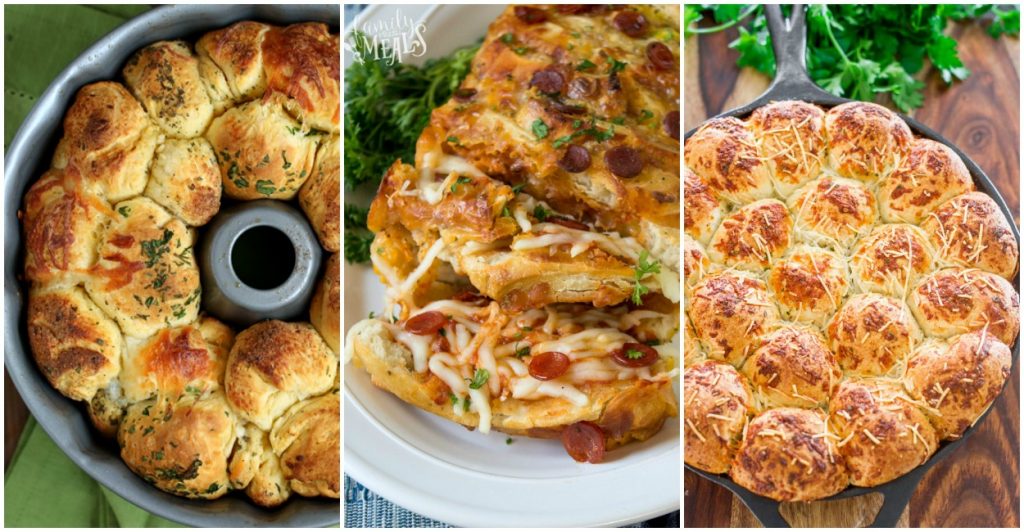 13- If you love pizza, you'll love these Pull Apart Pepperoni Rolls that you can dip in marinara sauce.
14- French Onion Soup Pull Apart Bread is all the things you love about the soup, in bread form.
15- This Reuben Pull Apart Bread has all the flavors of a classic Reuben in one easy to make loaf!
16- Add a little heat to your bread, make Blue Cheese Buffalo Pull Apart Bread.
17- Cheesy Garlic Herb Pull Apart Bread features layers of garlic herb butter and melty cheese between slices of soft, tender homemade bread.
18- Chiko Roll Pull Apart Bread is filled with the flavors of an Aussie Chiko Roll.
19- You only have to bake this Beer Cheese & Bacon Pull Apart Loaf for 10 minutes.
20- You only need 7 ingredients to make Cheesy Pesto Sundried Tomato Pull Apart Bread.
21- When the best salad in the world and bread combine, you get this delicious Pull Apart Caesar Salad Bread.
---
Do you love Family Fresh Meals? Never miss out on FUN new meals or Easy Lunchbox Ideas for the Family and SIGN UP to have my posts sent right to your inbox! It's EASY PEASY! Just CLICK HERE and enter your email!
XO
Corey, Darryl, Big D & Little D