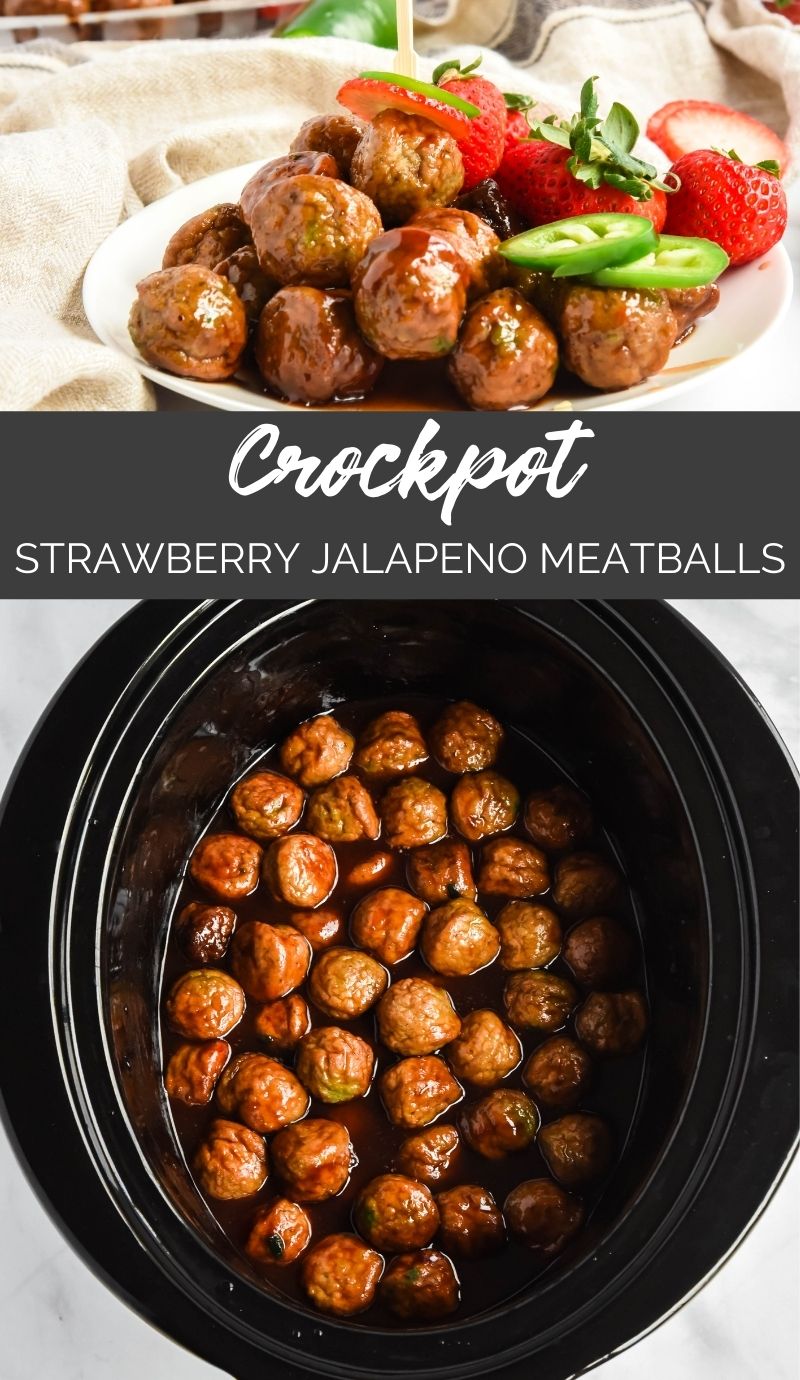 That's a sweet and spicy meatball!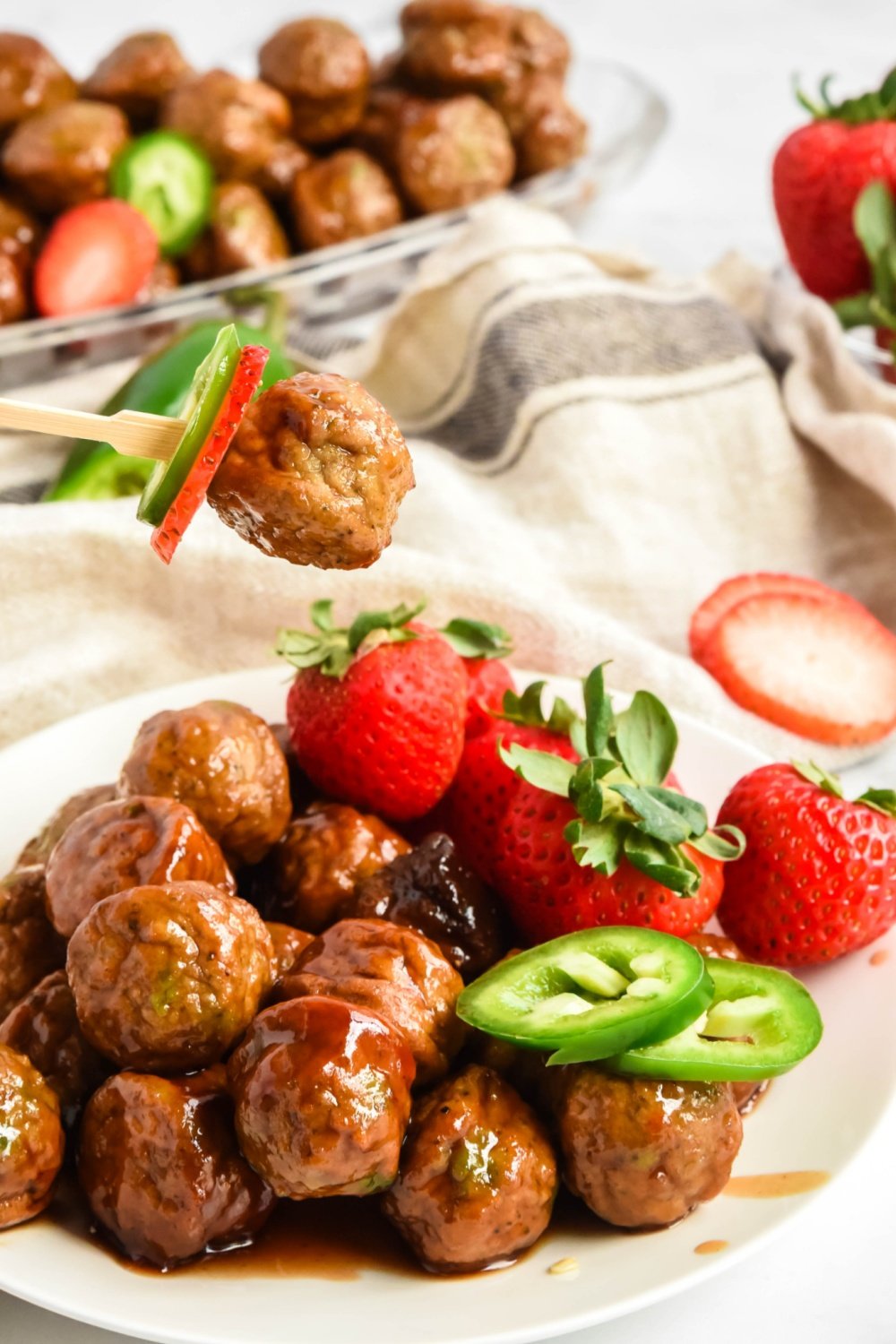 Recently, I discovered the magic of adding grape jelly to BBQ meatballs. I know it sounds crazy, but mixing a whole jar of grape jelly in with the BBQ sauce gives the meatballs a complex, fruity flavor that takes them to a whole new level.
This got me thinking: if grape jelly pairs so well with BBQ sauce, are there other jellies and jams that could achieve this same kind of flavor alchemy? What about strawberry jam? Or a spicy jalapeno pepper jelly? Or…both? This is when the Crockpot Strawberry Jalapeno Meatballs recipe was born.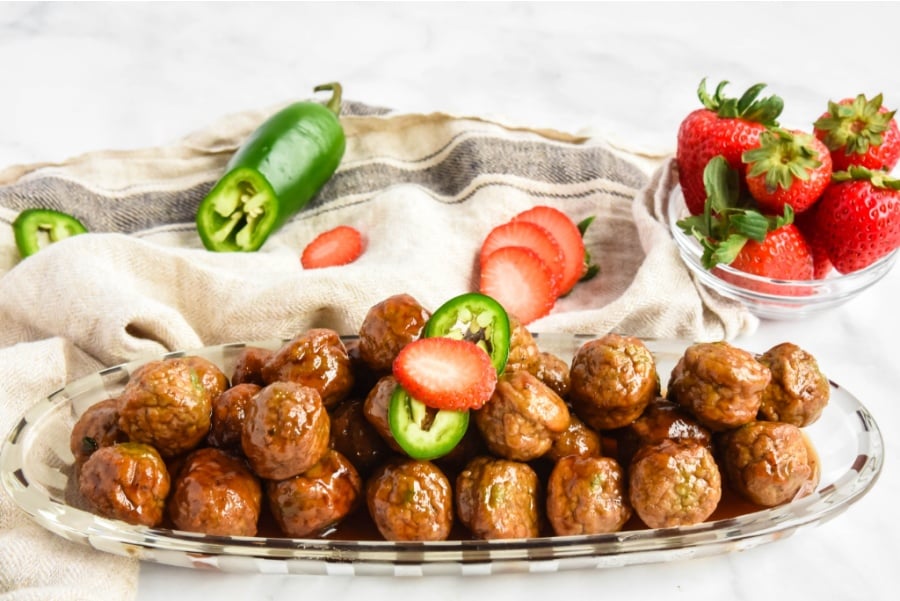 There was only one way to find out. So I tried it, and not only does it work, it's amazing – maybe even better than the grape jelly meatballs. The sweetness of the strawberry jam, the heat of the jalapeno pepper jelly, and the smoky, tangy flavor of the BBQ sauce all meld together in the Crockpot, weaving their magic fingers of deliciousness right into the meatballs. Every bite is a flavor explosion of tangy, spicy, and sweet that's somehow more than the sum of its parts.
Crockpot Strawberry Jalapeno Meatballs
Combine meatballs, strawberry jam, jalapeno pepper jelly, and barbecue sauce into a slow cooker. Stir to coat meatballs evenly.
Cover and cook on high for 3 hours or low for 6 hours.
I can get strawberry jam at any supermarket, but jalapeno pepper jelly is a bit more unusual. Where can I find it?
If you have a store in your area that specializes in jams and jellies, try there. There's also a "Hot and Sweet Pepper Jelly" at Trader Joe's that has a mixture of jalapenos and bell peppers. And if all else fails, you can order Stonewall Kitchen Hot Pepper Jelly online.
How hot are these meatballs?
Hot enough to notice, but not burn-the-inside-of-your-mouth-off hot. They're like the baby bear's porridge: not too hot, not too cold, but just right.
How should I serve them?
As a party appetizer, you can serve them in a big bowl to be eaten with toothpicks, or, if you want to get fancy, put a couple of meatballs on a little roll (or one of my Parmesan Garlic Knots) and drizzle the sauce on top. You can also serve them as a meal over rice with any green veggie on the side.
Will this work with vegetarian meatballs?
More easy meatball recipes you will love!
Looking for more free recipes? Subscribe to my newsletter and follow along on Facebook, Twitter, Pinterest and Instagram for all of the latest updates.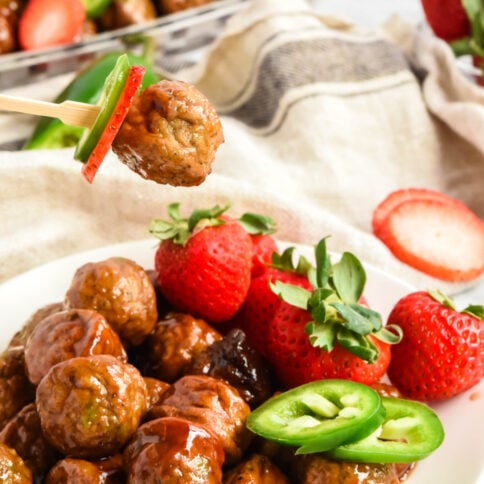 Crockpot Strawberry Jalapeno Meatballs
These Crockpot Strawberry Jalapeno Meatballs have sweetness from the strawberry,heat from the jalapeno, and a tangy note from the BBQ sauce.
Prep Time: 5 minutes
Cook Time: 3 hours
Serves:8
Hover over "serves" value to reveal recipe scaler
Ingredients
32 ounces of frozen meatballs about 50 meatballs
12 ounces strawberry jam
6 ounces jalapeno pepper jelly
18 ounces barbecue sauce
2 tablespoons brown sugar
Instructions
1.Combine meatballs, strawberry jam, jalapeno pepper jelly, and barbecue sauce into a slow cooker. Stir to coat meatballs evenly.

2.Cover and cook on high for 3 hours or low for 6 hours.
Save this recipe for later! Click the heart in the bottom right corner to save to your recipe box!
Nutrition Information:
Calories: 587kcal (29%)Carbohydrates: 71g (24%)Protein: 20g (40%)Fat: 24g (37%)Saturated Fat: 9g (45%)Cholesterol: 82mg (27%)Sodium: 740mg (31%)Potassium: 506mg (14%)Fiber: 1g (4%)Sugar: 56g (62%)Vitamin A: 289IU (6%)Vitamin C: 7mg (8%)Calcium: 48mg (5%)Iron: 2mg (11%)
Nutrition Disclaimer
Family Fresh Meals is not a dietician or nutritionist, and any nutritional information shared is only an estimate. We recommend running the ingredients through an online nutritional calculator if you need to verify any information.