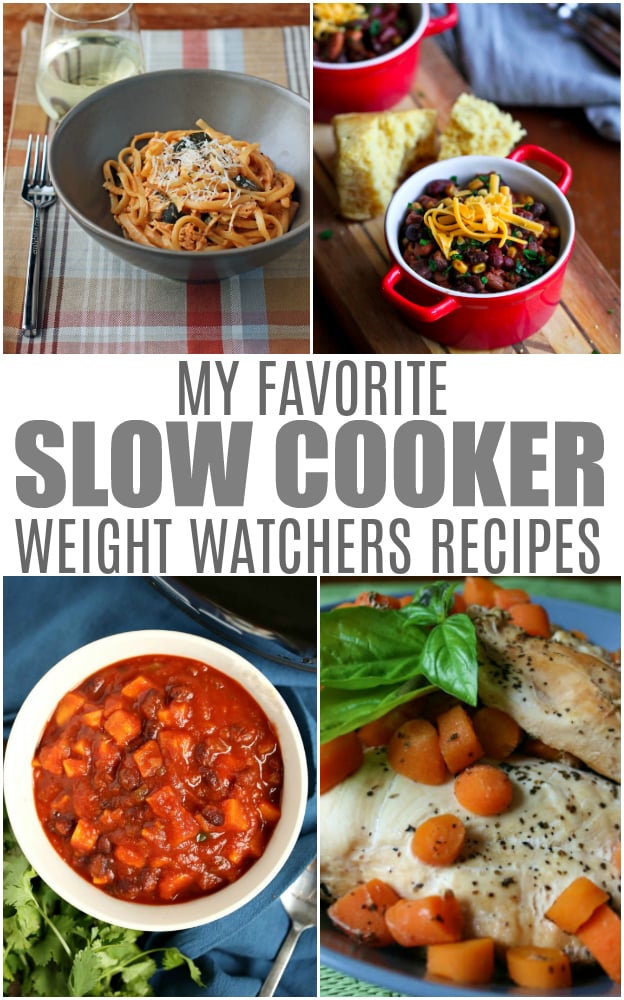 Low point Crockpot Weight Watchers Recipes
This post contains affiliate links.
My slow cooker saves me so much time, it's definitely one of my most used appliances (besides the Instant Pot). Check out the rest of my slow cooker recipes while you're here.
These Freestyle Weight Watchers Crockpot Recipes will get you on track with your Weight Watchers journey before dinnertime!
Freestyle Weight Watchers Crockpot Recipes
Keep in mind that many recipes are calculated without "extras". So you may prepare Chicken Fajitas (#5) without sour cream or cheese, and top a bed of veggies with it rather than making actual fajitas with tortillas. That is the beauty of Weight Watchers: everything is customizable.
Slow Cooker Jalapeno Popper Chicken Sandwiches – 6 SmartPoints without the bun (use this 2-ingredient dough for 2-3 SmartPoints per bun)
Easy Vegetarian Chili – 0 SmartPoints without sweet potatoes, 2 SmartPoints
Butter Chicken – 2 SmartPoints
Slow Cooker Lemon Basil Chicken – 0 SmartPoints
Crock Pot Chicken Fajitas – 3 SmartPoints
Sweet and Spicy Chickpeas – 2 SmartPoints
Spaghetti Sauce – 2 SmartPoints
Crockpot Chicken Taco Soup – 0 Smart Points (if you use broth instead of beer)
Slow Cooker Chicken Marbella – 5 SmartPoints (use chicken breasts to reduce the points)
. Teriyaki Chicken – 2 SmartPoints
Jerk Turkey Soup – 0 SmartPoints
Easy Crockpot Shredded Chicken – 0 Smart Points
Tomato Balsamic Chicken – 0 SmartPoints
Chicken and Tomato Orzo – 4 SmartPoints
3 Bean Vegetarian Chili – 0 SmartPoints
3 Ingredient Crockpot Kalua Pork – 4 Smart Points
Cheesy Cauliflower Soup – 5 SmartPoints
Slow Cooker Kickin' Chicken Pasta – 7 SmartPoints
Crock Pot Chicken Santa Fe – 0 SmartPoints
Crockpot Buffalo Chicken – (leave out butter and this can be 0-2 SmartPoints, depending on the dressing your use)
Easy Beef Stew – 3 SmartPoints
Italian Red Pepper Chicken 0 Smart Points
Slow Cooker Scalloped Potatoes and Ham – 7 SmartPoints
Crockpot Split Peas Soup – 3 Smart Points (with turkey bacon) 0 Smart Points if you leave out bacon