Give the gift of lunch…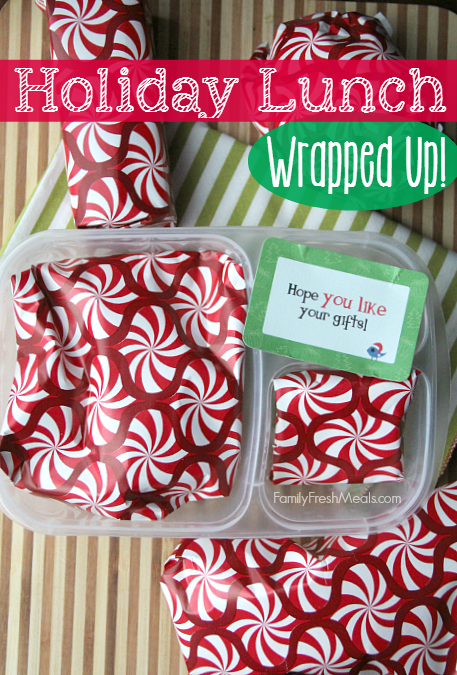 Happy Holidays! This is the last holiday lunch I will be packing up this year. Whoop Whoop!
Even though today is probably one of your last lunch packing days before the holiday break, I wanted to share this Fun and Easy Christmas Lunch idea with you.
To make this holiday lunch extra special, I wrapped up the items in Big D's lunch with Christmas paper. When she sits down at lunch today, she will open up her lunch cooler to find a mini lunch Christmas!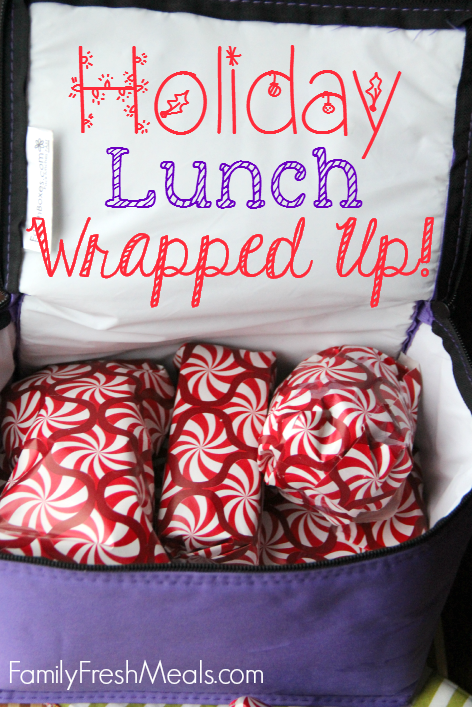 In her EasyLunchbox, I packed a snowman sandwich, pear, Pirate Booty, apple sauce and some carrot sticks. To protect the food from the wrapping paper, anything that wasn't in a package, I placed in a plastic baggies before wrapping.
Pin it now, and use this idea next year. OR, use this idea early next week. You can wrap up lunch items and surprise your kiddos at home. Maybe send your husband or wife to work with a lunch full of yummy presents! I know I would be excited to have this surprise in my lunch 🙂
I also plan on using this idea for the girls' birthdays. Instead of holiday paper, use birthday paper. FUN right?!
Here are more of our favorite holiday recipes!
Happy Holidays from Family Fresh Meals!