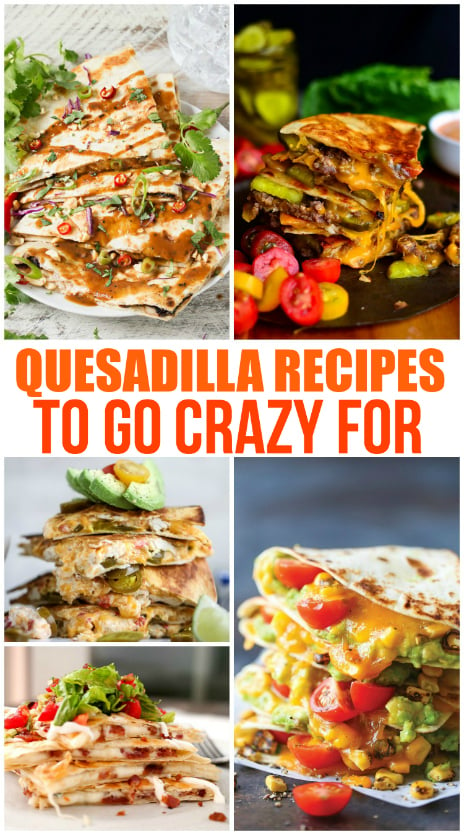 There is something magical about delicious food, covered with cheese and then hidden inside a tortilla that makes even the worst of days better. You know what I'm talking about, the Quesadilla. You can stuff almost anything inside a tortilla and then heat it up for a simple meal.
Have leftovers? Into the tortilla. Get a great deal on a specific meat? Into the tortilla! Have picky kids? Stuff their favorite food inside the tortilla!
Not feeling brave? Well here are Yummy Quesadillas to Go Crazy For that look amazing.
Yummy Quesadillas to Go Crazy For
1- Feeling spicy? Try Firecracker Shrimp Quesadillas, they are hot, hot, hot!
2- If you don't like cheese, then these Hummus Quesadillas are right up your alley.
3- Do you have left over corned beef and cabbage? Then make Corned Beef & Cabbage Quesadillas!
4- With only 5 ingredients, Guacamole Quesadillas are a super quick and delicious option.
5- Wanna shake up breakfast? How about these Freezer Friendly Breakfast Quesadillas, 4 ways!
6- When you blend American food and Mexican food together, you get Cheeseburger Quesadillas!
7- Yeeee haaaaa! These Cowboy Quesadillas are packed with veggies and served with a creamy BBQ sauce.
8- Looking for a vegetarian option? Then make Mushroom & Zucchini Quesadillas.
9- With tomatoes fresh and in season right now, there is no better time to make BLT Quesadillas.
10- It's not a requirement for a quesadilla to have Mexican flavor- which is very evident in these Tomato,Olive and Chickpea Quesadillas.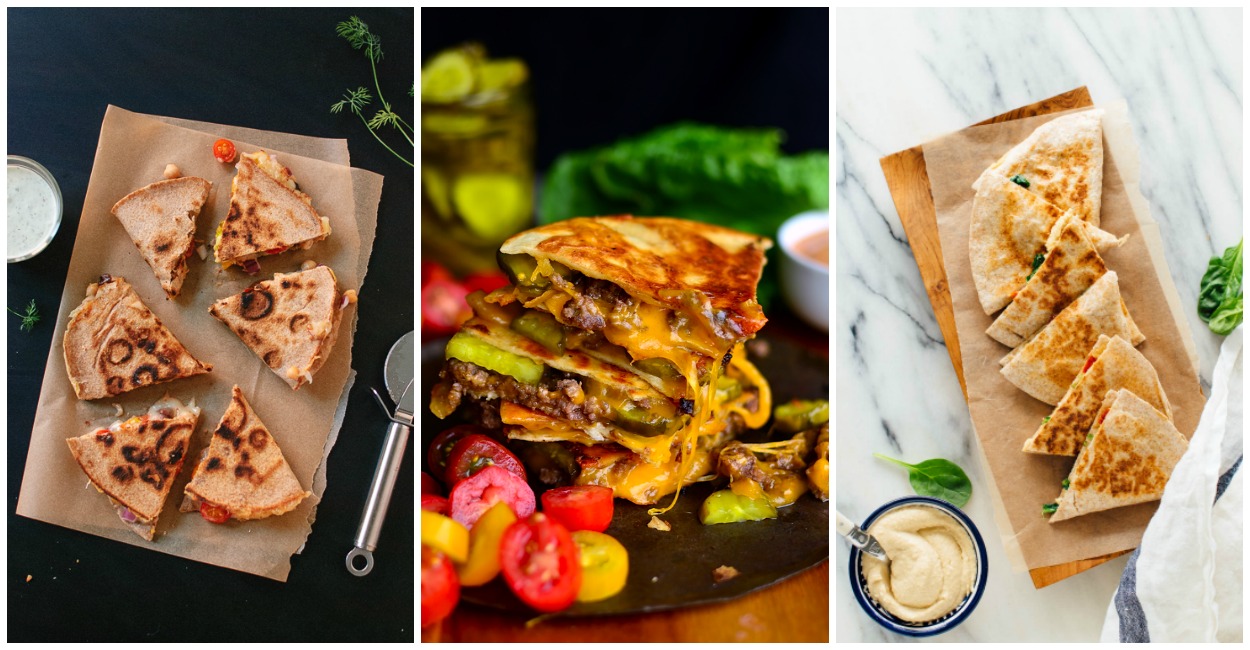 11- If you need to get your kids to eat more veggies, try Loaded Vegetable Quesadillas.
12- Featuring bold buffalo flavors and gooey cheese Buffalo Chicken Quesadillas are great for game day.
13- Spinach Artichoke Quesadillas are a great vegan option.
14- Pear Brie & Caramelized Onion Quesadillas are an upscale option for nights when you want to dress your quesadillas up.
15- If you have left over pulled pork you can make these Pulled Pork & Caramelized Onion Quesadillas.
16- Thai chicken gets a fusion twist in these Thai Peanut Chicken Quesadillas.
17- Are you a spice lover? Then you need to make Pimento Cheese and Chicken Quesadillas.
18- Black Bean and Mango Quesadillas are a meatless option, but you could easily add some shredded chicken.
19- Filled with leftover chicken, Alfredo sauce and cheese Chicken Alfredo Quesadillas are the ultimate comfort food.
20- When pizza and quesadillas combine, magic things happen. Like Pepperoni Pizza Quesadillas.
21- Chipotle Beer Shrimp Quesadillas are best served beside a cold margarita!
22- Sweet Potato & Roasted Red Pepper Quesadillas are a great choice for breakfast, lunch or dinner.
Looking for more free recipes? Subscribe to my newsletter and follow along on Facebook, Twitter, Pinterest and Instagram for all of the latest updates.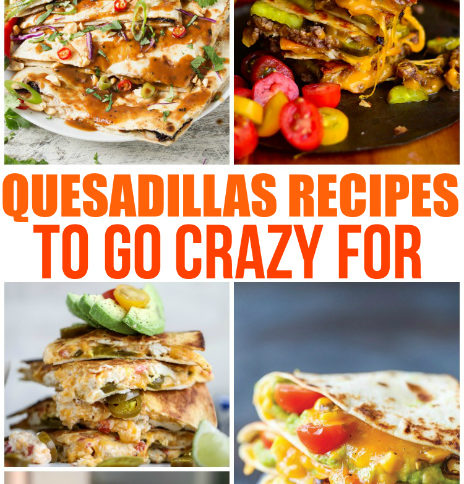 Quesadillas to Go Crazy For
Do you love quesadillas, but are bored of the same old flavors? Here are Yummy Quesadillas to Go Crazy For that look amazing.
Prep Time: 10 minutes
Cook Time: 15 minutes
Total Time: 25 minutes
Serves:4
Hover over "serves" value to reveal recipe scaler
Ingredients
4 large flower tortillas
8-10 slices Swiss cheese Havarti also works well
24 thin slices about ½ lb corned beef
½ cup well-drained sauerkraut
Thousand Island dressing and or mustard for dipping.
Instructions
Start by heating up a nonstick skillet over a medium heat. Brush 1 side of a tortilla with melted butter and place tortilla buttered side down onto heated skillet. Coupons

On half of the tortilla, layer 1 slice of cheese (I broke my slice up to fit on the tortilla better), then 5-6 slices of corned beef, 2 tablespoons of sauerkraut,

followed by another slice of cheese.

Fold the empty side of the tortilla over filling and press down with a spatula to seal. Cook for 2-3 minutes and then carefully flip to brown other side. quesadilla is done once cheese has melted and both sides are golden brown.

Continue process with other 3 tortillas.

Cut into triangles, and serve with a side of thousand island dressing and or yellow mustard.
Save this recipe for later! Click the heart in the bottom right corner to save to your recipe box!
Nutrition Disclaimer
Family Fresh Meals is not a dietician or nutritionist, and any nutritional information shared is only an estimate. We recommend running the ingredients through an online nutritional calculator if you need to verify any information.