BAKED and delicious so you can enjoy them every day.
My girls have a DEEP love for donuts. We get them for the girls every once and a while for a special treat. I went on the hunt for a healthy donut recipe that I could make at home for my little ladies.
The girls LOVED these. They are not as good as the real deal, but I was shocked that a baked donut could taste soooooo good! The girls didn't mention them tasting any different, so that was awesome!!! Hope you enjoy!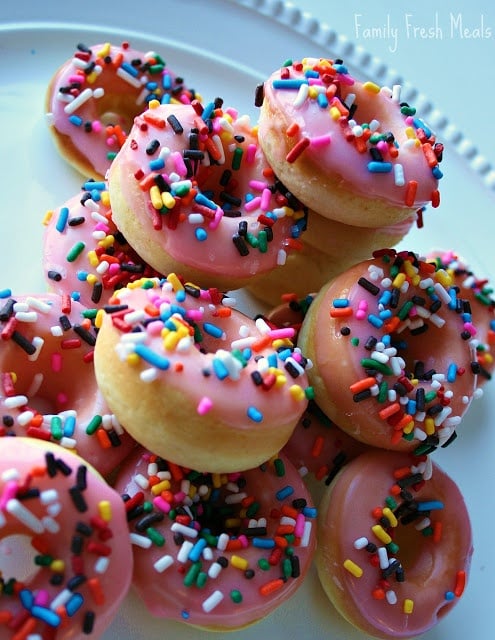 Mini Baked Donuts
Preheat oven to 425 degrees. In a large mixing bowl, sift together (or stir with a whisk), flour, sugar, baking powder and salt.
Add buttermilk, egg, butter and vanilla.
Mix until just combined.
Scoop batter into a large ziplock style bag, or large piping bag and snip off the tip to fill doughnut pan.
Fill each doughnut cup approximately 1/3- 1/2 full.The batter will rise quite a bit during baking.Bake 5-7 minutes or until the top of the doughnuts spring back when touched.Cool in pan 1-2 minutes, then transfer to a cooling rack.
Time to make the frosting! In a small bowl, stir together sugar, milk and extract until sugar is completely dissolved.
Use immediately to glaze doughnuts. Dip each donut in glaze, then set on a plate.
Here they are after 1 coat. I did 2 coats per donut. Top with sprinkles while still wet.
Looking for more free recipes? Subscribe to my newsletter and follow along on Facebook, Twitter, Pinterest and Instagram for all of the latest updates.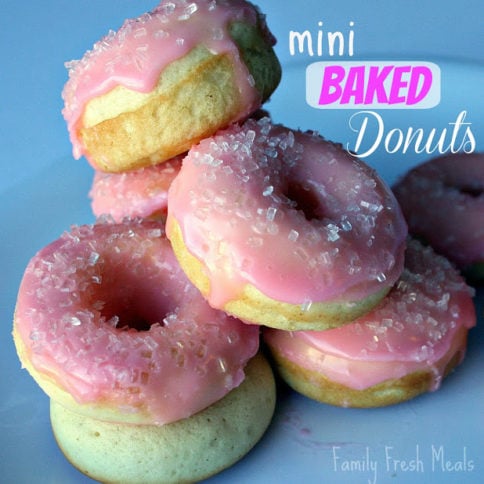 Mini Baked Donuts
Do you wish donuts weren't fried? I do! I wish they were BAKED and delicious so I could enjoy them every day. Mini Baked Donuts to the rescue.
Prep Time: 20 minutes
Cook Time: 7 minutes
Serves:12
Hover over "serves" value to reveal recipe scaler
Ingredients
½ cup granulated sugar
1¼ cups cake flour sifted
1¼ tsp. baking powder
¾ tsp. salt
½ cup buttermilk
1 egg lightly beaten
1½ tbsp. butter melted
½ teaspoon of vanilla
FOR THE GLAZE
2 cups powdered sugar
¼  cup milk
Instructions
Preheat oven to 425 degrees. In a large mixing bowl, sift together (or stir with a whisk), flour, sugar, baking powder and salt. Next add buttermilk, egg, butter and vanilla.

Mix until just combined.Scoop batter into a large ziplock style bag, or large piping bag and snip off the tip to fill doughnut pan.

Fill each doughnut cup approximately 1/3- 1/2 full.The batter will rise quite a bit during baking.

Bake 5-7 minutes or until the top of the doughnuts spring back when touched.

Cool in pan 1-2 minutes, then transfer to a cooling rack.

Time to make the frosting! In a small bowl, stir together sugar, milk and extract until sugar is completely dissolved.Use immediately to glaze doughnuts. Dip each donut in glaze, then set on a plate.

Time to make the frosting! In a small bowl, stir together sugar, milk and extract until sugar is completely dissolved.Use immediately to glaze doughnuts. Dip each donut in glaze, then set on a plate
Nutrition Information:
Calories: 185kcal (9%)Carbohydrates: 39g (13%)Protein: 3g (6%)Fat: 3g (5%)Saturated Fat: 1g (5%)Cholesterol: 19mg (6%)Sodium: 152mg (6%)Potassium: 90mg (3%)Fiber: 1g (4%)Sugar: 29g (32%)Vitamin A: 91IU (2%)Calcium: 43mg (4%)Iron: 1mg (6%)