Five ways to make your Easter meal extra special.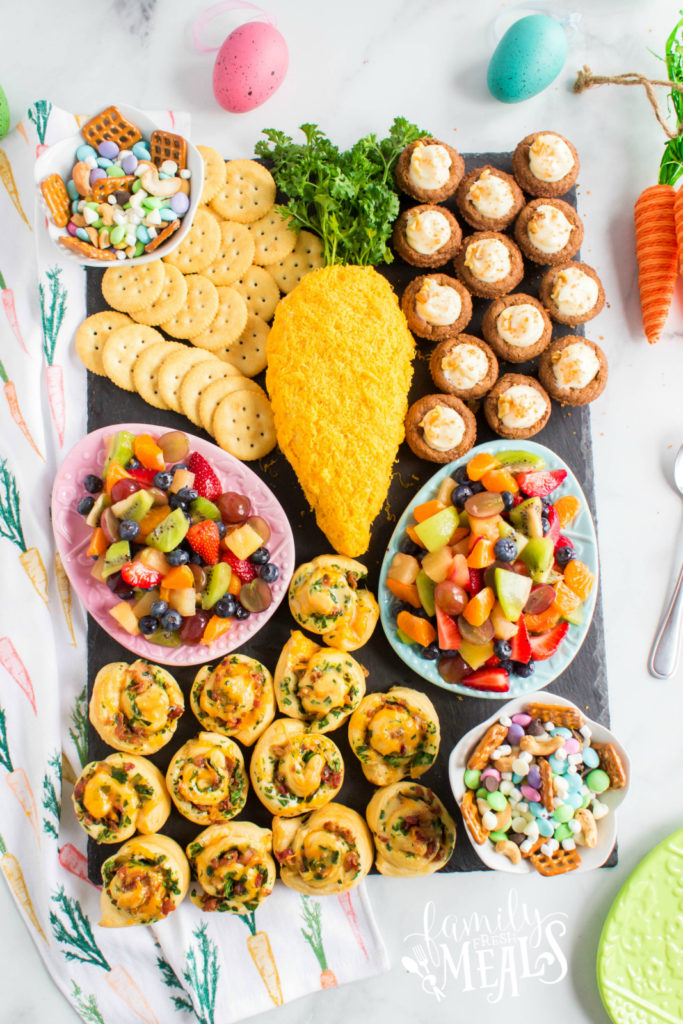 With all that's going on, not many of us will be able to host big gatherings for Easter this year. But that's all the more reason why we need to do everything we can to make the holiday special for our families at home. Sure, we may need to scale down our holiday appetizer recipes to feed a smaller group, but this is no time to skimp on variety.
So, for this Easter Appetizer Snack Board, I pulled out all the stops to create a real celebration. It features four recipes you've seen on my site before, plus one new one:
It may all be served up on a somewhat smaller board than I'd normally use for a crowd, but it still sends the clear message that today is an extra-special day.
---
I do want to make the holiday special, but this is so much! How can I fix it all in one day?
Don't do it in one day! You can do lots of the work ahead of time. For instance, I made the cheese ball the night before and then added the additional cheese on top and the parsley stem right before serving. For the carrot cookie cups, I made the cups the night before and then added the cream cheese frosting, sprinkles and walnuts the day I served my board. The fruit salad can be made entirely ahead of time — it actually gets better as it sits and all those flavors come together. And of course, the Easter Bunny Bait can be mixed up at any time.
Is there anything you can't make ahead of time?
The spinach pinwheels are definitely at their best when they're fresh out of the oven. But even these don't take too long, since they start with prepackaged crescent rolls. Figure 15 minutes to prep them, then about 12 minutes to bake. And you can spend that 12 minutes assembling the rest of your Easter Appetizer Board, so no time is wasted.
These Carrot Cake Cups look smaller than the ones in your original recipe. How do you make them so teensy?
A mini muffin or cupcake pan is the key to making these tiny delights. Use little balls of dough, maybe a teaspoon instead of a tablespoon, and make the indentations in the tops with the smallest spoon you have. They may still have a somewhat bigger ratio of frosting to cake than the big cookies, but no one ever complained about too much frosting.
---
How to Make your Easter Appetizer Snack Board
After you have put together the 5 listed recipes above, arrange on your appetizer board.
I stated with the cheeseball as the center of the appetizer snack board. Pair it with your favorite crackers.
Here is the yummy bunny bait.
Next the honey glazed fruit.
Our favorite Carrot Cake Cups.
And last but not least, my new Cheesy Bacon Crescent Rolls.
I hope you enjoy your Easter and this fun appetizer snack board.
---
(As an Amazon Associate I earn from qualifying purchases.)
TOOLS USED FOR THIS EASTER APPETIZER SNACK BOARD
Slate Cheese Board – So great to use with many different appetizers
---
Looking for more free recipes? Subscribe to my newsletter and follow along on Facebook, Twitter, Pinterest and Instagram for all of the latest updates.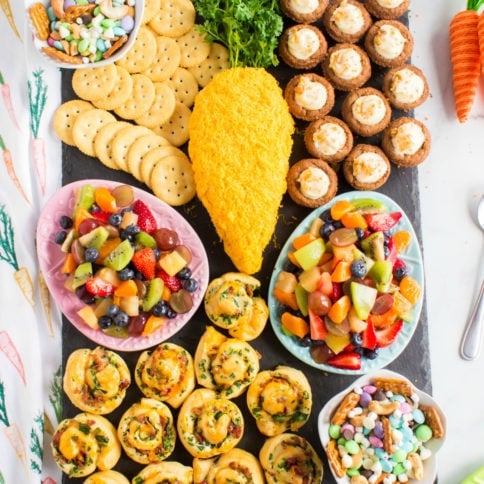 Easter Appetizer Snack Board
Hover over "serves" value to reveal recipe scaler
Instructions
Place the 5 different recipes on your snack board and serve.
Save this recipe for later! Click the heart in the bottom right corner to save to your recipe box!
Nutrition Disclaimer
Family Fresh Meals is not a dietician or nutritionist, and any nutritional information shared is only an estimate. We recommend running the ingredients through an online nutritional calculator if you need to verify any information.