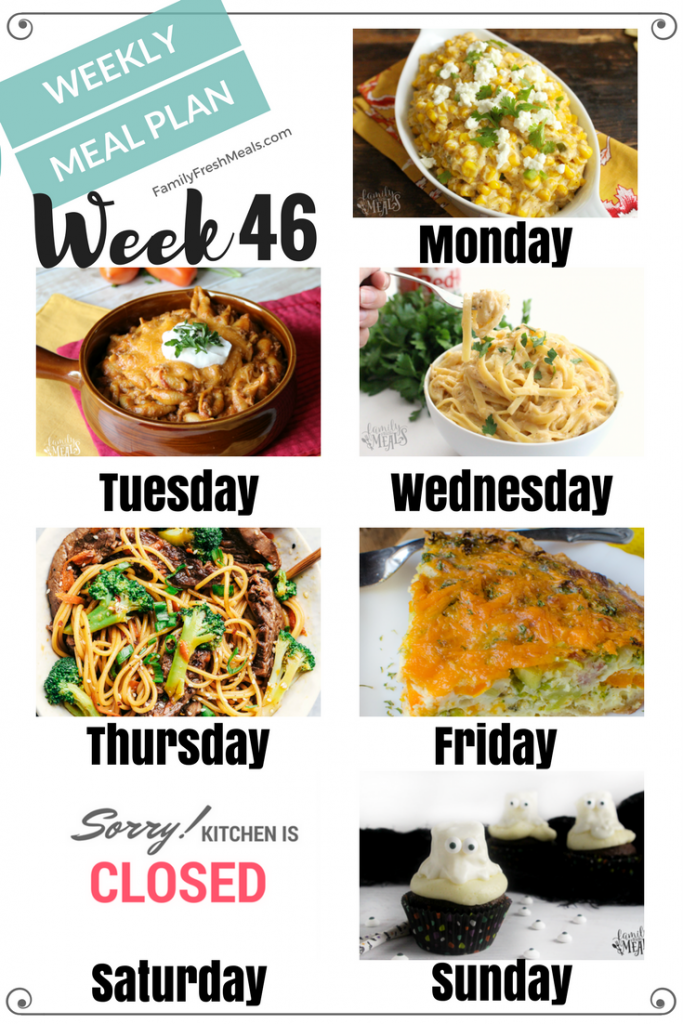 Welcome back to another easy weekly meal plan! There are a lot of yummy recipes for you to try out this week! I hope this post helps plan out all your eats for the week! Happy Sunday and happy planning ?
Easy Weekly Meal Plan Week 46
Breakfast​​ Suggestion
Biscuits ​​and ​​Gravy ​​Breakfast​​ Casserole
Lunch​​ Suggestions
Chicken ​​Fajita ​​Pasta ​​Casserole
Appetizer​​ Suggestion
Mexican Street​​ Corn​​ Dip
Main​​ Dish
Monday​​–​​​Easy​​ Crockpot Taco ​​Pasta ​​Bake
Tuesday​​–​​​20​​ Minute ​​Garlic​​ Beef​​ and ​​Broccoli ​​Lo​​ Mein
Wednesday​​–​​​Crockpot​​ Buffalo​​ Chicken​​ Pasta
Thursday​​–​​​Mustard​​ Glazed​​ Grilled​​ Steak ​​and​​ Salad
Friday​​–​​Kitchen​​ Closed
Saturday​​–​​​Ham​​ Cheese​​ and​​ Broccoli​​ Quiche
Sunday​​–​​​Crockpot ​​Irish​​ Stew
Side​​ Suggestions
Cowboy​​ Caviar​​ Recipe
Dessert​​ Suggestion
Halloween ​​Ghost​​ Cupcakes

Are you on Instagram or Facebook?
If you make any of these recipes, be sure to snap a photo and hashtag it #FAMILYFRESHMEALS – I'd love to see whatcha cooking!

Do you love Family Fresh Meals? Never miss out on FUN new meals or Easy Lunchbox Ideas for the Family and SIGN UP to have my posts sent right to your inbox! It's EASY PEASY! Just CLICK HERE and enter your email!
XO
Corey, Darryl, Big D & Little D

Checkout our other meal plans HERE: