Grab your favorite soup bowl and meet me at the table with loaf of dipping bread. These comforting Crockpot Soups and Stews all have 2 things in common. They are easy to make, and are simply delicious!
Did your favorite soup make the list?!
20 Comforting Crockpot Soups and Stews
1. Creamy Corn Chowder is a bit of everything. It's creamy, savory, chunky and delicious.
2. This Chicken Gnocchi Soup is made with no heavy cream at all.
3. I personally think my Zuppa Toscana is even better than Olive Gardens.
4. If you are in the mood for heat, this Chicken Enchilada Soup has green chiles in it.
5. Creamy Tortellini Soup is pure comfort food, loaded with vegetables , Italian sausage and cheese tortellini!
6. Using frozen meatballs makes Meatball Stew one of the easiest stews I have ever made.
7. Only 10 minutes prep time is needed for this hearty and satisfying Vegetable Soup.
8. Hearty Lasagna Soup has all the flavors of a classic lasagna, with out all the work.
9. Craving comfort food? Check out this FAN favorite Crockpot Beef Stew
10. Chicken Wild Rice Soup is so simple to make and goes perfectly with a piece of crusty bread.
11. A true set it and forget it, Minestrone Soup cooks in 8 hours on low.
12. Use No-Yoke noodles for a true one pot Chicken Noodle Soup.
13. Lemon Chicken Orzo Soup is filled with fresh and healthy ingredients
14. Leave out the bacon and you can have a vegetarian Split Pea Soup.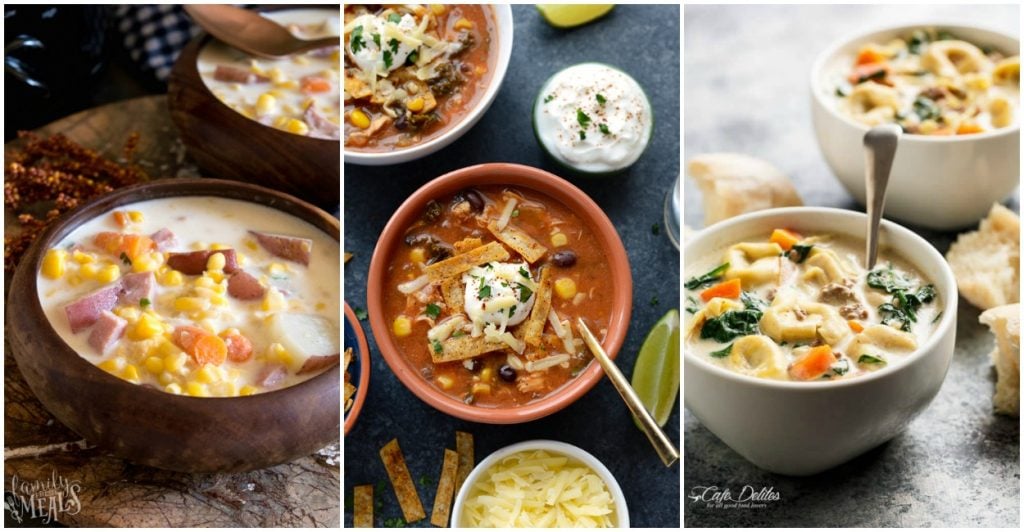 15. Broccoli Cheddar Soup is the easiest and cheesiest soup ever!
16. Bacon Cheeseburger Soup features everything you love about a juicy cheeseburger in soup form.
17. If you need a simple soup, that requires little prep then make Loaded Hash Brown Potato Soup.
18. Chicken Tortilla Soup is best served with a mound of jack cheese on top.
19. A classic meal reinvented into a soup, Chicken Parm Soup is packed with chicken, cheese and pasta.
20. Chipotle Sweet Potato Soup is a light, yet filling meal that is also vegetarian.
21. If you have a leftover ham bone, you can make this delicious Hambone Soup.
22. Low in calories, big in flavor Creamy Vegetable Soup is hearty and healthy.
Do you love Family Fresh Meals? Never miss out on FUN new meals or Easy Lunchbox Ideas for the Family and SIGN UP to have my posts sent right to your inbox! It's EASY PEASY! Just CLICK HERE and enter your email!
XO
Corey, Darryl, Big D & Little D