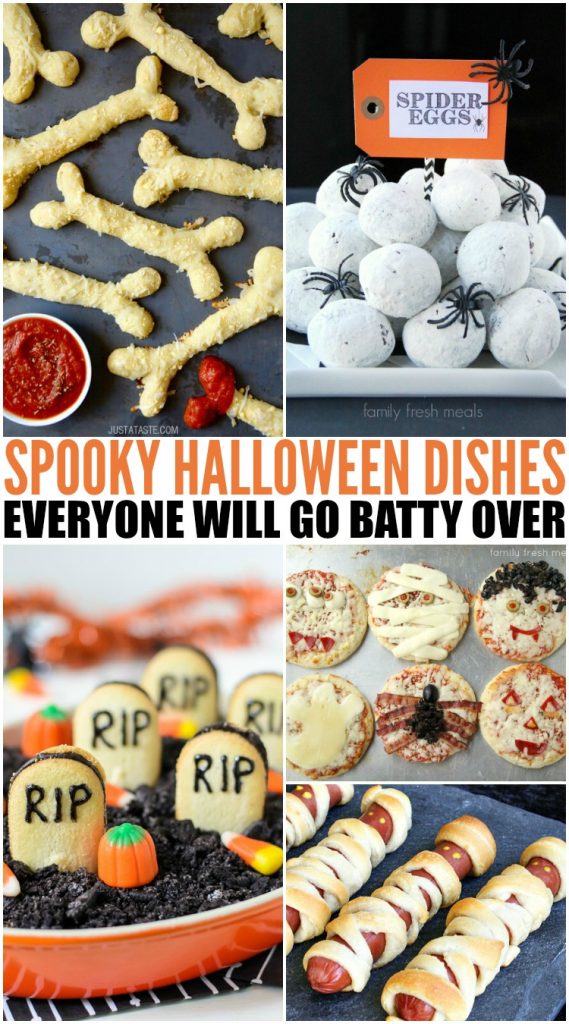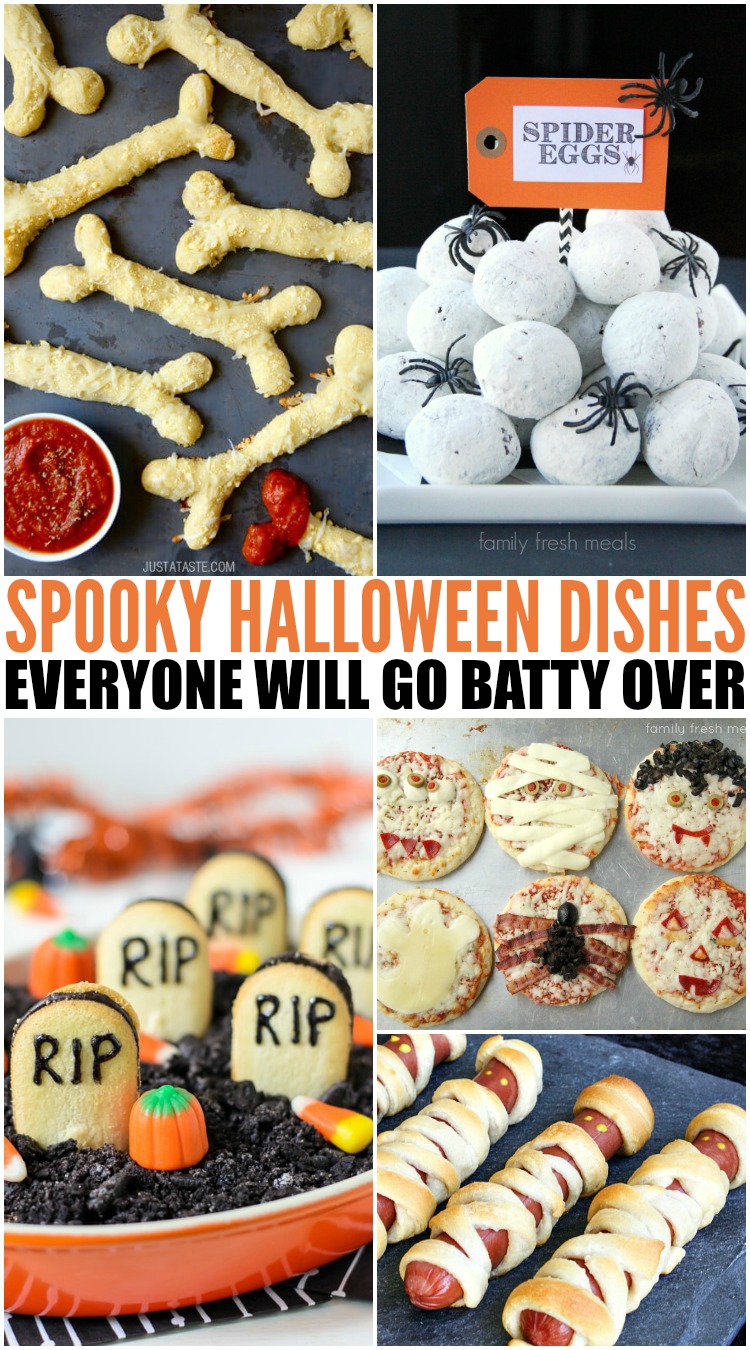 If you are looking for ways to make your October bash extra special, then you have come to the right place. Halloweens is no longer just a day for kids to go out trick or treating, it's a day for us to PARTAY! And what is a party with out great food? I have rounded up a bunch of my favorite Spooky Halloween Dishes that every single one of your guests will love.
Spooky Fun Halloween Recipes
1- If you are squeamish, you might not be able to eat these Spider Eggs, even knowing what they actually are.
2- You can also use donuts to make Gummy Eyeballs.
3- Cheesy Breadstick Bones are super quick to make, Made out of with pizza dough!
4- Halloween Bark is filled with eyes and only takes a few minutes to make.
5- If you need a vegan dish, Purple Monster Biscuits would be perfect.
6- The adorable teeth are my favorite part of these Silly Apple Bites.
7- All you need is a food color marker to make Ghost Hot Chocolate.
8- These Hand Burgers are even dripping with blood. Super spooky!
9- Need a breakfast idea? Spooky Ghost Toast is super easy to make.
10- Pretty sure I could eat this Graveyard Chocolate Cheesecake Dip with a spoon.
11- Monster Rice Krispie Treats are scary good. Kids and adults will love them.
12- Super Scary Chili Jack O Lanterns are sure to delight both young and old.
13- All you have to do is dip and sprinkle for these adorable Halloween Cookies.
14- Mummy Dogs are a total classic Halloween dish that everyone loves.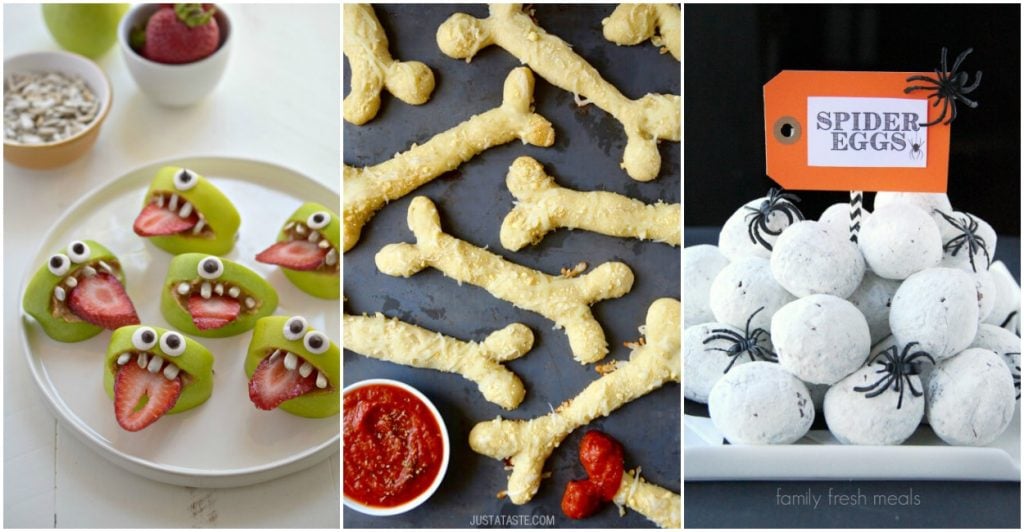 15- These Spooky Pizzas can be made with your little ghouls favorite toppings.
16- Twinkie Mummies are a sweet version of classic mummy dogs.
17- Kitty Litter Cake must be served with a poop scoop for maximum ICK!
18- Jalapeño Mummies are a healthy food treat that only take 25 minutes from start to finish.
19- Bloodshot Monster Eyeball Doughnuts make the perfect easy to make creepy Halloween dessert!
20- These Spooky Raw Cucumber Coffins are raw, nut free and oil free!
21- These creepy Finger Sandwiches are stuffed with pimento cheese.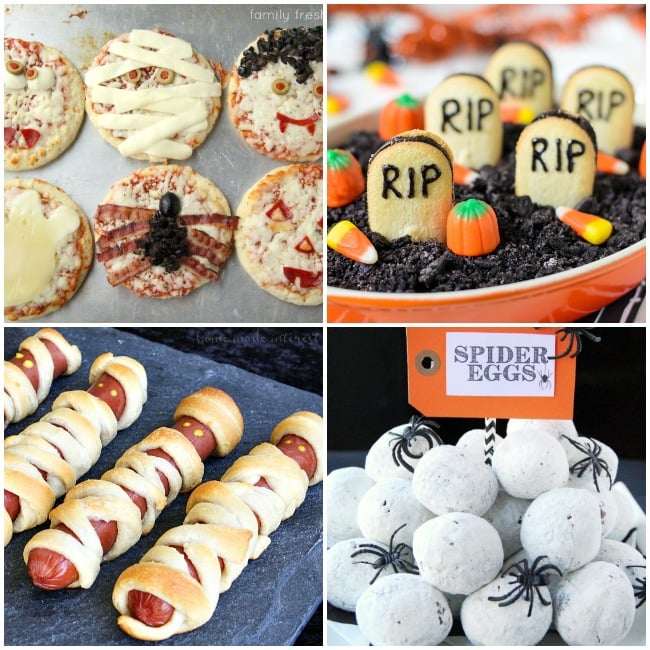 If you are packing lunches for your kiddo, make sure to check out all these adorable Halloween Lunchbox Ideas. Oh and you can't miss!
Do you love Family Fresh Meals? Never miss out on FUN new meals or Easy Lunchbox Ideas for the Family and SIGN UP to have my posts sent right to your inbox! It's EASY PEASY! Just CLICK HERE and enter your email!XO
Corey, Darryl, Big D & Little D