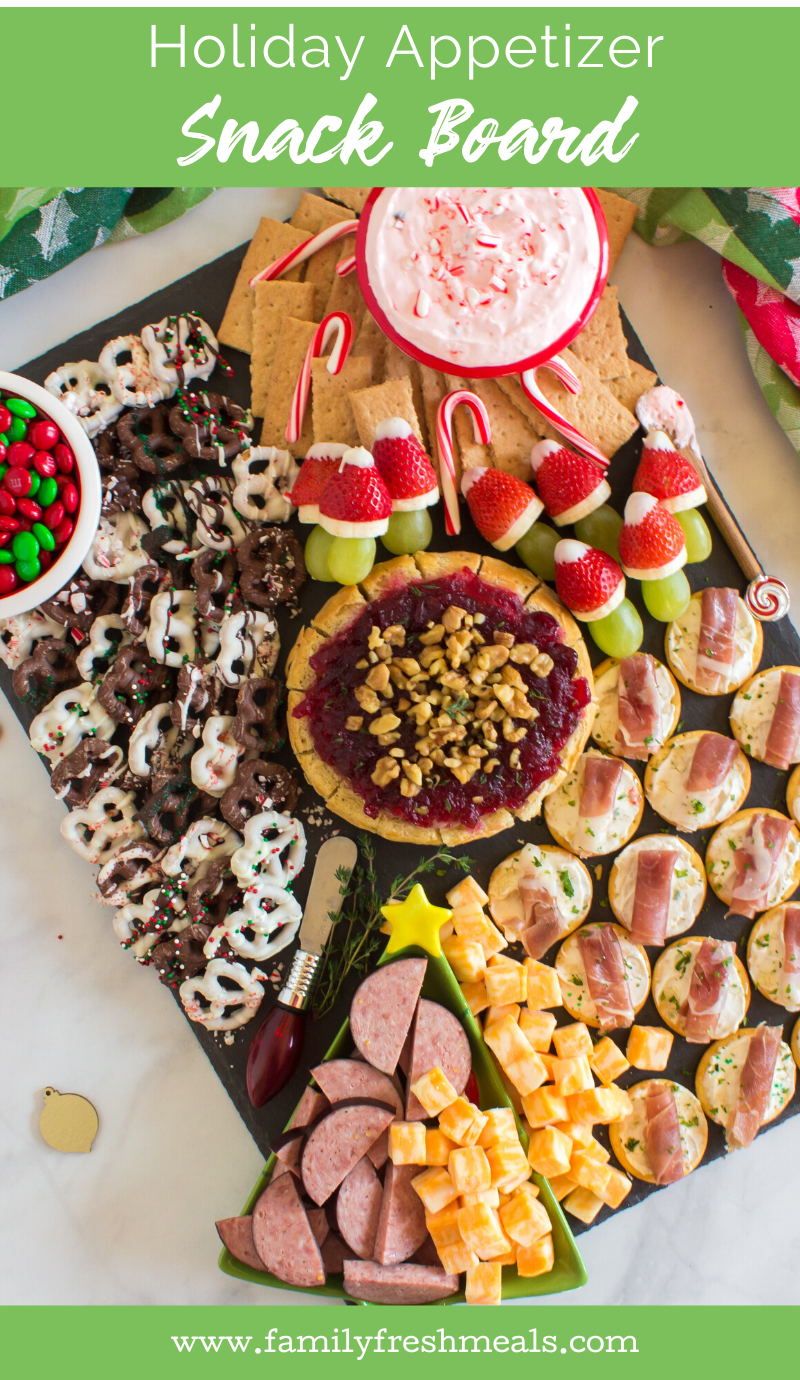 The best holiday appetizer is…all the appetizers.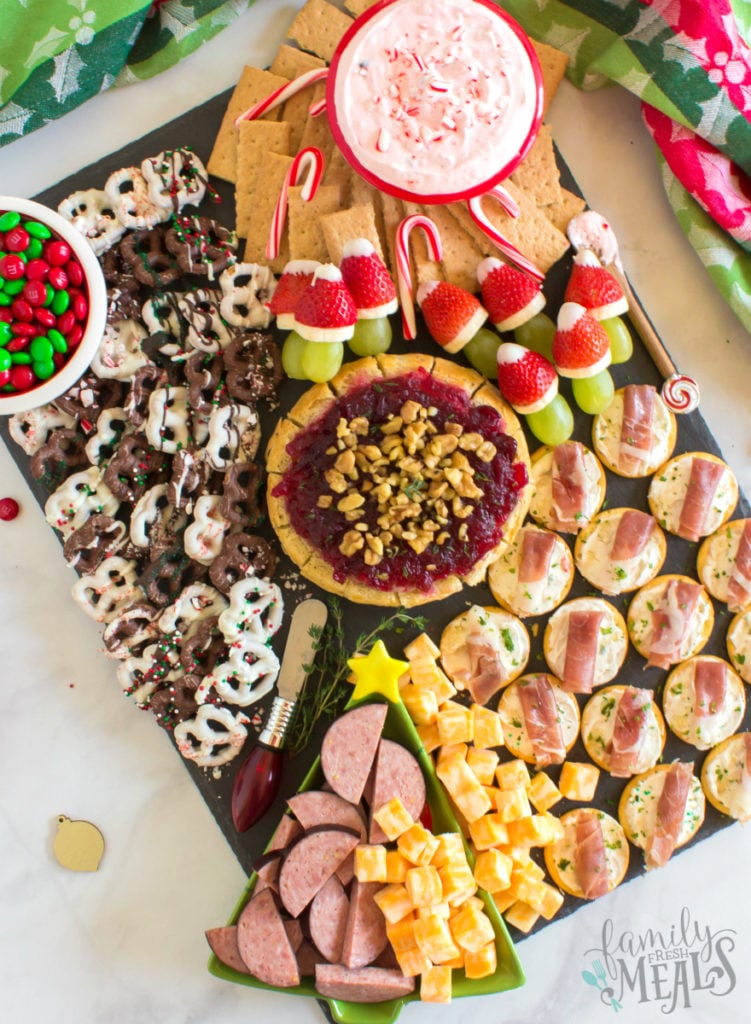 I love holiday appetizers – all holidays, but the one I really go mad for is Christmas. I have tons of amazing Christmas appetizers: hot and cold, sweet and savory, delicious dips and tasty bites. So when I'm throwing a holiday party, I always have trouble choosing between them.
My favorite approach is not to choose. Instead, I serve up one of my famous snack boards, loaded up with as many different festive appetizers as I can fit onto it.
To accommodate all tastes, this Holiday Appetizer Snack Board includes a balance of sweet and savory treats. On the savory side, you'll find my Creamy Prosciutto Crackers, accompanied by sliced summer sausage and cheese cubes. On the sweet side, there are holiday M&Ms, chocolate-covered pretzels topped with holiday sprinkles, fruity Grinch Kabobs (with green grape heads and banana-strawberry hats), and a bowl of my Creamy Peppermint Dip with graham crackers.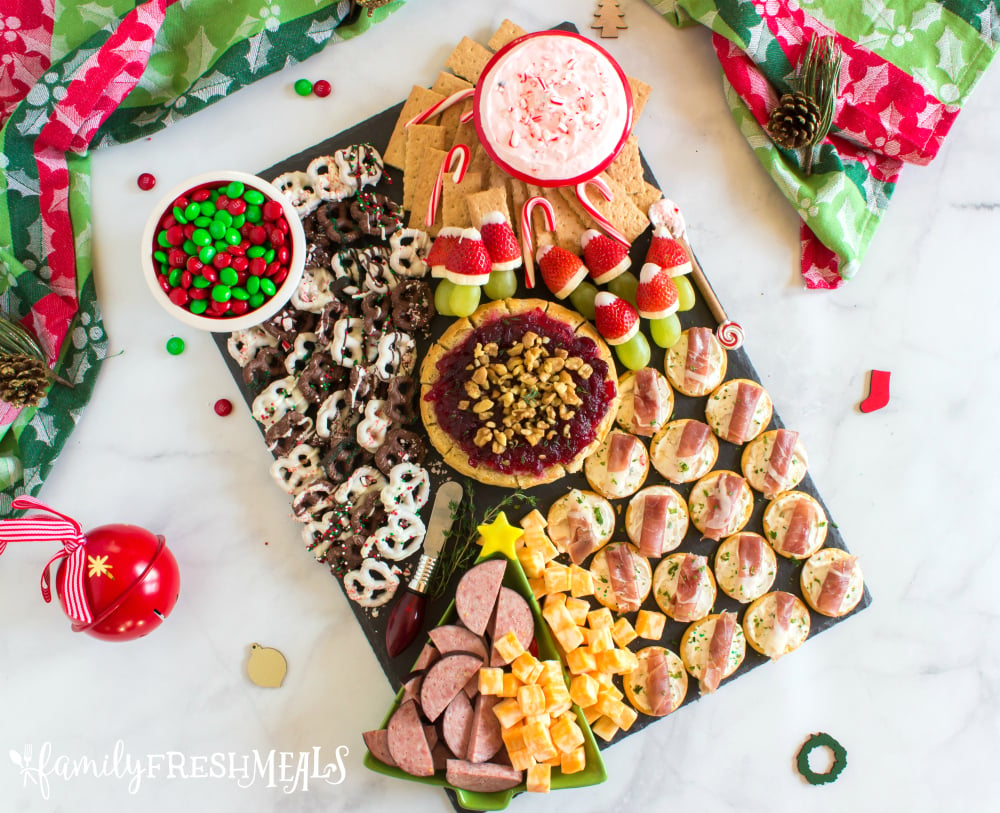 And in the middle of it all, combining the sweet and savory flavors, is the pièce de resistance: my gorgeous-looking (yet surprisingly easy) Pull-Apart Cranberry Brie Bread Bowl.
Lay it all out on your biggest sheet pan, and holiday cheer is served!
---
RECIPE TIPS FOR THIS MEAT AND CHEESE BOARD
Whoa, that's a lot of stuff. Can any of these appetizers it be made ahead of time?
Yes, a lot of it. The peppermint dip needs to sit in the fridge for at least an hour anyway, so I made it the day before and just added the crushed peppermint before serving. I also had the cream cheese mixture for the creamy prosciutto crackers all made and ready to go, so all it needed was assembly. Dipping the strawberries for the Grinch kabobs is another do-ahead job, since they need a little time to cool. And of course, you can decorate the pretzels and cut up the cheese and sausage as early as you like.
Is there anything you can't make ahead of time?
One thing that really needs to be made fresh right beforehand is the cranberry brie bread bowl, which needs to be served still hot out of the oven. That takes 15 minutes of prep time and 20 minutes in the oven. But you can assemble the rest of the snack board while it's baking, so you don't lose any time. The Grinch kabobs are also best made right beforehand so the banana slices don't start to brown.
How do you make the Grinch kabobs?
Very simple. Cut the stem end off the strawberries, dip their tips in melted white chocolate, and let them cool. Then, right before serving, cut a banana into slices about three-eighths of an inch thick, and put one slice on the cut end of each strawberry. Add a seedless green grape below that, and skewer the whole assembly with a toothpick.
---
How to Make this Holiday Appetizer Snack Board
Assemble Easy Creamy Prosciutto Cracker Appetizer
Assemble Creamy Peppermint Dip
Assemble Pull Apart Cranberry Brie Bread Bowl
Put together grinch kabobs (see recipe tips above)
Place items on your snack board and enjoy!
TOOLS USED FOR THIS HOLIDAY APPETIZER SNACK BOARD
Slate Cheese Board – So great to use with many different appetizers
Looking for more free recipes? Subscribe to my newsletter and follow along on Facebook, Twitter, Pinterest and Instagram for all of the latest updates.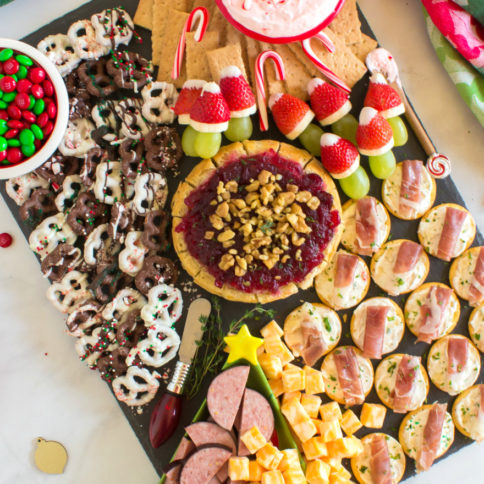 Holiday Appetizer Snack Board
This Holiday Appetizer Snack Board takes your usual meat and cheese board, and kicks it up a level buy adding in some sweet treats as well.
Prep Time: 1 hour
Cook Time: 30 minutes
Serves:12
Hover over "serves" value to reveal recipe scaler
Ingredients
2 cups chocolate covered pretzels
20 crackers
.25 lbs prosciutto
1/2 cup grapes
1/2 cup strawberries
8 oz cream cheese
3/4 cup whipped cream
1/3 cup Greek yogurt
1/3 cup powdered sugar
1 cup chocolate chips
8 oz summer sausage
8 oz cheddar cheese
1 bread bowl
12 oz brie
1/2 cup cranberry sauce
3 tbsp butter
graham crackers
Save this recipe for later! Click the heart in the bottom right corner to save to your recipe box!
Nutrition Information:
Calories: 390kcal (20%)Carbohydrates: 26g (9%)Protein: 19g (38%)Fat: 20g (31%)Saturated Fat: 19g (95%)Cholesterol: 92mg (31%)Sodium: 960mg (40%)Potassium: 242mg (7%)Fiber: 1g (4%)Sugar: 21g (23%)Vitamin A: 613IU (12%)Vitamin C: 4mg (5%)Calcium: 256mg (26%)Iron: 1mg (6%)
Nutrition Disclaimer
Family Fresh Meals is not a dietician or nutritionist, and any nutritional information shared is only an estimate. We recommend running the ingredients through an online nutritional calculator if you need to verify any information.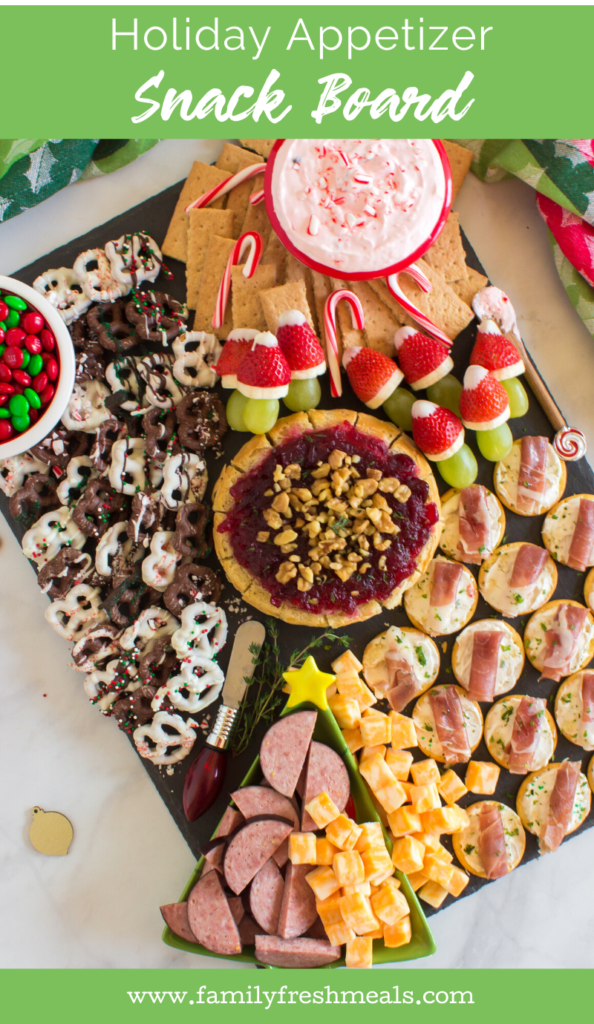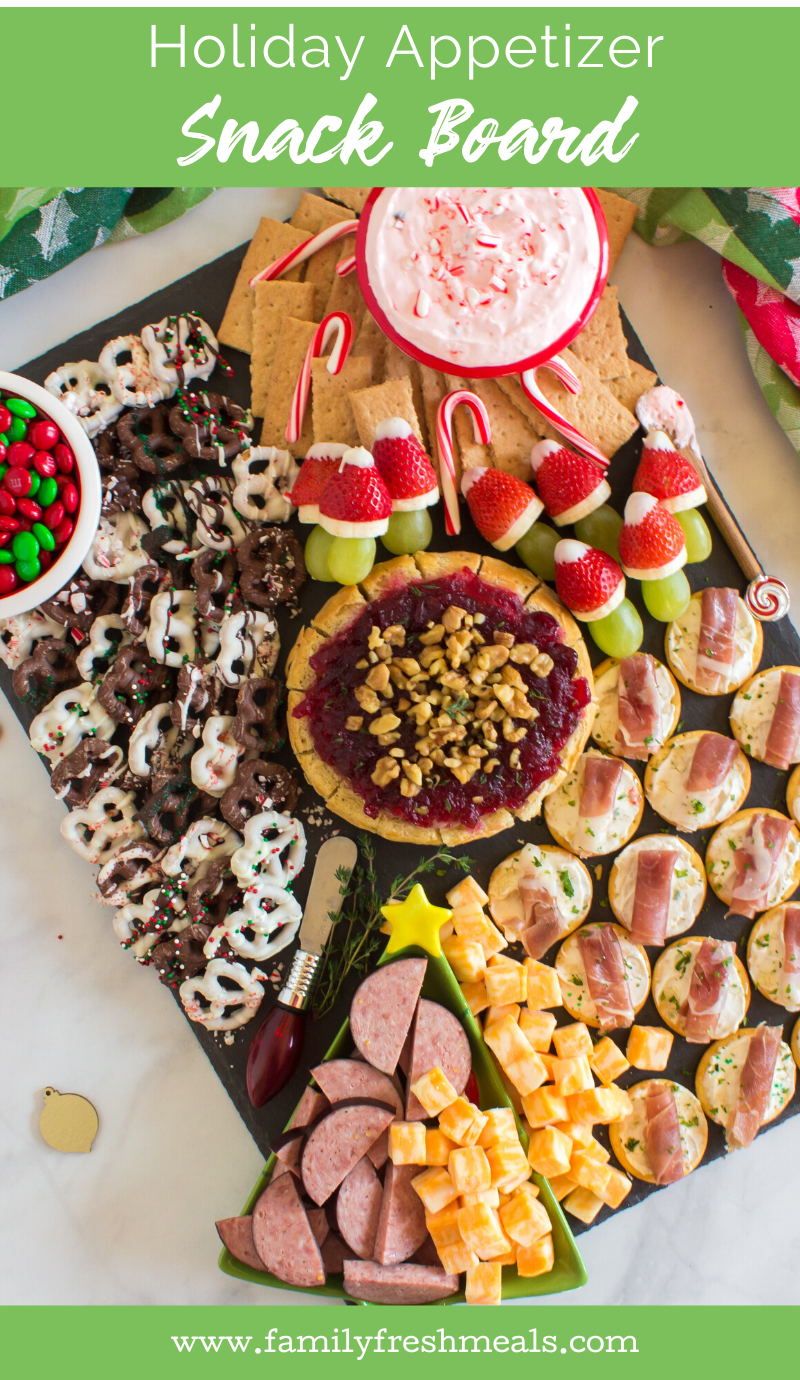 Ready for MORE Holiday Favorite Recipes?